• Welsh Government brings new pet regulations into force
• Scandal of puppy farming must be tackled
• Regulations close loopholes
LUCY'S LAW, the legislation which cracks down on so-called puppy farms, was passed in the Senedd and came into force on Friday, September 10.

The law makes it illegal to buy a puppy or a kitten from anyone but the original breeder, cutting out third parties – such as online retailers /dealers or pet shops.

Previously young puppies and kittens could be transported long distances and moved from location to location before finding their permanent owner, which affects their wellbeing.
WEST WALES HOTSPOT FOR
UNLICENSED BREEDERS
Carmarthenshire, Ceredigion, and Pembrokeshire are notorious hotspots for unlicensed breeders and poor welfare standards in licensed breeding establishments.

Their rural nature poses difficulties both in enforcing rules and investigating complaints.

In addition, tight local government budgets mean local authorities struggle with the costs of enforcement.

Lucy Thomas, Lead Officer Animal Health and Welfare at Pembrokeshire County Council said: 'These new regulations means that puppies and kittens must be sold at the same premises where they have been bred and by the people who have bred them.

"This enables new owners to see where their animals have been born and most importantly alongside its dam (mother).

'We hope this legislation will encourage responsible breeding and provide greater transparency for people who wish to welcome a puppy or kitten into their home.'

The legislation will empower Local Authorities to act if they have concerns about how puppies and kittens are being bred and sold.

It also bans the sales of non-mammals that cannot feed themselves, un-weaned mammals; puppies' kittens, ferrets and rabbits aged under eight weeks.

The new regulations close loopholes, creating discretion on enforcement by local authorities who will work with key organisations involved in either rehoming or rescue activities.

Through a robust Business Test, they provide Local Authorities with a channel to assess whether animals are being kept purely for financial gain.

The regulations aim to improve animal welfare through supporting informed decision-making by the purchasing public.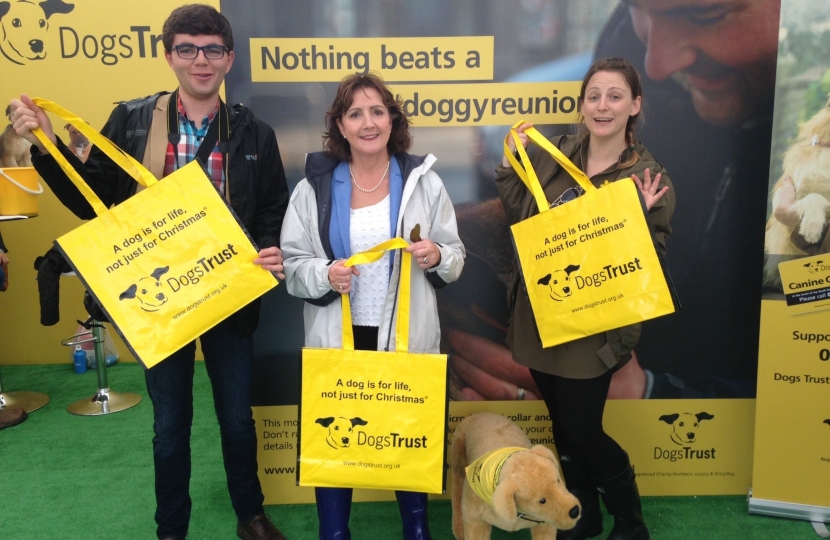 NEW LAW IS ONE
PIECE OF THE PUZZLE
The Minister for Rural Affairs, Lesley Griffiths, visited the Dogs Trust's new centre in Cardiff to mark the new law coming into force.

She said: "There has been a renewed focus on our pets during the pandemic, as they have brought companionship, support and joy to many.  

"It is our duty to do what we can to ensure as many of our pets as possible have the best start in life and are not subjected to unacceptable conditions which can cause disease and trauma."


Paula Boyden, Veterinary Director at Dogs Trust said: "The welfare of our nation's dogs is our highest priority, and this is a really important step in helping to eradicate the sale of puppies bred in poor conditions.

"However, this is just one piece of the puzzle to putting a stop to this awful trade.

"Dogs Trust welcomes working with the Welsh Government, and our colleagues in the animal welfare sector, to look at the necessary additional measures needed to ensure the ban is robust and enforceable.

"We hope this will include regulation of rehoming organisations and sanctuaries, full traceability of all puppies being bred and sold, and a strengthening of the pet travel scheme".
DELAYED REGULATIONS
COME AS A RELIEF
Having campaigned in unequivocal support of their introduction, the Member of the Welsh Parliament for Aberconwy – Janet Finch-Saunders MS/AS – spoke of her relief that the regulations on the sale of third-party puppy and kittens have now come into effect.

The Welsh regulations were originally tabled in January but were withdrawn due to a drafting error.

"Whilst I have been greatly concerned by the delay posed by the need to twice lay these regulations, their introduction is a significant and positive step in the right direction for animal welfare in Wales.

"These regulations outline that we can only purchase pets where they were bred, or from a rescue or rehoming centre, to ensure welfare standards remain high.

"However, I continue to be concerned about the presence of suspicious adverts for pets online and will be pushing Welsh Ministers to undertake conversations with their counterparts in the UK Government to ensure that social media networks are playing their role in enforcing lawful sales.

What is Lucy's Law?
Most people who buy dogs or cats from pet shops or breeders are unaware of the suffering that occurs behind the scenes in often substandard premises in which rogue breeders treat animals as money-making objects.

Many puppies for sale in pet shops or online come from puppy mills, where female dogs are forced to churn out litter after litter until their bodies are worn out. They commonly spend their entire lives in filthy cages and, because of a lack of veterinary care, are prone to illness.

Lucy's Law was launched in December 2017 at a reception hosted by vet and campaigner, Marc Abraham, of PupAid, and supported by APDAWG, the All Party Parliamentary Group for dog welfare, chaired by MP Lisa Cameron.
Who was Lucy?
Lucy was a King Charles Spaniel; a victim of the puppy farm system who had been used for breeding for many years with no regard for her health or welfare. Fortunately, she was rescued and adopted by Lisa Garner in 2013. When Lucy was recovered, her hip bones had fused, she had spinal damage and had chronic health problems.

Lucy became the symbol and mascot of anti-puppy farm campaigning. She died in December 2016, and Lucy's Law is named in her honour.
What is the problem?
The sale of puppies through commercial third-party dealers both sustains and is dependent upon the existence of "puppy farms", where puppies are bred for maximum profit and with minimal regard for animal welfare.

The now infamous case of Richard Jones, who continued to trade having been denied a licence by Ceredigion Council, illustrates the reality of some breeders' approach to battery farming dogs.

In 2016, officers in conjunction with a vet executed a search at Jones' premises in Llanllwnen. 56 dogs were found at Y Shed, 43 of which were female, and there were 57 dogs at Moelfre, which included 38 puppies under six months old.

So many of the dogs required treatment for skin conditions, malnutrition, and stress that the attending vet had to triage them before treatment.

Dead dogs had been placed in fertiliser bags and had "liquefied," and an examination to determine the cause of death would have been "fruitless."