EMMA Finucane, hailing from Carmarthen, has etched her name in history as she clinched gold at the UCI Cycling World Championships, becoming Britain's first women's sprint world champion in a decade. The 20-year-old athlete's remarkable victory came with a 2-0 triumph over Germany's Lea Friedrich in the final, marking a triumphant return for Britain in this event after an eight-year hiatus.
The last time Britain celebrated a medal in this category was in 2013, when Becky James of Wales claimed the world title. This achievement has not only propelled Emma Finucane into the spotlight but has also reinstated Britain's prowess in the international cycling arena.
"I can't really believe that I'm world champion," Emma humbly exclaimed, reflecting the surreal nature of her accomplishment. She further attributed her success to rigorous training alongside her coach Kaarle McCulloch and the dedicated team based in Manchester. Finucane acknowledged the rollercoaster journey that led to this achievement, noting the disappointments in the team sprint and a crash in the keirin.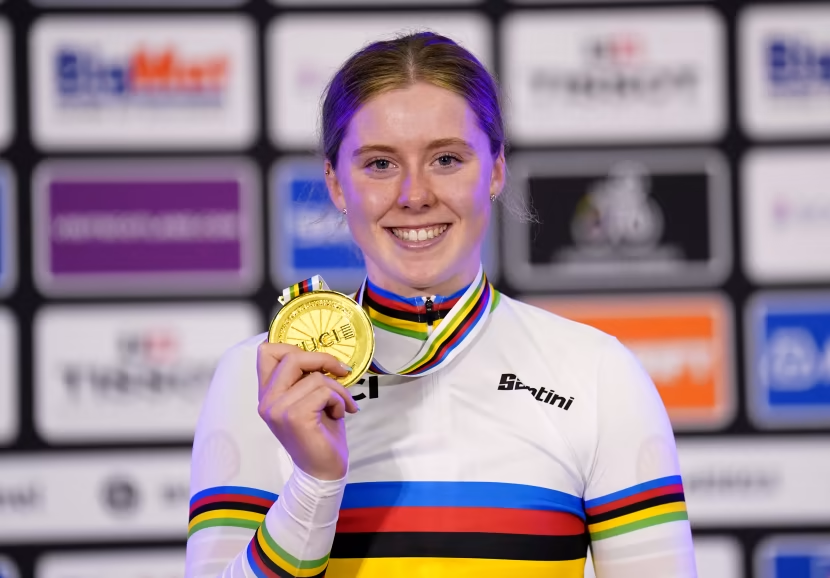 "Everything happens for a reason, and this was meant to happen for me so it's super special," she added with a smile. Emma's impressive record includes four national titles in the current year, a victory in the Nations Cup held in Cairo, and two silver medals at the European Championships.

Her journey to the gold medal was not without its challenges. "After winning in Cairo I knew it was in there and it's just executing. I knew I could do it, it's just how you do it," Emma expressed, showcasing her determination and unwavering belief in her capabilities. As she basks in the glory of this achievement, she eagerly anticipates her upcoming journey, eyeing the Paris championships.
For Emma Finucane, this victory was a poignant moment. Her coach, Kaarle McCulloch, who has been instrumental in her training and success, will be departing for personal reasons. This added an emotional layer to her triumph as she described her sentiments, "Emotions are super high because Kaarle is leaving and I feel like this was my last race with her and to win it with her and for her is super special."
Emma's gold medal performance has propelled Britain to the top of the medal standings at the championships. The country has secured a total of five track cycling golds and nine medals across various events. Notably, Britain's para-cyclists have also achieved remarkable success, amassing a total of 18 gold medals and 30 medals overall. The UCI Cycling World Championships have indeed showcased Britain's prowess on the track and their dedication to the sport.