RSPCA Cymru is concerned for the wellbeing of the nation's animals as a bombshell new poll reveals 44 percent of people in Wales intend to attend an unofficial fireworks display this year.
With many public firework displays continuing to be cancelled or not organised amid the Covid-19 pandemic, new polling for the charity reveals large numbers in Wales instead plan to host their own display, or intend a private firework display at the home of friends or family.
In total, 44 percent* of adults in Wales will either host a private display or attend one at the home of a friend of family. This compares with 25 percent of adults who plan to attend an official fireworks event for fireworks.
However, the RSPCA fears a surge in "unplanned" or "spontaneous" events could put animals at risk – with unofficial displays in close proximity to pet-owning homes, and less likely to have safety measures in place or to have notified the local community.
Over the last five years, the RSPCA has received 1,621 calls about fireworks across England and Wales – and it fears this year could be worse if many more people go ahead with displays in their gardens as expected.
This news may concern animal owners who have nervous pets, like Harley – who features in a new RSPCA film demonstrating the fear and anxiety many dogs can experience during fireworks. Other animals impacted include horses or livestock – who may get spooked by unexpected flashes and noises.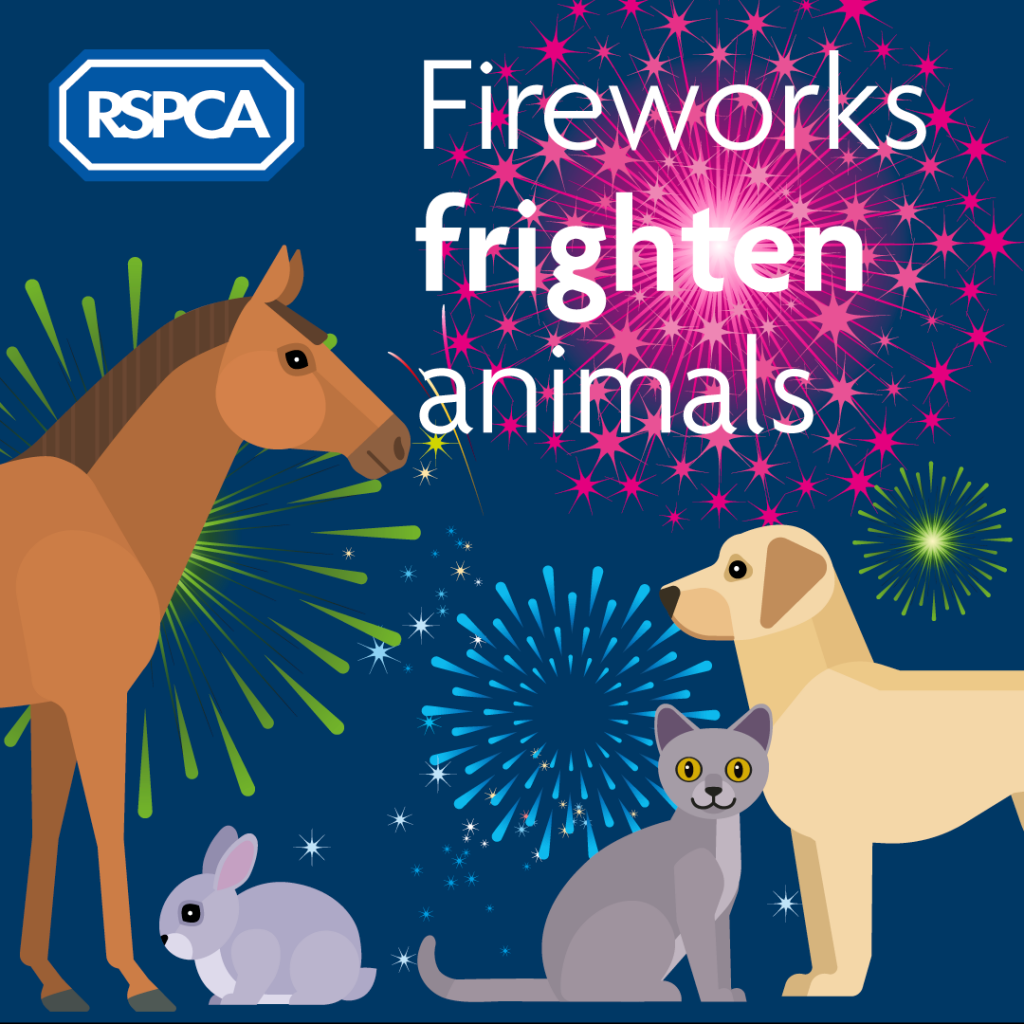 Campaigns manager Carrie Stones said: "With unplanned or more spontaneous events in the pipeline this year owners with nervous animals may be worried about the coming weeks. We know many pets are simply terrified of fireworks.

"There is information on the RSPCA website on how to prepare your pets in advance such as bringing pets inside and providing extra bedding to make a safe haven. We would also advise you to consult your vet if you feel your pet is particularly anxious.
"Our polling shows the prevalence of DIY displays at home this year – so we're urging anyone having a fireworks display in Wales to communicate with residents in their local community; to help pet owners prepare. Before the cheer, consider their fear – and help keep animals safe this time of year."
The charity has also written to councils and other public bodies across the country to provide a toolkit to raise awareness of animal welfare during this time of year. It includes posters for people with anxious animals to put in their windows and colouring sheets for children.
Local authorities have also been urged to pass a motion and adopt policies to help mitigate the risks fireworks pose to animals in the local area. The RSPCA-backed motion has already been backed by 11 of Wales' 22 local authorities.
The motion calls on the local authority to ensure all public fireworks displays are advertised in advance – something the RSPCA feels will help give pet owners vital time to plan and prepare.
Plans are also proposed in the motion for a local public awareness campaign, to encourage local suppliers to stock quieter fireworks, and for Councils to write to both the Welsh and UK Governments to utilise tools at their disposal to mitigate animal welfare risks.