SERVING the island's residents and being an ambassador for their council is the aim of the Isle of Anglesey County Council's newly elected chair and vice-chair.
The council has selected Councillor Margaret Murley Roberts as the chair, and Cllr Glyn Haynes as the vice-chair, for 2023/24
Councillor Roberts was first elected on to the County Council in May 2017 and is one of three county councillors serving the Lligwy Ward.
Originally, from Moelfre, Margaret returned to live on the Island in 2006 having spent nearly 30 years living in mid Wales, where she raised her three sons with husband, Tegwyn.
Speaking after her nomination was endorsed at the County Council's Annual General Meeting yesterday (Tuesday, May 23) Cllr Roberts said, "I'd like to thank my fellow councillors for electing me and granting me the honour of becoming the Council's civic head for 2023/24."
"I had the privilege of being elected as Chair in 2019/20 but my year was, unfortunately, cut short by Covid-19."
She added, "This year, I will once again serve Anglesey and its residents to the best of my abilities and look forward to being a good ambassador for the County Council as I carry out my civic duties over the next 12 months."
Councillor Roberts also announced that her nominated Chairman's Charity for the year would be Ynys Mon food banks.
In her spare time, Margaret enjoys travelling, walking and reading. She and Tegwyn live in Llanbedrgoch and both also share a strong interest in photography.
Also elected as vice chair, was Councillor Glyn Haynes.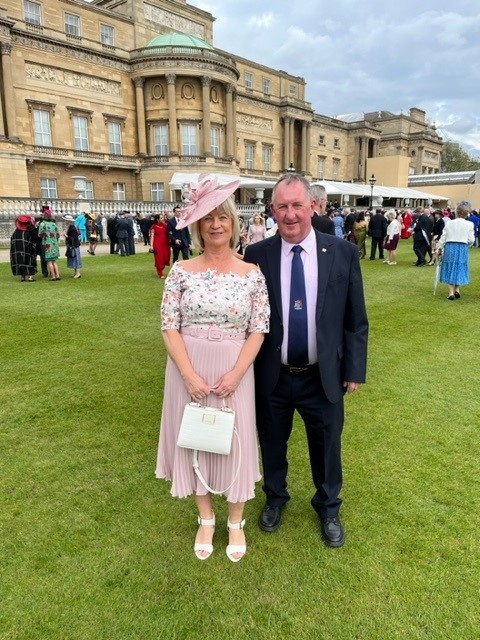 The Labour Parc a'r Mynydd ward councillor recently represented island and Anglesey County Council with his partner Helen Hibbert, during a royal garden party at Buckingham Palace.
Councillor Haynes was "honoured and delighted" to have been invited to the prestigious event in the same week as the Coronation of King Charles III.
He is a former chairman of Anglesey County Council for 2021-2022, and also the council's Armed Forces Champion.
Cllr Haynes was a Merchant Seaman, for 20 years and as an Able Seaman says "with many years served 'deep sea'."
He also worked at MEM, which was later acquired by the Eaton Corporation. There he became a full-time Union Convenor, Vice-Chairman of the European Works Council and Trustee Director of the Pension Scheme.
After being made redundant from Eaton, he then became a Trades Union tutor, also sitting on the regional and national bodies of Unite the Union, as well as being a Branch Secretary for the North West Wales General branch.
Simultaneously, he was elected as a County Councillor for Holyhead in 2017 and also as a Holyhead Town Councillor two years later, being re-elected again last year.
Cllr Haynes said he was "delighted, again to be representing the people and council, this time as the council's vice-chair."