A WOMAN rolled back the years during an inspiring dance therapy session at a care home in North Wales.
Elizabeth Driver was once a professional dancer and often performed on the world famous sprung floor at the Winter Gardens in Blackpool.
The 85-year-old, who `now lives at Pendine Park's Bryn Seiont Newydd centre of excellence for dementia care on the outskirts of Caernarfon.
She was taking part in a session at the home organised by the Dawns i Bawb (Dance for All) charity.

"I've been dancing all my life. It was my job and it was great to be a ballroom dancer in Blackpool. I still love dancing," she said after enjoying a dance with Emyr Gibson, Bryn Seiont Newydd's creative practitioner..
The monthly sessions are eagerly anticipated by residents and by Dance Development Practitioner Lauren Rooney.
Escorted by care home staff, Elizabeth walked into Bryn Seiont Newydd's music room just as Lauren switched on the music player and immediately started dancing.
Lauren said: "She'll come into the room swinging her arms in dancing fashion and she knows all the moves to dances like the jive. Her sense of rhythm is amazing."

She added: "I really enjoy visiting Bryn Seiont Newydd. The residents here all enjoy the songs and while we're here to have a little dance some just want to listen to the music and that's fine. They'll move their arms and clap their hands to the beat and the smiles on their faces says just how much they're enjoying it.
"And they really enjoy themselves when the props come out, the hats, the instruments and the colourful handkerchiefs."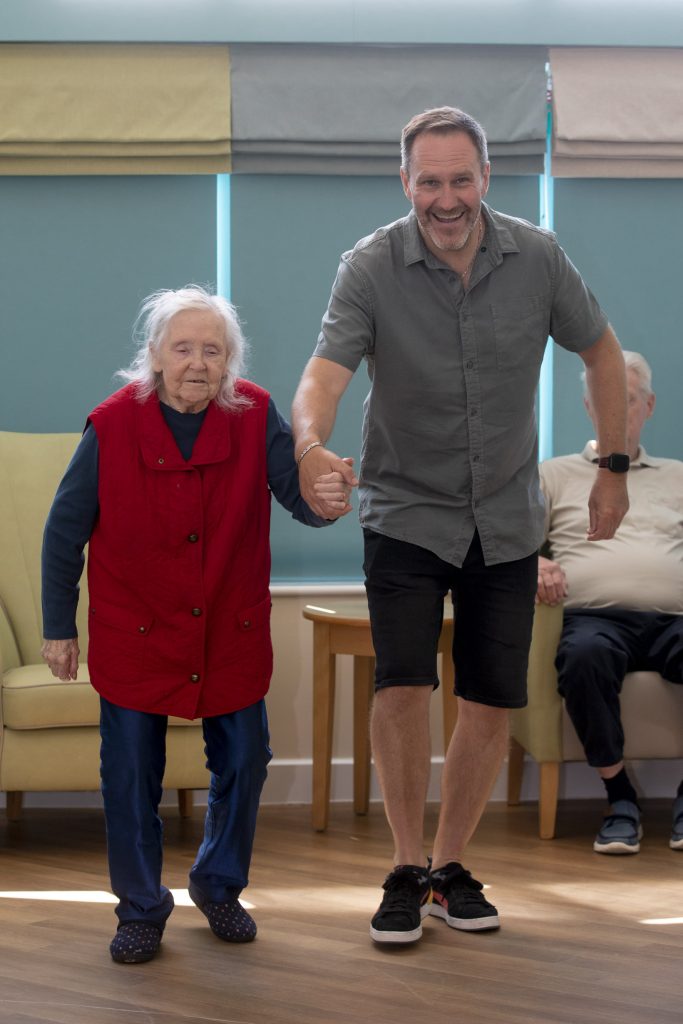 The other residents joined in with Elizabeth in the session as Lauren played a selection of hits ranging from John Travolta and Olivia Newton John's smash hit, You're The One That I Want, from the musical Grease to Rose Royce's Car Wash and inevitably Abba's Dancing Queen.
Clearly enjoying the session, Menna Griffiths, was quickly on her feet joining in with Lauren and Bryn Seiont Newydd staff members in a waltz around the floor.

Menna said: "My friends and I used to go to dances a lot when we were younger. Today was really nice."
Her friend, Margaret Rotheram, added: "I love the music – a good sing-a-along is always a good time and the physical exercise, it lightens anyone's day."
Formed in 1989 Dawns i Bawb develops dance provision throughout Gwynedd, Conwy and Ynys Môn and collaborates and creates with people and communities, and amateur and professional dance practitioners, choreographers and companies.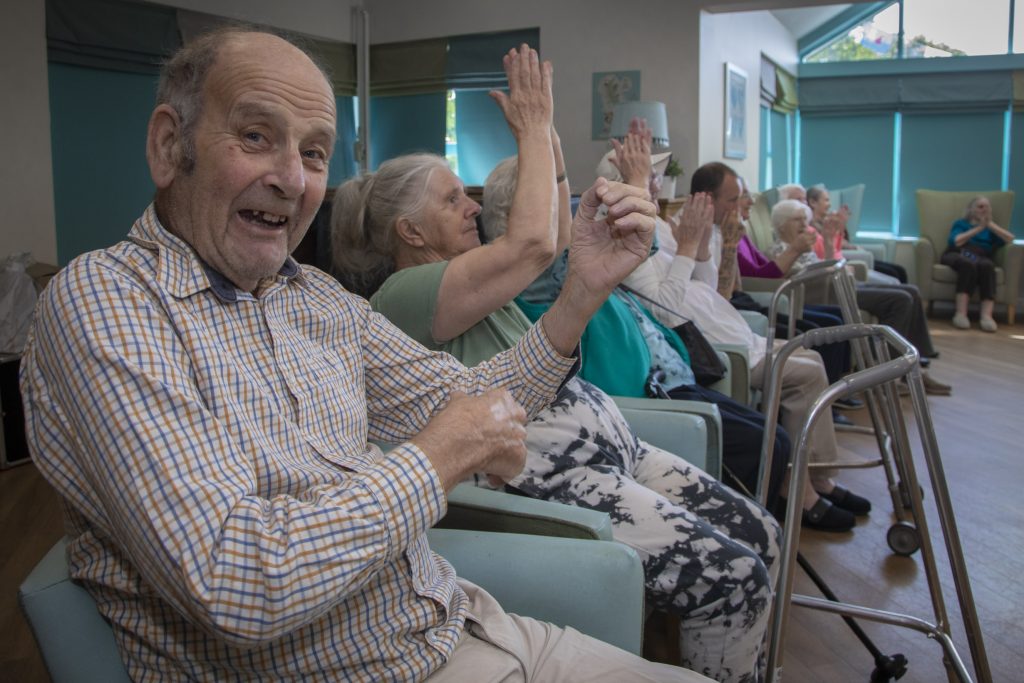 Lauren and her colleagues firmly believe that anybody can dance and strive to advocate the benefits of dance.
Bryn Seiont Newydd musician-in-residence Nia Davies Williams said: "The dance sessions are held in Bryn Seiont Newydd's music room which is directly above the main entrance.
"People visiting residents look surprised when they approach the front door and hear the booming disco music and wonder what's going on.
"But those with dementia may experience difficulty with memory and communication and music and dance therapy is a means to improve social engagement among people with the condition.
"The sessions led by Dawns i Bawb offer far more than just exercise. It's about the recognition of the dance moves for each song and skills behind it."