PLANS to develop a new station building on a popular Eryri heritage railway line are moving a step closer.
The Eryri (Snowdonia) National Park planning authority has received a full application for the construction of a new railway station at Beddgelert.
The proposals, on the site north of Oberon Wood, were lodged by the Ffestiniog Railway Company.
They are an updated redesign of a previous application which had been approved 10 years ago but never completed.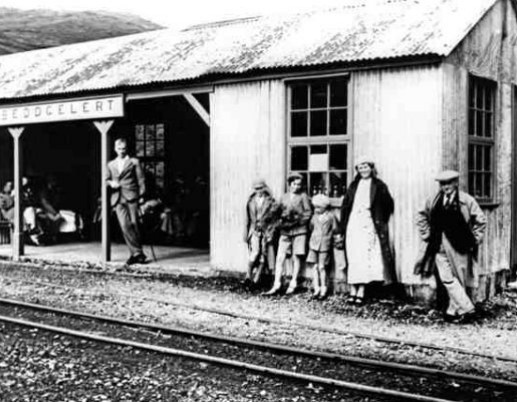 The latest scheme includes the construction of a railway station building to include ticket office, café, indoor and outdoor seating, toilets, office and covered waiting area and other associated infrastructure.
The Design, Access and Heritage Impact Statement has been prepared by Chambers Conservation for the Ffestiniog and Welsh Highland Railway.
A summary of the proposals describe "the construction of a new station building using a slab cast in 2009, but updated to reflect current requirements.
"The station will include a covered waiting area, staff room and WCs, ticket office with small railway related retail area and coffee shop with small kitchen, external covered seating area and terrace.
The construction of the new station building would enable the removal of the covered shelter."
The station lies to the west of the village, raised on an embankment, behind the Royal Goat Hotel.

The Ffestiniog and Welsh Highland Railway's director and general manager Paul Lewin said: "When the railway received its transport and works order it included "deemed planning consent" for a station at Beddgelert.
"But the further arrangement was that we would go through the planning procedures to agree its design and look with the national park's planning authority.
"Over ten years ago we did submit a design for a station, and that was approved. We started work on it, but we only got as far as starting the foundations, due to funds available at the time and we stopped.
"But we have returned to look at the site and we have re-evaluated the design and done several things to make the plans lighter, there is an overall lighter lower visual impact, so it meets modern building regulations and to improve its environmental credentials.
"It is that, that has gone back to Eryri's planning authority for re approval.
"Beddgelert it is a popular destination, and our passengers need somewhere they can wait for the train in the dry, and with quality toilets in keeping in with modern expectations
"There is also a small provision for a café, so that people waiting can get refreshments – similar to the provision of the temporary arrangements which are currently in place.
"We are not trying to take trade away from local businesses, but to meet customers expectations that they will be able to get a cup of tea while they wait on the station.
He added: "There is no formal time-scale, or completion date, for the plans at the moment."