A RETIRED teacher has made a remarkable recovery and was walking unaided less than 48 hours after robotic surgery to replace her knee and is now back doing the school run with her grandchildren.
Supergran Janet Carroll's active life included walking, cycling and swimming as well as taking three of her six grandchildren to primary school and looking after the youngest, 16-month-old Dylan.
But an arthritic knee had slowed down the sprightly 66-year-old from Wallasey until she was barely able to walk the half a mile to the school or keep up with little Dylan.
She's back on duty now after a miraculous recovery which saw her walking the day after a 90-minute robotic knee replacement operation carried out under spinal anaesthetic by consultant orthopaedic surgeon Muthu Ganapathi, from Colwyn Bay.

In this cutting edge technology, while the 3-D planning is still done by the experienced surgeon, the robot places the cutting guide precisely in the planned position for the surgeon to make the bone cuts much more accurately than 'eye balling' for traditional knee replacement techniques.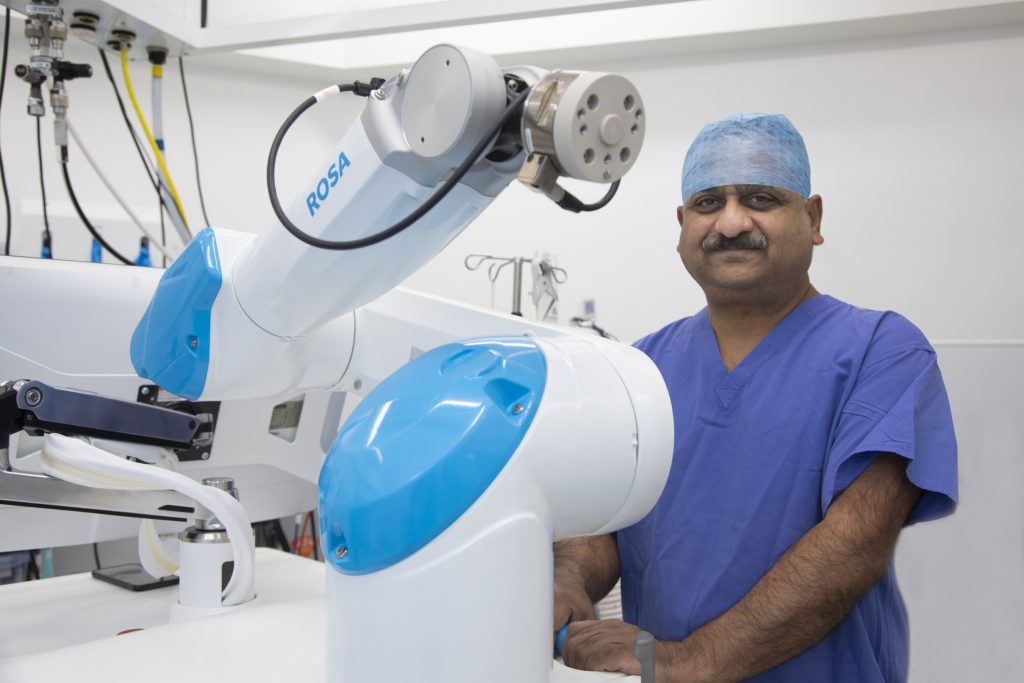 It was the 100th robotic knee replacement, only available in a very few hospitals in the UK, carried out by Mr Ganapathi but even he was surprised at the speed of Janet's recovery.
He said: "Janet has done remarkably well. She was able to walk unaided in the first postoperative day and was walking essentially normally in the community at eight days – this is not normal after knee replacements."
Janet, a former primary school teacher and mum of five, said: "I have always enjoyed being active but had a soreness in my knee over three or four years and it became worse earlier this year.

"It was just wear and tear but I was in a lot of pain and couldn't really walk or cycle although I could still swim – my knee wouldn't straighten so I walked with a limp.
"I went to my doctor but it was more than a year's wait to have the knee done on the NHS and people I spoke to recommended Mr Ganapathi at Spire Murrayfield Hospital on the Wirral.
"I had an appointment with him within two weeks in April and we agreed a date for surgery in July which suited me fine as it was the start of the summer holidays.
"I went in to Spire Murrayfield on a Monday and had the operation that afternoon and came out on Wednesday morning – I decided to stay an extra day to make sure everything was OK.

"I had an epidural for the operation so I was sedated but was still conscious. I remember hearing a bit of noise but I didn't feel a thing.
"It was Mr Ganapathi's 100th knee operation and the operating theatre staff all had cake afterwards.
"I couldn't have a slice but I was back in my room and having something to eat within three hours and I was up and walking the next day.
"Although I have a six or seven inch scar across my knee it wasn't as painful as I expected and the staff managed the pain relief very well.
"The next morning the physiotherapist came and I was up and walking straight away, at first with a frame and then with two sticks and I could walk unaided by the second day.
"They said that was unusual – most people take about two weeks but it was mainly down to the nature of the surgery.
"The robotic assistance they use scans the knee in 3-D and gives the surgeon guidelines to cut along before they replace the knee with a new one made of metal and plastic.
"It feels really good and the more I do the better it gets and I can do everything I want to.
"I'm back swimming and on an exercise bike and up and down stairs is easy now when I was having to go up one at a time and I'm back on the school run and looking after Dylan.
"The aftercare has been very good too and the follow-up with Mr Ganapathi and as we live near the prom at New Brighton I enjoy walking there with Dylan and their dog, Ruby, who is a schnoodle."
Mr Ganapathi added: "With the personalised knee replacement technique I am doing with the robot, many patients have less pain and recover much faster.
"What I'm aiming for is to match the knee replacement to be as close to how it was before the arthritis and the robotic assistance helps me do the personalised bone cuts. This is very different from traditional technique where we do the bone cuts in the same way for all patients.
"Jan was my 100th robotic knee replacement and she has done remarkably well. She was able to walk unaided in the first postoperative day and was walking essentially normally in the community at eight days which is remarkable.
"This is not normal after traditional knee replacements but with the personalised knee replacement technique I perform with the robot, many patients seem to recover much faster with surprisingly little pain."
Muthu Ganapathi is a specialist hip and knee surgeon who is based in North Wales and the Wirral.
He trained in India and completed his higher specialist training in orthopaedics in Wales including an arthroplasty fellowship in Cardiff before gaining an advanced lower limb fellowship in Montreal, Canada.
He visited centres in Canada and the USA before starting as a consultant orthopaedic surgeon at Bangor in 2008 and now specialises in adult hip and knee problems at Spire Yale Hospital in Wrexham and Spire Murrayfield on the Wirral.
For more information go to https://ganapathihipkneesurgeon.com/