WREXHAM Council faces a court date at the end of the month as it seeks to defend its refusal to adopt a Local Development Plan (LDP).
A requirement of local authorities by the Welsh Government, Wrexham's proposed plan was drafted to allocate sites where around 8,000 homes and major developments could be built in the county borough.
It went out to public consultation five years ago before being examined and tweaked by the government and independent inspectors who deemed the plan sound to adopt earlier this year.
But it was twice rejected by councillors in April and June, amid concerns about some of the sites included in it and the overall impact on the city's infrastructure.

A consortium of developers has brought the judicial review – an administrative branch of the High Court which deals with challenges to decisions made by public bodies – the legal costs of which could see the council spending a six-figure sum defending its decision.
The hearing will take place on November 29, having been revealed during this month's meeting of the council's planning committee where a decision on a potential 92 home development, near Llay New Road in Rhosrobin, was deferred until the review's outcome is known.
Prior to the meeting, the community council had raised a raft of concerns including that the Gwersyllt area is becoming "a regular target for development" at a time when Wrexham does not have an LDP in place.
Planning officers had advised councillors grant the application, with officers describing the proposals as an "appropriate form of development" which would be acceptable under the LDP if adopted.

But given the uncertainty, members were advised to put off making a decision until the outcome of the judicial review is delivered.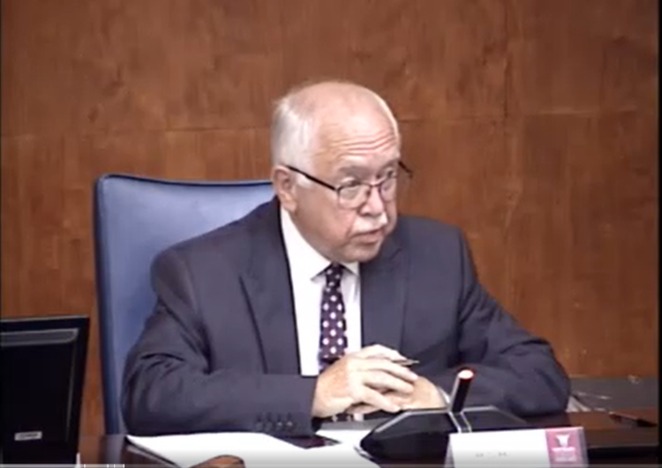 Chair of the planning committee, Holt Cllr Mike Morris (Con) said in light of decisions which have gone against the council in recent years – refusals which have been overturned on appeal for large housing developments in Rossett and New Broughton (Gatewen) – it was 'safer' to delay making a decision on the Rhosrobin one.
"Clearly this report relies heavily on the LDP and the weight which would be given", Cllr Morris said.
"And there are comments in the development management manual and other legislation which does say we should give significant weight (to the draft LDP), and even more so when it has been through an examination in public."

"But in view of the decision of the judicial review case which is pending for the end of November and given we've had two sites previously where they've been LDP allocations and we've refused them and they've been granted on appeal – namely Gatewen and Rossett – my own view is that we should defer this application until the outcome of the judicial review is known."
Hermitage Cllr Graham Rogers (Lab) formally moved the deferment.
He said: "I concur entirely with your sentiments. This should be deferred pending the decision on November 29."
Ruabon Cllr Dana Davies (Lab) added: "I don't know whether we'll get a decision but the hearing is November 29. It's imminent isn't it?
"I think it's wise (to defer) considering the outcome of Gatewen and Rossett, and we need to be responsible to tax payers."
Stansty Cllr I David Bithell (Ind) and Pant and Johnstown Cllr Steve Joe Jones (Ind) also added their support for a deferment, which was approved when put to a vote.
The Rhosrobin application will now be dealt with at a later date.