CONCERNS were raised about the family of nine who were unable to escape from a disused lock, with the water around 30 to 40 feet down from the top, at Cardiff Bay near the Norwegian Church. 
Although the nine swans had plenty of room to swim in the disused lock and had a nest on the banking – concerns were raised by several members of the public and also by South Wales Swan Rescue as they were unable to leave to a larger body of water.
There were concerns that the flightless cygnets – who were around eight weeks old – would not get enough water experience to fly at this location as there wasn't enough space for the flying exercise and would need to be moved.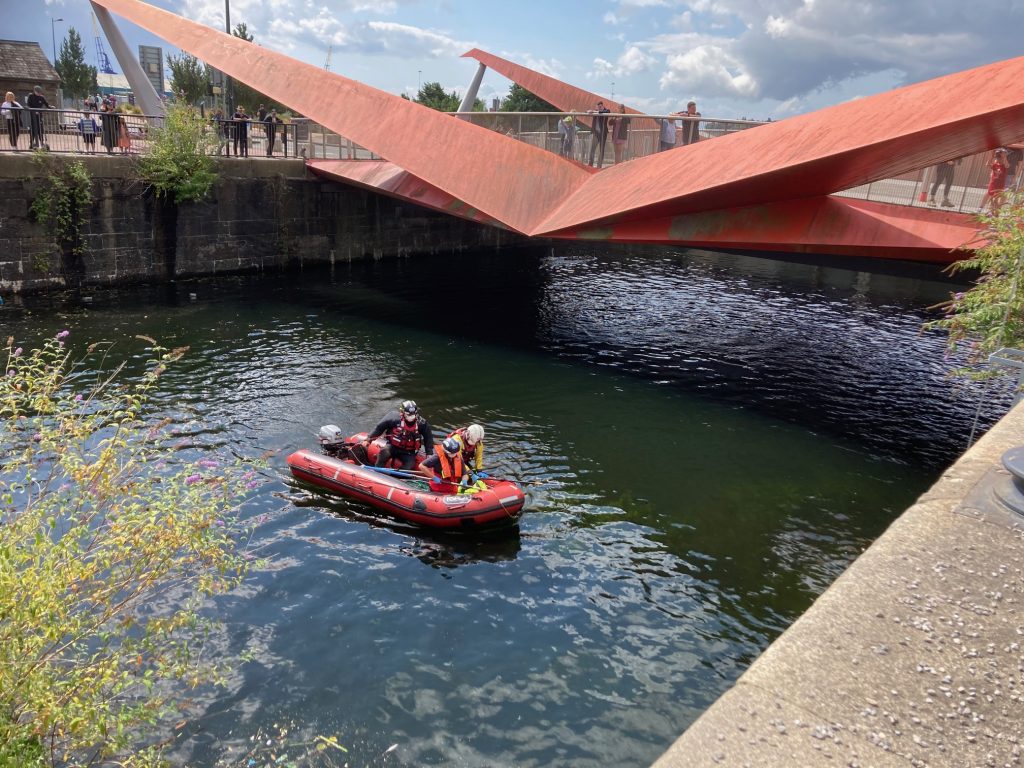 RSPCA rescuers Ellie West, Rohan Barker, Carl Hone and Christine McNeil attended on Tuesday 25 July along with Swan Rescue for the operation which took around two hours to complete.

During this time the specialist RSPCA rescue team were wearing additional Personal Protective Equipment (PPE) due to precautions with the current situation with bird flu – which put an added pressure on the rescuers due to the heat. They were also watched by a crowd of bystanders.
RSPCA wildlife officer Ellie West said: "Logistically this was a tricky one and the body of water was quite low down. It meant that we were unable to lower our boat down ourselves and required the help of the fire service."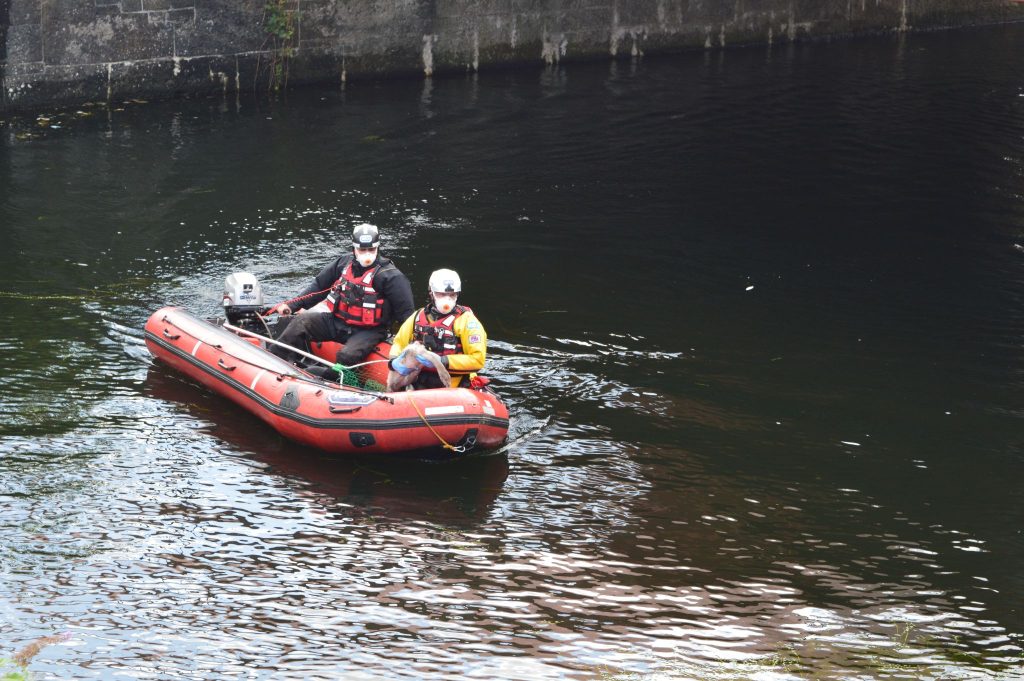 South Wales Fire & Rescue Service sent across a crew from Bridgend and using their specialist equipment they were able to lower the boat into the lock for Ellie, Rohan and Carl to board safely.
"It was certainly not an easy rescue," said Ellie. "The swans of course didn't want to be caught so we had to do our best to catch them as carefully as possible.

"After several failed attempts – we managed to catch each of the swans individually – and they were each placed in a bag to be hoisted up the wall. This did take some time but it was absolutely worth it when we were able to release the family a little further away in the main dock.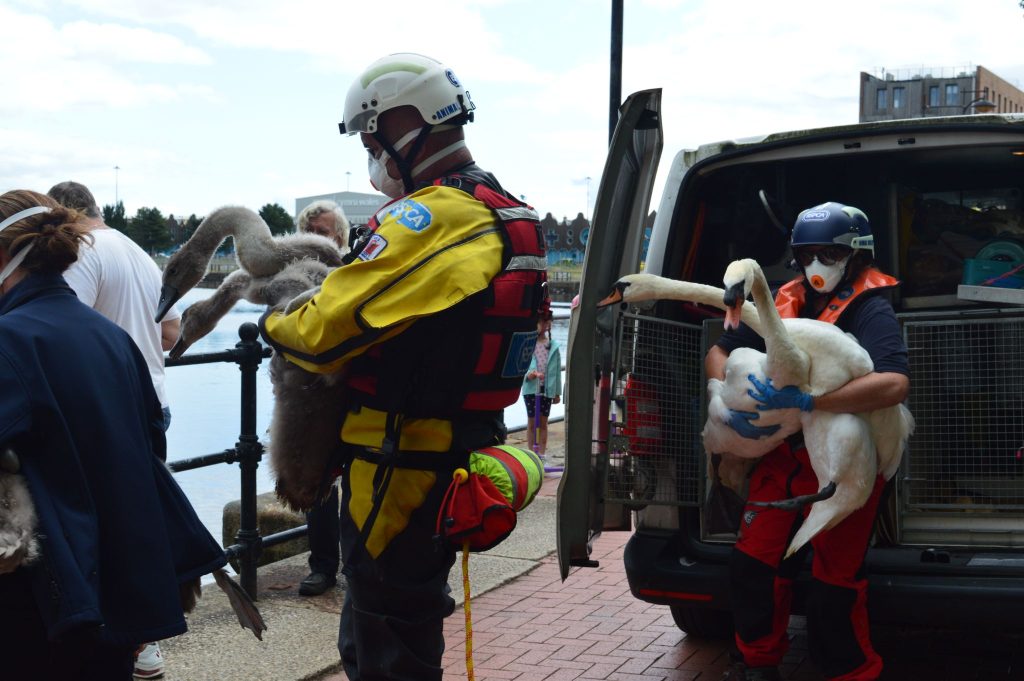 "We'd like to thank Peter Martin from Swan Rescue for attending along with the fire service for their help – as without them we would not have been able to get the boat in and out of the water. 
"We'd also like to thank Associated British Port who gave us permission to carry out the rescue as it was on their land."
The rescue comes as the RSPCA launched its Cancel Out Cruelty fund-raising campaign last month to help the charity's officers continue to rescue animals like this family of swans and is urging people to donate to help it continue this vital work.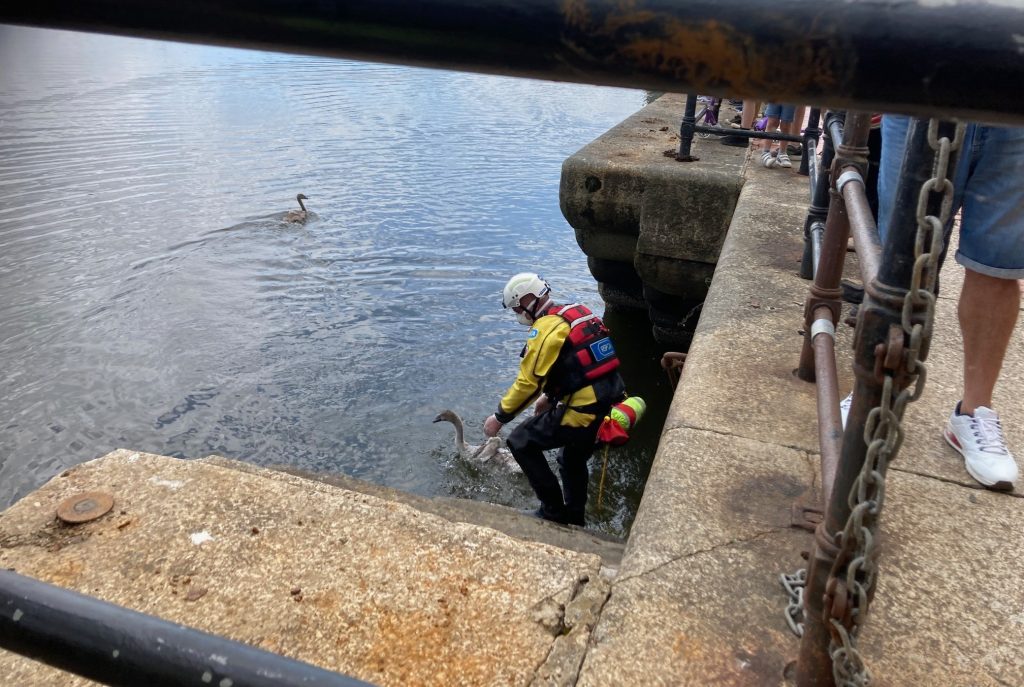 To report concerns about an animal that is sick, injured or in danger, please contact the RSPCA's helpline on 0300 1234 999.
For more information about what to do if you find an injured wild animal, please visit the RSPCA's website: https://www.rspca.org.uk/adviceandwelfare/wildlife/injuredanimals
Heartbreaking figures released by the RSPCA have shown that reports of animals being beaten increased by 22% last year – with incidents peaking during the summer months, with three reported every minute. The charity has launched its Cancel Out Cruelty campaign, to raise funds to help its frontline rescue teams continue to save animals from cruelty. The RSPCA's frontline rescuers, volunteers and a network of branches are working tirelessly to save animals this summer but we can't do it alone. Please help cancel out cruelty, visit rspca.org.uk/cancel.