IT is a bleak morning in the town of Port Talbot, as storm Ciaran batters the coastal part of the country that has become synonymous with the creation of steel and heavy industry over the years.
Though despite the wind and heavy rain, dozens of people have turned up in a show solidarity for employees at the local Tata Steel works site, in the face of what is being described as a time of change, not only to the steel works in the town, but potentially even the town itself.
It came after announcements that the massive steelworks site in Port Talbot which currently employs around 4,000 people would be converted to run on electricity over the next three years, resulting in a potential loss of as many as 3,000 jobs.
The Indian-owned steel giant recently published details of its agreement with the UK Government, to invest £1.25bn into the Port Talbot steelworks, to install electric steel recycling furnaces and shut down its two primary steel-making blast furnaces.

It has also led to concerns from unions that more than 3,000 jobs could be axed as a result, as electric arc steel making, which involves recycling steel as opposed to making 'virgin steel', does not require as many members of staff.
During the week Unions even claimed that Tata Steel was planning to announce the closure of the bulk of its operation at the UK's biggest steelworks, however it is unclear if or when that statement will now be made.
The announcement led to a number of  union members and community groups turning up to support what was described as a "highly visible and vocal" action event in the town on Thursday October 2, held to put pressure on politicians to support measures that back existing steel jobs in the area.
Ian Williams is a senior trade union representative at Unite, who spoke at the event, and said if such a transition was to go ahead, it would need to be done in a way that promoted the making of green steel, with more jobs created instead of cuts.

He said: "If they just cut these 3,000 jobs without putting the correct transition plan in place it will cause complete devastation. In my opinion there will be no Port Talbot, and no south Wales corridor either.
"Nobody is arguing that we don't need to de-carbonise and change for the future. The whole world is changing, but we need to do it in a responsible and socially just way, where we can grow our economy, grow steel manufacturing, and try to become a leader in green steel instead of just thinking of cuts."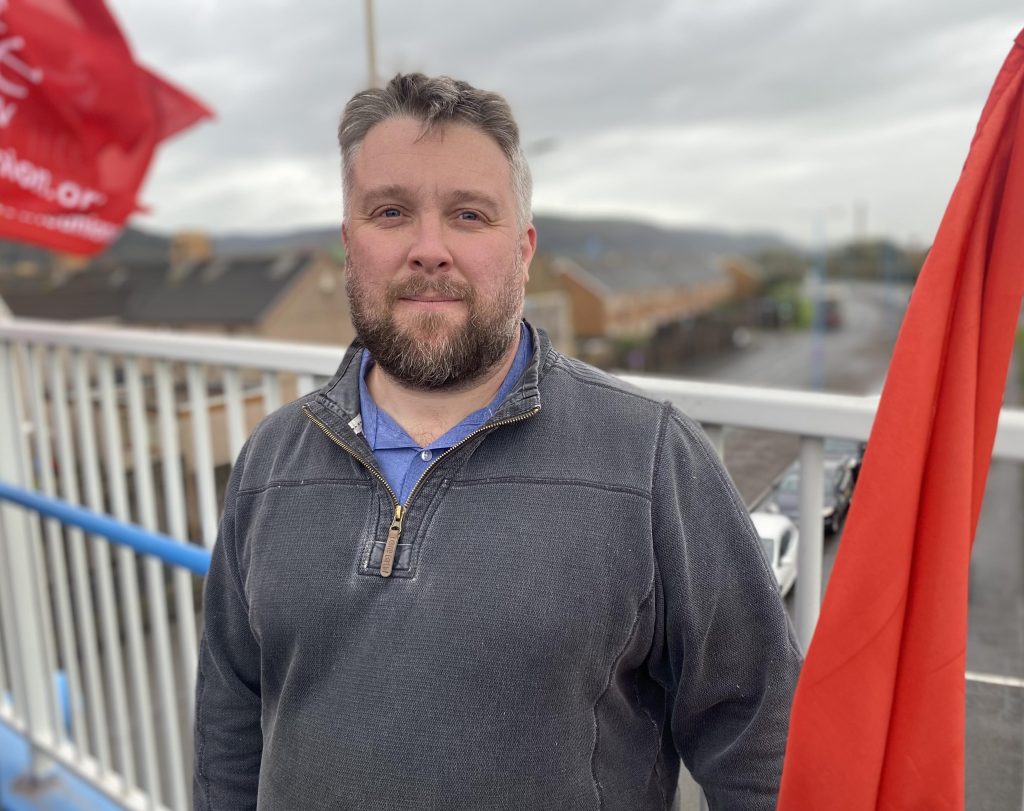 Former steel worker, Jason Bartlett, of Llanelli, added: "We are all prepared to move to a greener future but the effect this electric arc furnace will have at this moment in time on the workforce and local businesses would be completely unrecoverable.
"Once the jobs have gone they've gone because they don't need the same amount of people to run an electric arc as they do a conventional blast furnace. The transition will need to happen but over a period of time which will lessen the redundancies and not make them as severe as they are.

"We've seen plant closures in the past in places like Ebbw Vale and they never quite regenerate or have the growth back there. It's not just the 3,000 jobs that will go, but jobs across the whole supply chain which would be absolutely devastating for the area."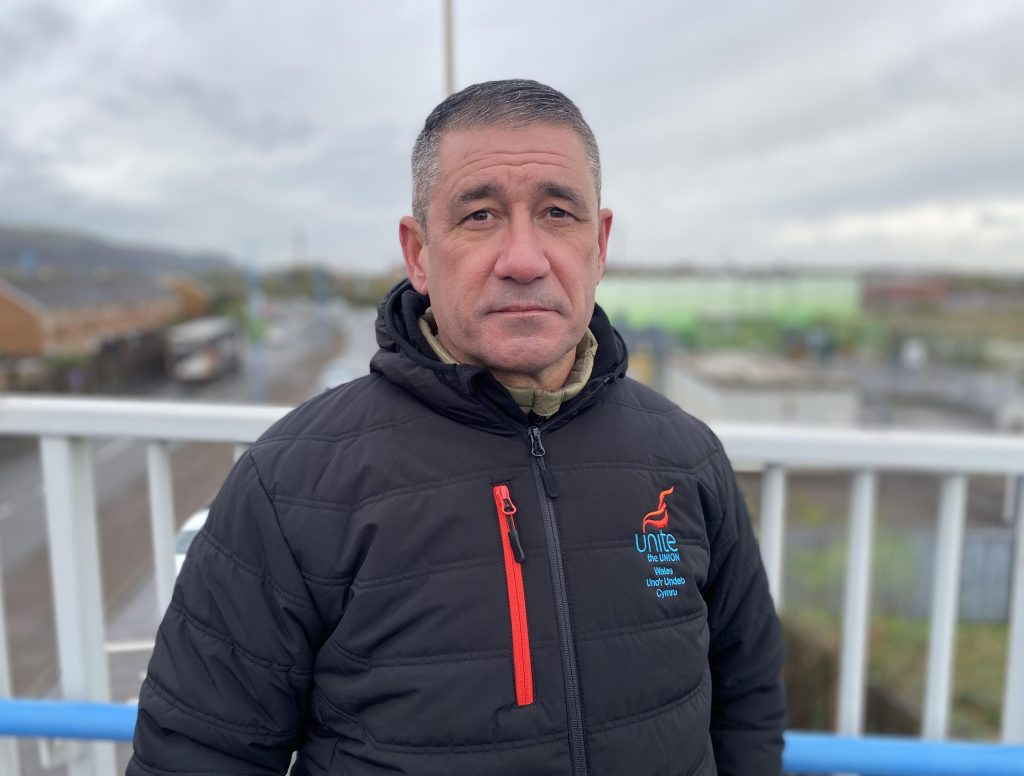 Malcolm Gullam of Port Talbot said: "This is terrible news for the community, and without investment we could see thousands of redundancies along with the loss of our ability to create virgin steel, and other grades of steel that would allow them to complete their order book.
"Of course, we are all for green energy, but we will still need to produce steel in this country, and if we can't we will have to import it from places like China and India where they also use blast furnaces, so it's just moving the problem across."
Unite the UK's leading union, has also spoken out this week, and has called on the government to intervene immediately at the site, by taking a stake in the UK steel industry to ensure "it not only survives but also thrives."
Unite general secretary Sharon Graham said: "Unite condemns Tata's consideration of mass redundancies. We do not accept the need for one single job cut. The strategy of successive government's has failed. Taxpayers should not be footing the bill for new investment unless that is linked to binding job guarantees.
"Tata's sole purpose is serving its shareholders, not UK steel communities. Only by the government taking a stake in the company, will the right choices be made for the UK's economy."
Stephen Kinnock, who is the MP for Aberavon also spoke earlier this week, saying: "Yesterday, steelworkers and their families in and around Port Talbot once again suffered huge anxiety as their futures and livelihoods were thrown into a black hole following the reported briefing given to the trade unions by Tata officials.
"The proposal to shut both blast furnaces and the coking ovens together with other elements of the 'heavy end' of the steel making process linked with the mothballing of the Hot Mill and the Casting plant (BOS plant) has left people wondering where the future of steel making in Port Talbot and across the UK will go. Such plans would see thousands of jobs lost, both of those employed directly within Tata, and of those contractors who service the functions of the works.
"We don't know what the Tata Board was intending to announce yesterday, but one thing is absolutely clear: Port Talbot steelworkers will never accept any plan that's based upon the closing down of our iron and steel making facilities and replacing the steel produced with supplies of steel coil made overseas, perhaps even as far off as India, for however many years it will take to build a new electric arc furnace.
"Closing down our own industry to bring in steels from countries thousands of miles away where production processes are far less green than those already existing in Port Talbot is not a step towards creating a greener steel industry.
"Rather, it's an approach that would be based on exporting jobs, importing carbon and using the mask of "green steel production" to hide the wanton destruction of Britain's steel making capability."
In a previous statement Neath Port Talbot Council leader Steve Hunt said: "I understand that consultation is currently taking place between the company and the trade unions. The steel industry is fundamental to our local economy, to the wider economy and national security.
"While I welcome the news it is proposed to continue to make steel at Port Talbot and that operations will be decarbonised, the number of jobs at risk is of great concern.
"We have already engaged with the Welsh and UK governments and the company but do not as yet have the full details of the transition that is being proposed.
"We will want to secure a clear commitment to the long term regeneration of Port Talbot while also working to support those directly impacted by any change that takes place. There must be a just transition."