Milford Haven charity stalwart Nicola Herteveld has been named as a judge in the prestigious Diana Award 2023, which recognises young people who are helping to change the lives of others.
The Diana Award is the only charity set up in memory of Diana, Princess of Wales, and her belief that young people have the power to change the world.
"I'm so honoured and humbled to have been chosen as a judge, and to be a part of this incredible legacy," she said following this week's announcement.
"Young people have the power to change the world, and this was recognised and celebrated by the late Princess Diana.
"I'm so excited to be instrumental in helping to choose those inspiring and motivational young people who are the changemakers and ambassadors of the future.
" Together we can work to make the world a wonderful place."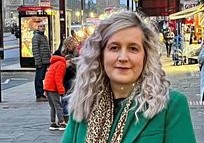 The Diana Award was set up in 1999 by a board chaired by former prime minister Gordon Brown, and created the legacy that young people have the power to change the world.
Their mission is to empower young people to lead change through a range of initiatives which unlock their potential, inspire action and create opportunities, ensuring that no young person is left out or left behind.

Ambassadors who are entered for the award include young leaders, young humanitarians, fundraisers, environmental campaigners, peer mentors, sports leaders and those who inspire others.
Current patrons include former Prime Minister David Cameron, Dame Julia Samuel, former Scottish First Minister Jack McConnell and Esther Rantzen CBE.
The event has been regularly attended by William, the Prince of Wales and Prince Harry, the Duke of Sussex in honour of their mother, the late Diana, Princess of Wales.
Nicola Harteveld set up Megan's Starr Foundation following the tragic death of her daughter, Megan, when she was just 14 years old.
Megan took her own life after being subjected to bullying, both verbal and online. Unable to cope with the pressures, she began suffering mental health issues which eventually led to her death..
"We've lived through the unimaginable because, as parents, we didn't know that any of this was happening," said Nicola.
"We were left utterly devastated beyond words.
"But we know that by creating a kinder, more accepting and a more inclusive community, fewer young people will experience mental health issues, fewer will become less isolated, and m more will be willing to speak out and ask for help. No one ever has to feel alone."