CONCERNS about funding for roads and pressures on headteachers were expressed by the leader of Carmarthenshire Council in an otherwise upbeat assessment of his first year leading the Plaid Cymru-Independent administration.
Cllr Darren Price said it had been an interesting and challenging 12 months, particularly putting a budget together for 2023-24 amid difficult financial circumstances.
Addressing the council's annual meeting, the Plaid leader said he felt strong foundations were in place to achieve the administration's plans but insisted that no one party had a monopoly on good ideas, and that he hoped the council's "mature politics" would continue.
Cllr Price welcomed the opening of two primary schools in recent months in Kidwelly and Gorslas, and said the administration would continue to try to avoid school budget cuts although this was becoming "more and more challenging".
He said solutions were being explored for a new Ysgol Dewi Sant, Llanelli, a new Ysgol Gwenllian, Kidwelly, and school provision in Ammanford.
Cllr Price said he had "complete confidence" in the education department, but added: "I do worry about the pressure that headteachers and senior managers are under to continuously deliver more with limited resources."
The council has been reviewing its overall school footprint for more than a year but potential outcomes aren't known at this stage, although more schools will move towards a Welsh language education model.
On roads, Cllr Price said a Welsh Government grant for resurfacing and repairs had ended in 2021-22, putting additional pressure on councils.
He said Carmarthenshire Council was due to spend £1.6 million on road resurfacing and repairs this financial year compared to £3.9 million last year, and that it would cost around £8 million per year to keep on top of road maintenance. He also said resurfacing costs had risen by 30% in the last three years.
"This is something I am absolutely determined to tackle and again would welcome cross-party support on that," he said.
Cllr Price praised social services staff and foster carers, and said Carmarthenshire had one of the lowest proportions of looked-after children in Wales. He said increasing the social care workforce was important and that he was keen to promote the authority's Care Academi, which enabled people of all ages to earn while they learned.
The Plaid leader said 35% of households in the county lived in poverty and that well-paid and secure jobs for local people were "absolutely essential".
His speech also referenced measures to boost town centres in Llanelli, Carmarthen and Ammanford – such as the restoration of the old YMCA building in Llanelli and the conversion of the former Debenhams in Carmarthen into a hub containing council, health and education services – and reiterated his wish for the former Amman Valley railway to be reopened.
"We have achieved a lot in the last year in very challenging circumstances," he said.
Opposition leader Rob James the Labour group had given the new-look cabinet a year to "get your feet under the table" and would now be "drilling into the numbers" to ensure that promises were actually delivered.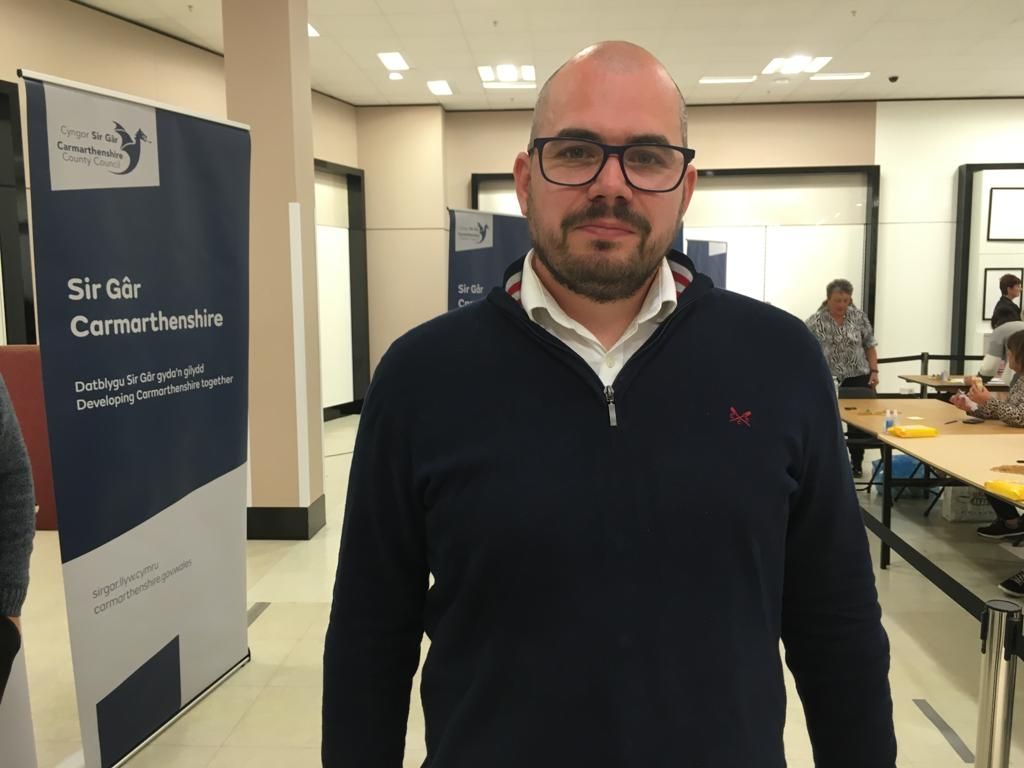 Cllr James said the road network was "getting into a terrible mess" and that an overhaul of kerbside waste collection earlier this year had, as Labour had warned, led to a "proliferation of littering", especially in town centres.
Cllr James called on the administration to say what its plans were in terms of school provision and the overall school footprint after months of talking about it.
The Labour leader also bemoaned the abuse faced by some frontline council staff in libraries, call centres and care homes, saying it was not acceptable.
Councillor Edward Skinner, who represents Hengoed in Llanelli, questioned whether roads were fit for purpose – notably Sandy Road heading west from the town centre towards Burry Port. The Labour councillor also said he was "really doubtful" that the Tarmac used for resurfacing was up to the job.
Earlier in the meeting, Cllr Louvain Roberts was elected as chairman of the council. Cllr Handel Davies was elected vice-chairman.