Life, for many during the lockdown of 2020, was grim.
People couldn't meet up with their friends, families couldn't meet up with their loved ones, and children were left facing unbearably long hours of boredom.
But then Pembroke's Kayleigh Kitts had what she describes as 'a lightbulb moment'.
"I lived in a community full of families with young children and of course there were so many children in my own family who I was unable to see," she told The Herald.
"Because I've worked in the care sector and previously in a nursery and placement school, I knew just how important it was for children to have that social interaction. But it just couldn't happen, because of the lockdown.
But then that lightbulb moment hit."
Kayleigh, who is DBS checked, decided to dress up as Baxter the Easter Bunny and visit the children in her family to hand out special little Easter gift bags. And then she decided to include all the other children who were living in her street, as well. Suddenly, all of the kids living on Devon Drive had something to look forward to.
"And the closer we got to Easter, the Devon Drive community was really coming together," she continues.
"They were supporting the doorstep clap, the 7pm dance and all kinds of other community things that were going on to help people get through the gloomy days that we all faced."
To help the children get into the Easter spirit, Kayleigh organised a colouring competition where children were invited to colour in an Easter picture and pop it in their window. And on Easter Sunday, Baxter Bunny went around with treats and, observing social distancing, judged the competition.

Kayleigh also did some of her home deliveries for Narberth Spar dressed up as Baxter Bunny.
"The day couldn't have gone any better," she says.
"Knowing how dark and gloomy those days were to so many people but then seeing the excitement on the children's faces was priceless. And the adults were just as excited, too."
The following Easter, as Covid rules continued to apply and as people once again became fed up with the on-going pandemic, Baxter Bunny returned.
"I put together a couple of baskets of sweets and off I went. Care homes got in on it this time, as they were still in a lockdown, so they had window visits from bunny or sometimes, visits from bunny dressed in full PPE gear."
By now, Baxter had become a regular Easter fixture in Pembroke with the result that in 2022 he once again made an appearance, this time at The Sweet Retreat in Main Street where he collected sweet hampers and treats to take to a children's party at the Prince of Wales, Pembroke Dock.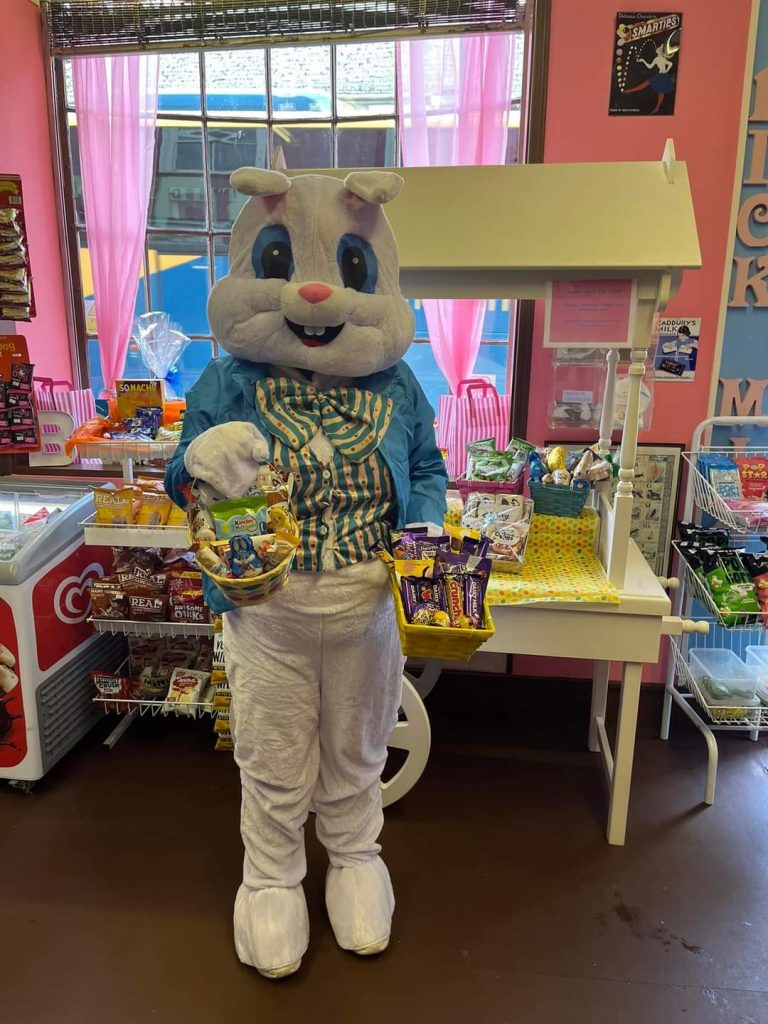 This year, he will be staging a four-day event over the Easter weekend, carrying out visits in and around Pembroke and Pembroke Dock on Thursday, April 6, Good Friday, Easter Saturday and Easter Sunday. He will be carrying out doorstep visits as well as group visits while party packages can also be arranged.
"Families have already booked him in at Neyland and Milford Haven, so it looks as if Baxter will be venturing out a little further this Easter," laughed Kayleigh.
"The visits are crazy, but each and every visit and party, just make those crazy, busy days worthwhile."
For further information on Baxter Bunny's visits or to make a booking, visit Kayleigh Kitts' Facebook page.