Three talented young performers in Pembrokeshire are celebrating after being announced as this year's winners of Abigail's Arts Award.
The award, set up in 2022, is run by Theatr Gwaun in Fishguard with funding from the Goswell family as a way to honour the legacy of Abigail Goswell who passed away from breast cancer.
Usually, two young people who want to start a career in the arts are picked; this year's judges were unable to narrow it down to two and it was decided to help three talented individuals.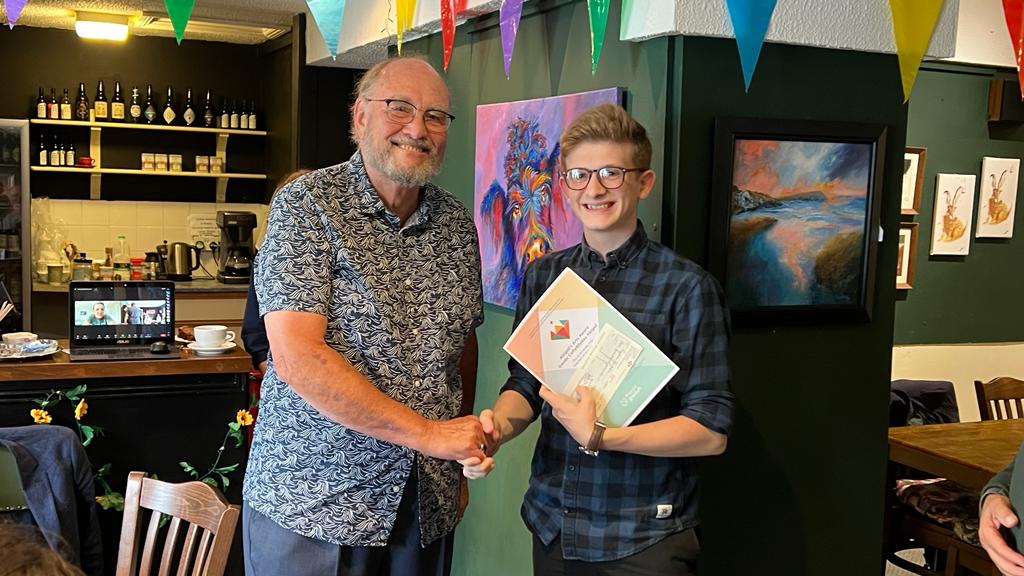 Dylan Swales from Johnston, Tomos Newman from Martletwy and Storm Rose Knapp-Fisher from Llanwnda all received a share of £1,250.

The three winners were given their cheques and certificates at a special ceremony at Theatr Gwaun on August 2nd.
Dylan showed promise with his drumming at just ten years old, becoming the youngest ever Welsh person to receive a grade 8 in music with a distinction.
He went on to be listed in the U.K. top 40 of young drummers in 2019 and performed in the Symphony Hall in Birmingham as part of the National Music For Youth Festival.
Now about to start his A levels, Dylan intends to spend the money on more drumming lessons to pursue his career as a drummer.
On receiving his cheque Dylan said, "Thank you so much, this award helps me to further my drum tuition and to help me reach my goal of being a professional musician."

Tomos is a 17 year old folk singer and songwriter who already has one well received album under his belt. As well as playing several instruments, Tomos is also learning to fix them, working as an apprentice at Main Street Music in Pembroke. He's ready to get in the studio to record the new album he's written and says the award will help him fund those vital studio sessions.
At the presentation ceremony, Tomos said "A massive thank you to everyone involved in granting me the special Abigail's Arts Award. I can't wait to use this grant to get into the studio and create my next album."
Storm is a young thespian committed to pursuing a career on stage or on the screen. A keen Shakespeare fan, she studied Performing Arts at college and has joined the National Youth Theatre. She is currently preparing for drama school auditions and wants to spend her grant on the expenses she will incur in applying.
Storm was also thrilled to be a winner, saying "This award is so wonderful and a special way to support local young artists at the beginning of their careers within the arts. It will truly go a long way and means a lot."

Abigail's father, Richard Goswell met the winners and handed them certificates along with the money. He said "All the entries this year were very strong, and it was a difficult decision to pick the winners. These awards are a wonderful way to fulfil the legacy of Abigail and I hope the winners use this money to help fulfil their dreams." He added, "I'm also delighted to meet the parents of the winners and I'm sure that their continued support is a major factor in their success."
Abigail's sister Emma said "The fact that we couldn't pick two winners this year really shows the breadth and level of talent in this part of the world! I think Abigail would be very proud of ALL the young people who took time to apply for her award."
Abigail's Arts Award 2024 will open early next year. For more information, please contact Patrick Thomas via email at Theatr Gwaun: [email protected] or visit Theatr Gwaun's website: https://theatrgwaun.com/abigails-arts-award/