GOODWICK United reached the Senior Cup Final on Wednesday night (Mar 8) after they beat Tenby 1-0 in their Senior Cup semi-final.
The game was played at the Bridge Meadow in freezing temperatures with snow coming down heavily at times but that did not dampen the spirits of the good crowd.
It was a cagey affair but both sides had chances to take the lead in the first half.
Goodwick were awarded a free kick on the edge of the box but after the ball struck the wall, the rebound was brilliantly saved by Tenby keeper Dylan Noot.
The Division 1 side had another chance after their corner was headed out but the shot from outside the box was again saved by Noot.
They then had another free kick wide on the right but Noot was able to punch the ball way before sub Nathan Greene could get on the end of it.
When the half time whistle went the game was still goalless.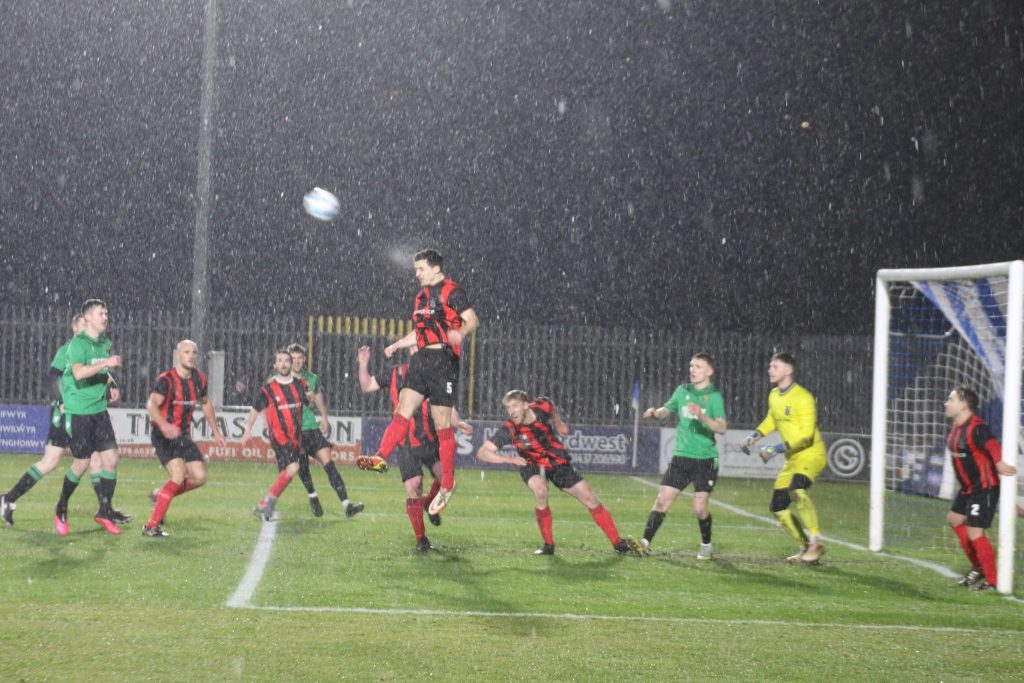 Goodwick keeper James Gwilt made two good saves early in the second half while Noot was again in action at the other end as he denied a Rhys Jones effort.

Tenby then came within inches of scoring as Scott Ferney saw his shot strike the post.
WIth 11 minutes to go, Noot retrieved the ball from the touchline and looked to play the ball upfield but he only found Greene who took on a defender before passing the ball into the empty net from 18 yards out. It was an uncharacteristic error from the Tenby keeper but Goodwick now found themselves ahead.
Tenby looked to get back level but were unable to do so depite their efforts.
Goodwick held on for the win and will now play the winners of the other semi final, between Monkton and Kilgetty, in the final.
The second semi-final is set for Wednesday, March 29, and will again be played at the Ogi Bridge Meadow, kick off at 7pm.
Tenby: Dylan Noot, Ricki Morgan, Sam Butler, James Bridges, Toby Rossitter, Dan Storer, Jacob Hipkiss, Daryl Mansbridge, Scott Ferney, Jerome Mansbridge, Chris Millward. Subs: Harri Phillips, Jack Tucker, Rhys Morgan, Callum Karaka, Lewis Hurlow.
Goodwick: James Gwilt, Stefan Hayes, Ben Adams, Steven Dockerty, Scott Delaney, Luke Hayward, Rhys Jones, Jake Smith, Rhys Dalling, Johnny Horgan, Will Haworth. Subs: Nathan Greene, Sion O'Sullivan, Ivan Watkins, Kyle O'Sullivan, Kyle Smith.