HELD annually, the Citizen's Awards recognises outstanding achievements through voluntary service from individuals and groups in our community. 
Recipients of the awards are decided by the Milford Haven Town Council. This year's winners will be honoured at a ceremony on Saturday, June 10.
Milford Haven Town Council's website hosts a dedicated page which lists former winners. 
You can get a nomination form by emailing [email protected], downloading the form from their website, contacting the Town Council on social media or by calling 01646 692505 to request a postal form.

All nominations must be submitted by 5pm on Friday, April 21.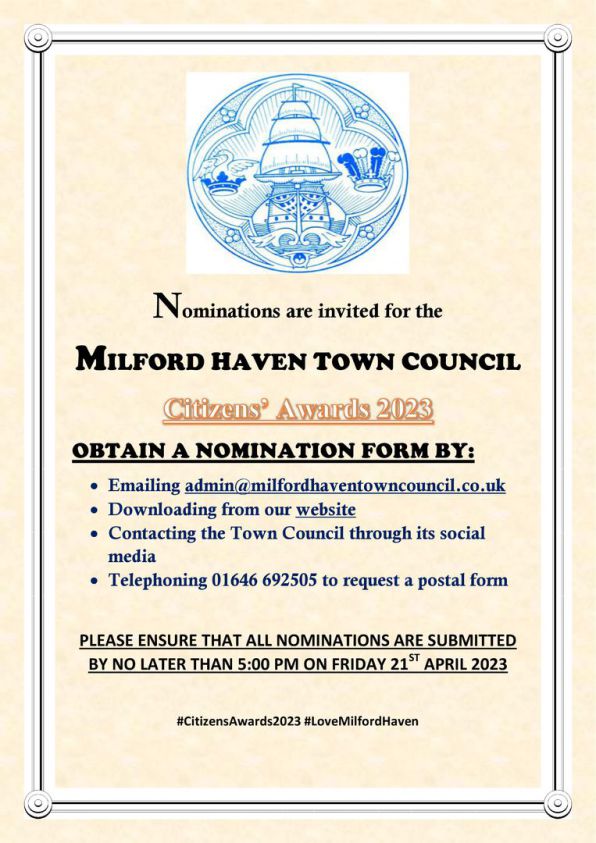 The Town Council states that they will consider all applications fairly and will use the following criteria in determining whether to make a Citizens' Award:
Only page 2 will be provided to the Public Events Sub-Committee;
The service/contribution provided by the individual/group is primarily for the benefit of the community, or any of the inhabitants, of Milford Haven;
The length of service/contribution undertaken by the individual/group;
The level of personal contribution and effort made by the individual/group with regard to the service/contribution provided; and
Confirmation from the Town Clerk that there is no conflict of interest between the person nominating and the nominee, or the Town Council and the person nominating and/or the nominee