A TAKEAWAY ice cream parlour/coffee bar at surplus public toilets, repeatedly recommended for refusal, could only have a seven-year lifespan even if it is given the go-ahead.
At the June meeting of Pembrokeshire Coast National Park's planning committee, members went against officer recommendations by narrowly backing the Newgale scheme.
The application, by Mike Harris, included a beach-themed small retail unit and a small rear extension for a kitchen at closed public toilets next to Newgale Campsite.
It also offered a new seasonal public disabled toilet to be provided by the applicant.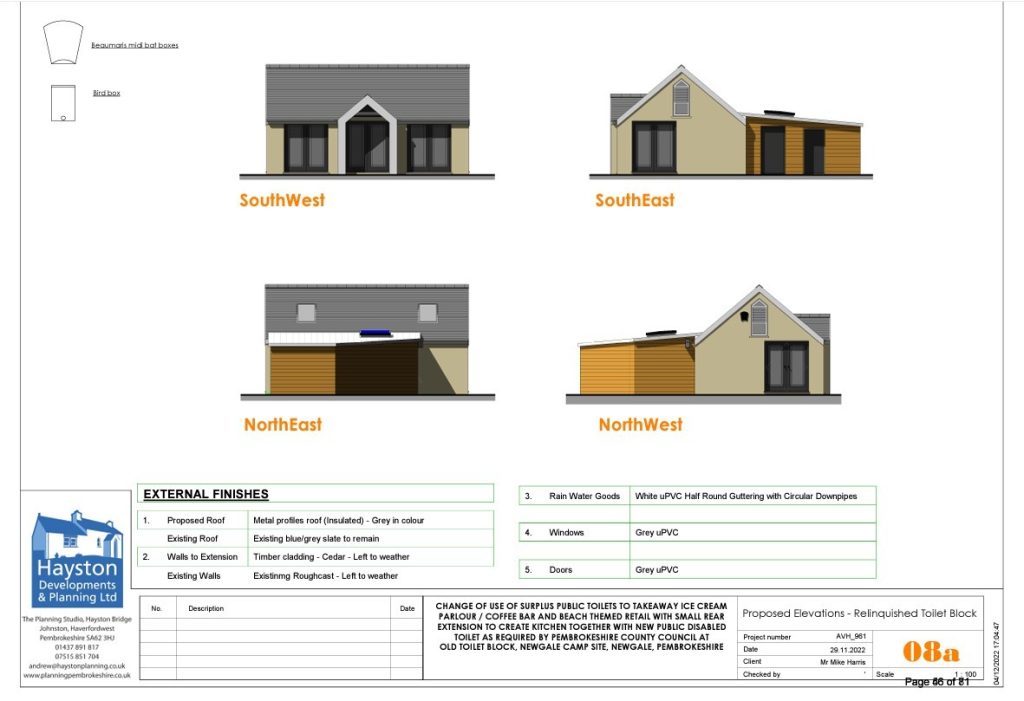 As the plan was a departure from officer recommendations, planners could only be 'minded to' approve, needing a future meeting for final ratification, initially expected to be the July meeting.
However, national park planners at that meeting heard the scheme had been subject to a potential 'call-in' for the Welsh Government to decide its fate, after a request from the National Trust.
That request was turned down, the application now returning to the September 6 meeting of the national park's planning committee, again recommended for refusal.
A report for committee members suggests that, if they approve against officer recommendations, conditions be imposed, including a legal agreement to provide disabled toilet facilities and a seven-year condition relating to potential flooding.

The site is within a designated flood risk zone, part of a wider area that is currently subject to a coastal adaptation scheme being led by Pembrokeshire County Council, which will eventually involve the relocation of the road adjacent to the site.
"This is anticipated to happen within the short-term and will impact on the operation of the proposal," the report says.
"For this reason, it is recommended that the proposal be granted for a temporary period of seven years or until it becomes unusable – whichever is the sooner. The applicant will have the opportunity to reapply for a further period of use for the building, if appropriate in the dynamic environmental changes facing Newgale."
As part of this, officers are also recommending a legal agreement "to establish a mechanism whereby the building and its associated infrastructure is removed and remediated in the event either of the road being removed or the use of the building ceasing," with a September 6, 2030, date given in potential approval conditions.

Another condition listed in the latest report is a call for two bird boxes to be placed on site as part of a biodiversity enhancement scheme.