MOVING tributes have been paid to one of three paddleboarders who died after a group of nine got into difficulty in the Cleddau.
Paul O'Dwyer was described as "the life and soul of the party" who devoted much of his time to charities.
Details have emerged about the ex-soldier, and dad, who died trying to save the lives of two other paddleboarders in Haverfordwest on Saturday morning (Oct 30).
The 42-year-old was one of the tragic victims after fierce downpours left the River Cleddau suddenly swollen and dangerous, sweeping water sports enthusiasts away with the current.
Mr O'Dwyer, from Salty Dog Co, a surf-style clothing and paddleboarding company based in Port Talbot, has been named as one of the three who died. The company tweeted a message saying "goodbye to our salty dog Paul" on Saturday evening.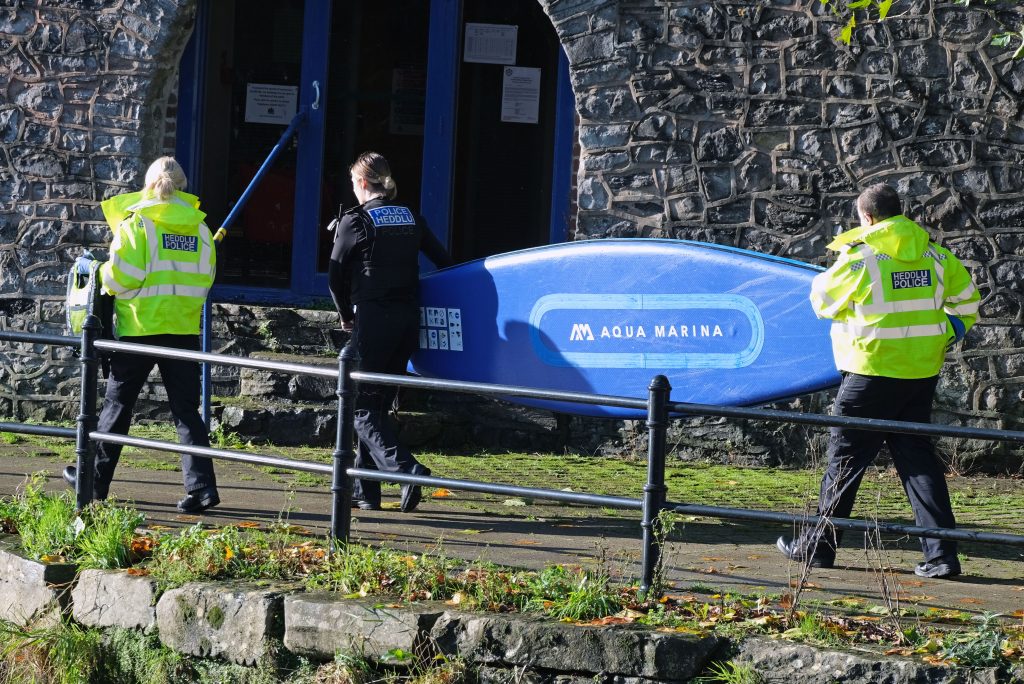 Two women were also pronounced dead at the scene, and another woman remains in a critical condition in the ICU of Withybush Hospital.
Another five people were rescued uninjured after a multi-agency search operation was launched, police confirmed on Sunday.
The group of nine adults from South Wales had travelled to Haverfordwest for a paddle-boarding excursion.
One of the paddleboarders who was on the trip, Vickie McKinven from Milford Haven, said Mr O'Dwyer had died attempting to rescue two fellow paddleboarders who had got into difficulty near the weir.
Ms McKinven said: "Paul did lose his life attempting to save two of the girls also in distress due to an unexpected downpour.
"Absolutely heart-breaking, was all good friends.
"And did so much to raise money for charities."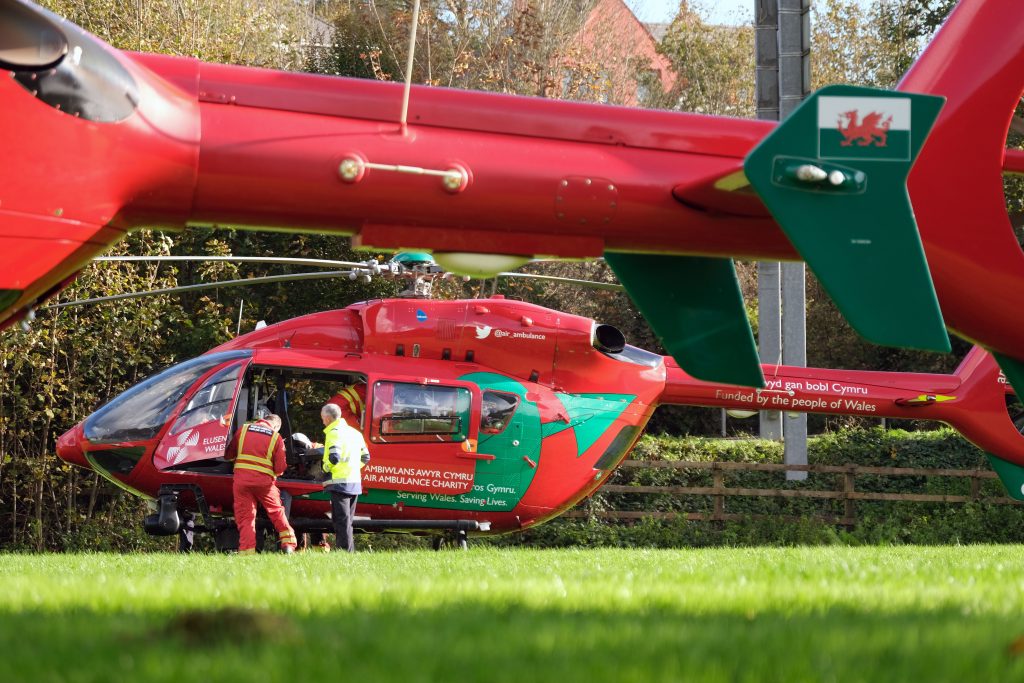 Mr O'Dwyer was an ex-soldier and had served with The Royal Monmouthshire Royal Engineers 108 Welsh Squadron militia.
After leaving the military he became one of the founders of charity SA1UTE, which supports veterans in the South Wales area.
Police were scrambled after reports of the group "in distress" in the water near the town centre just after 9am.
Tributes have poured in for the ex-soldier from Port Talbot, who was named as of the three paddleboarders who died.
Mr O'Dwyer, a former Royal Engineer, described himself as a "dedicated daddy" and was a devoted charity fundraiser.
In 2017, he co-founded up the Armed Forces charity SA1UTE to help to help struggling former servicemen and women.
Mr O'Dwyer was involved with the Salty Dog Co surf shop at Aberavon Beach close to his home in Port Talbot.
In a Twitter post, Salty Dog Co, wrote: "It is with heavy heart that we say goodbye to our salty dog Paul.
"A lovely human being taken too soon.
"Our thoughts and prayers are with your friends and family. You will be missed greatly."
A friend of Mr O'Dwyer's posted on Facebook: "He was a fantastic campaigner for charity and someone with a zest for life.
Neath Port Talbot councillor Matthew Crowley knew Mr O'Dwyer for most of his life, and said he had always been a sports lover, and was the "life and soul of the party, from a real young age".
"He immersed himself into surfing, paddleboarding, skiing, anything to do with water.
"He comes from a great family background. A real good moral compass."
Mr Crowley is also the president of Aberavon Green Stars rugby club, which Mr O'Dwyer, from Port Talbot, also joined.

"He became a formidable player. He played for eight or 10 seasons at a pretty good level. He was a great player and embraced the club."
He added: "Paul immersed so much of his time and energy into charities. Whenever there was a charity event Paul would be the first one in fancy dress, he'd be the first one with a rah-rah skirt on.
"He loved all that… helping people and raising a few pounds for good, worthwhile causes in the community."
JOEL IS A HERO
Local Natasha Williams confirmed on social media that it was her son, Joel, who had selflessly rescued one of those in trouble on the Cleddau
She said: "My son who is only 20 was the member of public who jumped in and pulled a young lady out and did CPR until the services arrived, our heart goes out to the people who lost their lives and all involved.
Witness Pauline Turner confirmed this by replying: " I spoke to your son by the bridge near the weir just as the emergency services had take over.
"He was very brave to have entered the water as the river was running very fast.
"Such a hero in my eyes.
The group were engaged in Stand up Paddle boarding or 'SUP' for short. It is one of the fastest growing water sports in the world.
Using a very large, stable board (like a surfboard) and a single blade paddle you can navigate your way along coastlines, rivers, and lakes. Experienced riders can also surf the waves on them. You can paddle on your knees or on your feet if you have the balance. It's a great way to experience the outdoors and an enjoyable means of getting some good exercise.
COUNCIL LEADER'S TRIBUTE

Pembrokeshire County Council Leader, Cllr David Simpson, said: "We are all by now aware of the incident that happened on Saturday on the River Cleddau alongside County Hall in Haverfordwest.

"The outcome on Saturday was tragic and I'm sure like me our thoughts go out to all those involved and our deepest sympathy goes out to the families and friends of those who sadly have lost their lives.

"This is an ongoing investigation led by the police so I kindly request that we allow the police time to undertake their review.

"I want to pass on my sincere gratitude to all those involved in dealing with this incident."
LOCAL MP'S COMMENT
Stephen Crabb, Conservative MP for Preseli Pembrokeshire, said: "Horrific incident in Haverfordwest this afternoon. Thoughts with all involved and the emergency services responding."
Liz Saville Roberts, leader of Plaid Cymru in Westminster, said the news was "distressing", adding: "God speed the emergency services and support the families."
Town councillor Thomas Tudor said he had been told the incident followed an "out of the blue downpour".
"It would appear that, unfortunately, the paddleboarders were caught up in that downpour which led to this tragedy," he said.
VICKIE DROPPED OUT
Cleaning business owner Vickie Mckinven, from Hubberston, Milford Haven, said the incident was "absolutely heart-breaking" and she was "good friends" with the group, which "did so much to raise money for charities".
She said she had been in Tenby with the other 9 paddleboarders on Friday and was all set to go when "last minute nerves" about the weather conditions had led her to change her mind for the last minute.
Ms Mckinven says she knew the group well and assisted the police with their inquiries on the day as to who had taken to the water.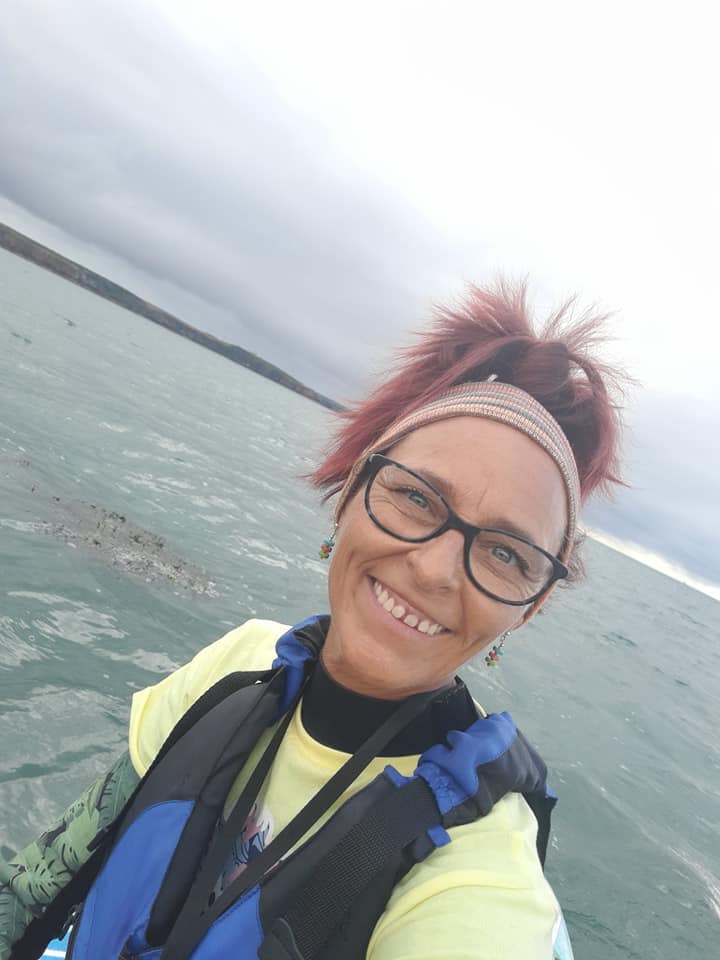 Speaking to The Herald, she said that she was "doing okay but extremely shaken up".
Later speaking to the Press Association, Ms Mckinven said: "Paul did lose his life attempting to save two of the girls also in distress due to an unexpected downpour."
A spokesperson for Haverfordwest County said: "Everybody at the club were devastated to learn of the incident on the River Cleddau over the weekend, right in the heart of town, in which three people tragically lost their lives, leaving another in critical condition in hospital.
"The club would like to send its sincere condolences to the friends and family of those tragically lost, and would like to offer whatever support it can to those affected."