FORMS containing distinguishing features of unidentified corpses, along with gruesome photos, have been discovered in Swansea's Guildhall.
They were in a folder, marked Deaths Due to War Operations, which was unearthed by county archivist Kim Collis while he was clearing out a basement store room.
The room is used for archive material prior to storage in the main West Glamorgan Archive Service "strong room" in the Civic Centre. Mr Collis said the folder was among more conventional documents such as records of teachers' wages from the 1930s and 40s and more recent material about the construction of Swansea Marina and the Tawe river barrage.
The forms were mainly filled in by people who had the unenviable task of clearing the streets of Swansea after Second World War bombing raids by the Luftwaffe.  Features such as hair and eye colour, build, shape of nose and physical marks or peculiarities were noted. One example was a tattoo saying, To Grace 1937, on one victim's right forearm. The forms also recorded clothing and items found with bodies, such as packs of Chesterfield and Lucky Strike cigarettes. Photos of the bomb blast victims accompanied them.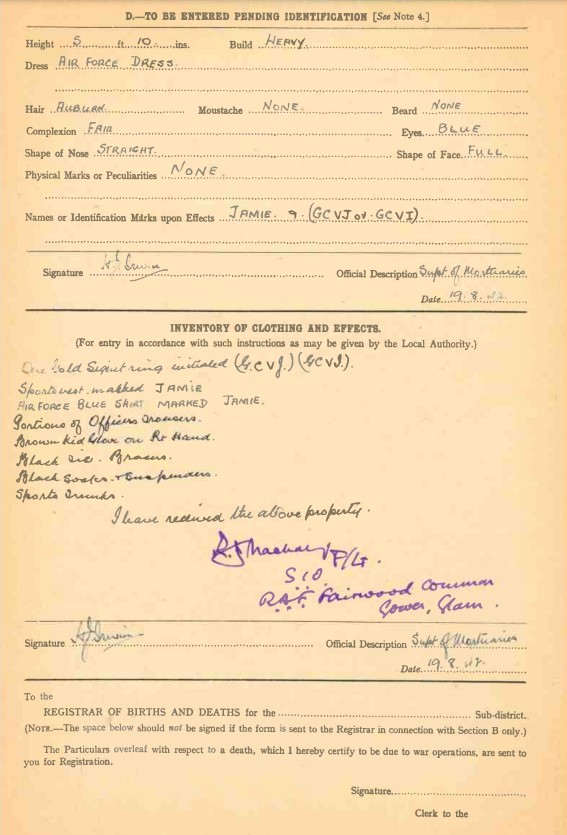 Mr Collis said the folder stood out of context with the rest of the material. "I immediately realised it was something that had lain unrecognised and probably stored in the wrong place," he said.
"For students of the Blitz, this is an unusual if somewhat gruesome resource. I think the main thing to understand is the procedures that were used at the time, and also getting a feeling for how people were pushed to their limits in clearing up after bombing raids. There was probably no counselling or understanding of post-traumatic stress disorder. It was a totally different time."
Mr Collis estimated the folder contained information about 30 to 40 people, but he couldn't say if they were all subsequently identified. The bodies were also those of sailors and other servicemen, all brought to the mortuary on The Strand. One of these individuals was identified as a Dutchman, Jan Ooburg, who was master mariner of a merchant vessel called Mad Joe which struck an enemy mine in November 1941.
Records indicate that 390 civilians were killed in German bombing raids in Swansea during the Second World War. The infamous Three Nights' Blitz, as it was known, claimed 230 lives in February 1941 alone.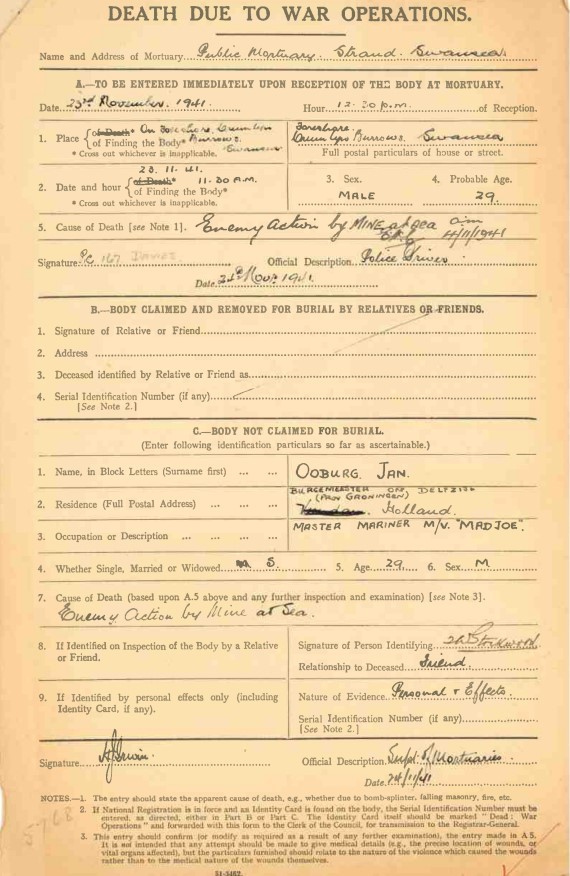 Speaking two years ago, Louise Davies, 60, of Mayhill, described how her late mother, Mary Cooke, never got over the death of her father, Thomas Charles Rees, when she was eight years old. Mr Rees was a butchers' van driver and also an air raid warden assigned to Teilo Crescent, Mayhill. On the second night of the blitz, he entered a bombed home on Teilo Crescent to check for survivors. As he searched the rubble for signs of life, another bomb hit the shell of the building. His body was never recovered.
The archive service has digital registers of civilian war deaths from Swansea and Port Talbot. Cause of death is usually given as bomb blast due to enemy air raid.
Cllr Elliott King, cabinet member for culture and equalities, said: "This is a fascinating find that gives us more insight into the types of issues people were facing every day during World War Two.
"Without this discovery a significant part of Swansea's history would be lost. They were unprecedented times and we now have these newly-discovered files that will become an important learning tool for schoolchildren, students, historians and generations to come."