ON SATURDAY 6th November, eight Greenpeace Swansea volunteers took part in the Global Day of Action for COP26, calling on the UK Government and world leaders to stop failing us on the climate crisis.
Participants from many different environmental and social groups, including Friends of the Earth, and the Socialist Workers' Party, carried placards emblazoned with the message 'Stop Failing Us', and marched from Castle Square, and down the Kingsway. 
Speeches were made, Geraint Davies MP attended, and a large polar bear emblazoned with the message 'The ice caps are melting'.
Marches also happened in more than 20 cities across the UK, with more than 100,000 people attending in Glasgow, where the UN climate talks are being hosted, and around 20,000 in London.
Caitlin Jones, a volunteer with Greenpeace Swansea Group, said:
'It was empowering to join 200 other people on the march in Swansea to call on the UK Government and world leaders to stop failing us on the climate crisis. Our voices are now too powerful to ignore. We're part of a movement of millions of people across the world, and we'll stand up for a fairer, greener future until our leaders have no choice but to take action.'
Abby Haines, 12, from Sketty, who attended a march for the first time, said;
'I've never been on a demonstration before, but the climate crisis is too important to ignore and I want to be part of the solution. I want to save polar bears and see a future.'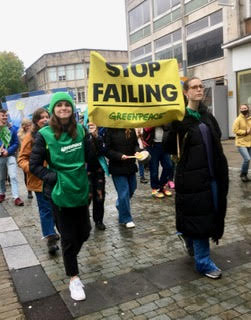 The most recent UN climate report warned that we're at a 'code red' for humanity, and gave us the clearest evidence yet of the link between greenhouse gas emissions and worsening climate impacts, from flooding to fires, which we've seen across the globe this summer.

However, as things stand, the cuts to global emissions agreed by governments during COP26 are not enough to keep temperature rises to under the 1.5° Celsius goal aimed for in the Paris Agreement, and will see us hurtling way past this goal. Before these talks are up, governments need to agree:
To half global emissions by 2030.
From this day onwards there will be no new coal, oil or gas projects.
To commit at least $100 billion per year from rich countries to less developed countries to aid adaptation, transition away from fossil fuels and develop clean energy systems.
To reject plans for carbon offsetting, which is a scam to allow the biggest polluters to keep polluting with impunity.
More and more people across the UK and the world are demanding that Government takes decisive action. A survey [2] recently conducted in the Blue Wall, (constituencies that have large Conservative majorities) revealed that 83% of those surveyed described themselves as worried about climate change, including 73% of people who voted for the Conservative Party in the 2019 election.
71% (including 64% of Conservative voters) agreed with the statement that 'We can't afford not to implement policies intended to address climate change. The damaging effects of climate change are here already – and future generations will suffer further if we don't take action now.'
69% in total, including 56% of Conservative voters, agree that 'The UK should be one of the most ambitious countries in the world when it comes to addressing climate change – we need to lead the way and do our bit, regardless of others.'
Caitlin Jones continued 'Could there be clearer evidence that the British public want Boris Johnson to put his claim to be a climate leader into action? It's time to side with people vulnerable to climate impacts here in Swansea and across the world and say no to new fossil fuel projects.'