IF you live in Wales, there's a good chance you can quote at least one line from Twin Town.
Heck, there's a good chance you can quote multiple.
This is because Twin Town is perhaps Wales' greatest movie, capturing the raw essence of its era, with it's quick quips and dark humour.
You don't have to be Welsh to love the film, however, as it probably ranks up as one of Wales' greatest cultural milestones, with fans spread out across the world.
It follows the exploits of tearaway "twins" Jeremy and Julian Lewis (Rhys Ifans and real life brother Llyr Evans), opening with panoramic shots of Swansea as they race a stolen BMW through the cobbled streets of Mount Pleasant.
The film follows the Lewis' car thefts and drug-taking and their ongoing feud with local businessman, rugby enthusiast and part-time drug dealer Bryn Cartwright (William Thomas), after the brothers' father, Fatty Lewis (Huw Ceredig), falls from the roof of Cartwright's rugby club while carrying out a "hobble".
Cartwright refuses to compensate Fatty for his accident, and, as the tit-for-tat escalates, Cartwright enlists corrupt policemen Terry and Greyo (Dougray Scott and Dorien Thomas), before the plot turns murderous.
When it was released in 1997, Kevin Allen's directorial debut drew some criticism for both its abundant profanity and its perceived negative portrayal of Swansea.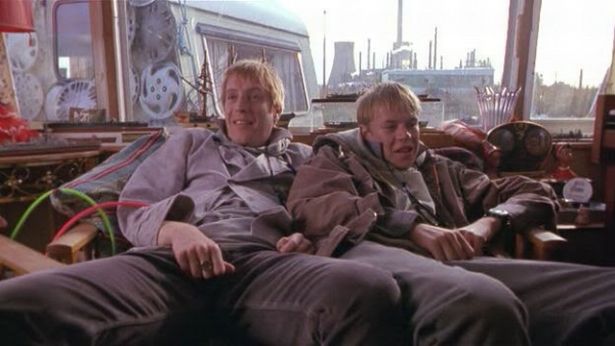 At the time, it was described by some as "sordid", with fears it might even affect visitor numbers to Wales.
Then-Liverpool Liberal Democrat MP David Alton described it as "sordid and squalid, plunging new depths of depravity".
The Wales Tourist Board criticised its potential impact on visitor-numbers to the nearby Gower, while police chiefs raised objections to the depiction of habitually-corrupt officers.
But film critics took a kinder view, with Twin Town receiving a nomination at the Berlin Film Festival.
And according to Welsh comedian, film critic and social commentator Gary Slaymaker, it has only got better since.
"I don't think people knew quite what to make of Twin Town when it first came out; it was so different to anything which had gone before," he said.
"Up until that point, Welsh films had all portrayed a slightly twee, chocolate-box Wales of miners and male voice choirs and so on. Twin Town came along and made people take notice by belching in their faces.
"It's funny precisely because it's real. We all know someone like Fatty Lewis or Bryn Cartwright, and whilst we might not want to acknowledge that reality, we still chuckle at the recognition."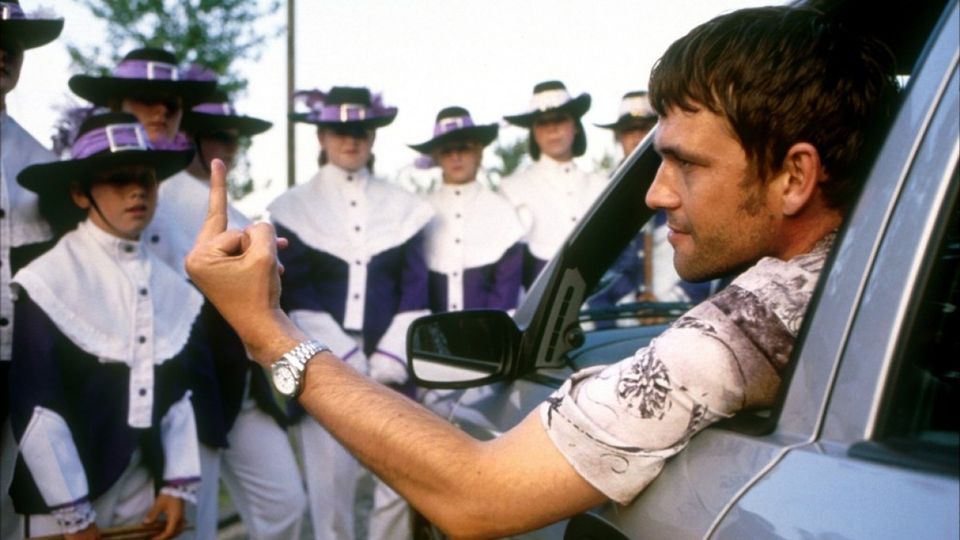 Mr Slaymaker believes Twin Town has put Swansea on the map in the same way as Trainspotting did for Edinburgh, or The Commitments did for Dublin.
He said: "They are all very different films, and I know for a fact that Kevin Allen (Twin Town's director and co-writer) doesn't really appreciate the comparison with Trainspotting.
"But what all three do is perfectly capture the zeitgeist of a place in a particular moment in time. That slightly shabby, post-industrial Swansea is largely gone now, but in a way I miss it, so I suppose I find Twin Town quite nostalgic.
"I thought it was a particularly Welsh sense of humour which wouldn't travel well, but I've been astonished by how many people in England and throughout the world can quote me entire passages.
"I used to go out with Sue Roderick who played Bryn's wife Lucy, and it was impossible for us to have a drink or a meal without someone coming up and asking about the film."
Roger Ebert's view of the film was mixed, stating: "Twin Town" is a grotty examination of sordid lives, a reminder that many colorful characters are colorful only from a distance. The movie takes place in Swansea, Wales, a town that the Welsh poet Dylan Thomas once referred to as "the graveyard of ambition"–and he was a local boy, mind you. I have friends who live there, and who assure me that most of the events in the film take place on the other side of town. I hope for their sake they are right.
"I was not sure where the movie wanted to go and what it wanted to do–this despite the fact that it goes many places and does too much. Somewhere buried within it is a sweeter, more light-hearted story about its feckless lads, and then the hard-edged "Trainspotting" angle seems to have been added. But while "Trainspotting" had a clear vision and found a way to more confidently distinguish between comedy and the appalling, "Twin Town" is less sure-footed.
"The movie's executive producers are Danny Boyle and Andrew MacDonald, who were the director and producer of "Trainspotting." Its director, Kevin Allen, is the brother of Keith Allen, an actor in "Trainspotting." The connection is obvious: This film wants to do for (or to) Wales what the other did for Scotland. Some audiences will have trouble with the accents, but I find that in films like this (and Gary Oldman's much superior new "Nil by Mouth"), it isn't the words but the music, and you can nearly always sense pretty easily what is being said. "Twin Town" makes things easier by using variations of the same four-letter word as roughly a sixth of its dialogue."
Despite this, the film was entered into the 47th Berlin International Film Festival.
As talk of a sequel continues to surface, which hopefully will now see the light of day with the Covid-19 pandemic starting to subside, the spirit of Twin Town continues to live on and find a new generation of fans every few years.
Related posts