A PETITION calling for the reopening of Welsh railway lines, including the Carmarthen-Aberystwyth line, has gained more than 6,000 signatures in just a few days.
The Senedd Cymru petition calls for the reopening of the Bangor – Afon-wen and Aberystwyth to Carmarthen lines, integrating them with the Cambrian railway, and the line from Carmarthen on to Cardiff.
Members of Ceredigion County Council, meeting on April 20, heard the highest number of signatures on the petition were from the county.
The petition comes soon after a Ceredigion council committee – meeting earlier this month – heard the Aberystwyth-Carmarthen line, a victim of the 1960s Beeching cuts, was unlikely to reopen for 30 or 40 years.
Re-opening the Aberystwyth-Carmarthen rail line has long been a call shared by many, including both members of Plaid Cymru and the Welsh Liberal Democrats locally.
The line originally closed in February 1965; predicted costs for its re-opening are as high as £800 million, with quotes of £1bn even bandied.
Back in 2020, West Wales Rail Campaign group Traws Link Cymru published a report with new research into the reopening of the Aberystwyth to Carmarthen railway, which broadly confirmed the findings of an initial scoping study of 2015, notably that 97 percent of the original trackbed was clear and that reopening was a realistic prospect.
Since then, any hopes of reopening the line appear to be many years away, members of Ceredigion County Council's Thriving Communities Overview and Scrutiny Committee heard earlier this month.

Members, discussing potential use of the old line, heard that, despite "an aspiration to improve the railway links between Carmarthenshire and Aberystwyth," the proposals were likely to take many years, effectively allowing any alternative use to enjoy a long usage.
Professor Stuart Cole CBE asked if there was any definitive answer from Welsh Government on whether the scheme would go ahead any time soon, estimating there was "no chance at all" of it reopening in "the next 40 years".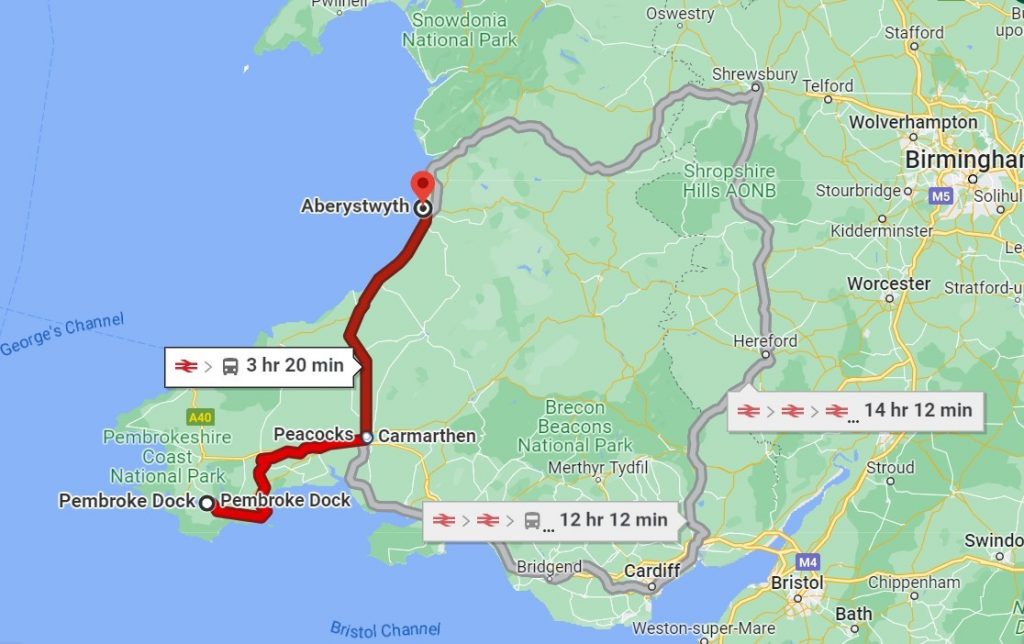 That long-term position on the railway link was again emphasised at today's full meeting of Ceredigion County Council, with several members raising the issue during a wider debate on public transport.
Councillors raised the need for supporting bus services in the short-term, with the hoped-for line replacement a longer-term prospect; Councillor Alun Williams highlighting Ceredigion's contribution to the petition.
A rail journey from neighbouring Pembrokeshire to Aberystwyth faces a journey of hundreds of miles through England, rather than a trip of 70 miles or less by road.
Currently anyone wanting to travel solely by rail county-county faces an arduous journey through south Wales, Herefordshire, Shropshire and Powys.
While Pembroke Dock in the south of the county and the university town of Aberystwyth are just over 70 miles apart, the rail journey is estimated at more than 300.