JUST two and a half years since she vacated the position, Cllr Beverley Baynham has returned to the role of Powys County Council chairman.
At the council's annual meeting on Thursday, May 18, Cllr Baynham who is a member of the Independent group and represents Presteigne was confirmed in the role -stepping up from the position of council vice-chairman.
Her name was put forward for by Cllr Ange Williams of the Independents for Powys group and the nomination was seconded by Liberal Democrat, Cllr Pete Roberts.
Cllr Baynham said: "I wanted to thank the Radnorshire members for putting their faith in me and also all of the members here for having the trust to vote for me a second time.
"Although it's very different council from when I sat in this chair previously, and I do hope that we don't have a repeat of when the world entered a global pandemic, we'll keep our fingers crossed."
With a nod towards the previous chairman, Cllr Gareth Ratcliffe who presided over a year which saw the Queen Elizabeth II's 70 years anniversary jubilee  later her death as well as accession and coronation of King Charles III a coronation, the year also saw three prime ministers and umpteen cabinet changes at UK Government level.
Cllr Baynham said: "I don't think I can beat Cllr Gareth's (Ratcliffe) achievements, hopefully the world will settle a little bit."
Cllr Bayham also pointed out that meetings are now held in a hybrid format with some councillors in the council chamber in Llandrindod Wells and others attending online.

Previously she had presided over all in chamber meetings before moving to chair fully online meetings during the Covid-19 pandemic.
Cllr Baynham said: "Please bear with me, hopefully we'll move through swimmingly.
"I haven't decided to nominate one particular chosen charity this year.
"I have decided to try and spread any financial donations across Powys – if you have any worthy causes in your wards, please feel free to let me know."
The civic roles in Powys are held alternately by a councillor who represents a ward in the old shires of Montgomeryshire, Brecknockshire, and Radnorshire.
With Cllr Baynham representing Radnorshire, vice-chairman Cllr Jonathan Wilkinson (Conservative) represents the ward of Meifod in Montgomeryshire and assistant vice chairman, Cllr William Powell (Liberal Democrat) represents the ward of Talgarth in Brecknockshire.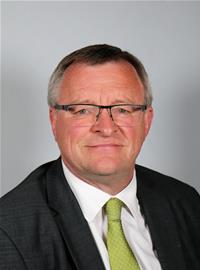 Cllr Baynham was chairman of the council from May 2019 to November 2020 and her time was extended by six months due to Covid-19.