Storm Betty is poised to strike Pembrokeshire today, unleashing powerful winds that have the potential to put lives at risk, according to the Met Office. A yellow weather warning, signaling a significant weather event, will take effect at 6 pm today and extend for 18 hours until midday tomorrow.
This weather alert spans all corners of Pembrokeshire, including the towns of Haverfordwest, Tenby, and St Davids. The primary concern is the "very strong and gusty winds, associated with Storm Betty," warns the Met Office.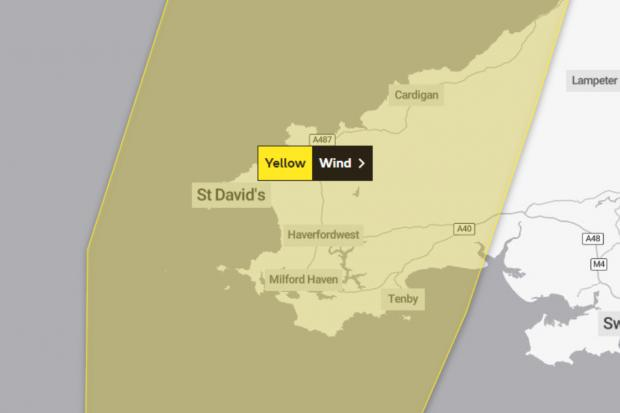 Anticipated impacts of the storm encompass various domains:
Structural Damage: Buildings may sustain damage from the force of the wind.
Transportation Disruptions: Road, rail, air, and ferry services could face delays and cancellations, potentially elongating travel times.
Closures and Power Cuts: Roads and bridges may be shut down, while power cuts are a distinct possibility. Mobile phone coverage might also be affected.
Coastal Hazards: Large waves and beach debris hurled onto seafronts, coastal roads, and properties could endanger lives and cause injuries.
Meteorological Movements: Storm Betty is projected to sweep across the Isles of Scilly before swiftly advancing northward across western portions of the UK. South to southwest facing coasts may witness gusts of 60-70 mph, while speeds of 45-55 mph are likely elsewhere.
Seasonal Impact: Given the foliage-heavy state of trees and the prevalence of temporary structures like tents and marquees at this time of year, disruptions are anticipated.
Vehicle and Caravan Precautions: High-sided vehicles and caravans could be adversely impacted.
A spokesperson from the Met Office issued a statement, underscoring the impending danger: "Storm Betty is expected to bring a swathe of very strong and gusty winds to the Isles of Scilly early Friday evening, quickly transferring north across many western parts of the UK overnight and into Saturday morning."

The storm's reach isn't limited to Pembrokeshire alone. Other areas of Wales in its trajectory include Carmarthenshire, Ceredigion, Conwy, Gwynedd, and the Isle of Anglesey.
For comprehensive safety information during such extreme weather conditions, the public is urged to consult the Met Office website. As Storm Betty prepares to bear down on Pembrokeshire and other regions, authorities and citizens alike are mobilizing to mitigate risks and ensure preparedness.