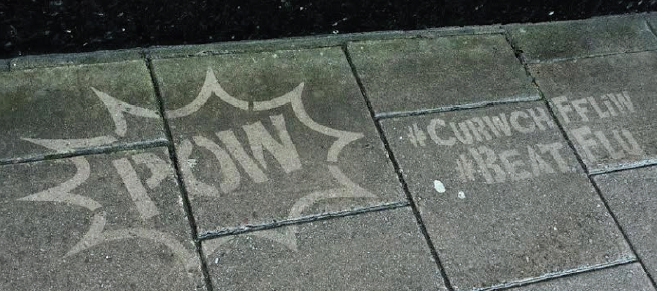 ABERYSTWYTH residents are invited to keep their eyes peeled over the coming weeks as pavements become awash with 'clean graffiti' supporting the Wales-wide Beat Flu campaign.
The eye-catching messaging is part of the annual Beat Flu campaign, which aims to encourage eligible people to get their free flu vaccine in order to 'Beat Flu' this winter.
Adults aged 65 and over, people with long term health conditions and pregnant women are eligible for a free flu vaccine against this potentially dangerous disease.
Carers, volunteers providing planned emergency first aid and Community First Responders are also entitled to the vaccine, which is delivered to adults as a small injection in the arm, and eligible children get a needle-free nasal spray vaccine. Frontline health and social care workers should have the vaccine as part of their occupational health care, to protect themselves and those they care for.

Dr Richard Roberts, Head of the Vaccine Preventable Disease Programme in Public Health Wales, said: "We want to spread the message as far as possible that there is free protection available for those in risk groups. Flu can be really serious but getting vaccinated offers good protection, so make sure you don't miss out. Get protected against flu this winter."
The influenza vaccine programme for children has been extended this year and those between the ages of two and seven are all eligible. The vaccine for children from two years of age is a simple nasal spray, with children aged two and three receiving it at their GP practice, while those in reception class and school years one, two and three will receive the nasal spray at school.
Director of Public Health for Hywel Dda University Health Board, Teresa Owen, is encouraging all those who are eligible to have the flu jab: "We're actively supporting the Beat Flu campaign to protect our local communities across Carmarthenshire, Ceredigion and Pembrokeshire.
"It is very important to have the vaccine, so if you are aged 65 years or older, you are pregnant, or you have a health condition that puts you at risk of influenza complications such as diabetes, heart disease or chronic respiratory disease, please take up this offer of a free vaccination."

Getting an annual flu vaccine is the best way to protect yourself against catching or spreading influenza, and it is hoped the 'graffiti' will encourage those who don't know about the vaccine to find out more, and get protected.
Clean graffiti – in fact not 'graffiti' at all – is created using high pressure water washers and a stencil to 'clean' a message onto pavements by washing away the natural dirt that accumulates there. The messages fade away after a few weeks.
Anyone who spots the Beat Flu 'graffiti' around the town can join in the movement to beat flu by sharing a picture online by tweeting @beatflu #beatflu or @curwchffliw #curwchffliw, or sharing it on the Beat Flu or Curwch Ffliw Facebook page.