THE FIRE FIGHTERS CHARITY (FFC) have announced a record-breaking year of their annual Bag it and Bank it Recycling Championship – and Mid and West Wales Fire and Rescue Service (MAWWFRS) have made the top 5 of UK fire and rescue services!
Every January, the Fire Fighters Charity ask their supporters to drop any unwanted clothing off at their recycling banks, which are located outside fire stations or within the community. More than 405 tonnes of unwanted clothes were donated throughout January 2023, which has raised a record-breaking £89,162 from fire stations alone. Overall, 457 tonnes of clothing have been donated at recycling points across the UK, bringing the grand total to a fantastic £96,394.
Mid and West Wales Fire and Rescue stations have collectively raised £3,898 from over 17,500 kgs of clothing.  As well as the Service as a whole being included in the top 5 of UK services, two of Mid and West Wales Fire and Rescue Service's stations – Neath and Glynneath – have been named in the top 20 fire stations from across the UK.  An amazing achievement!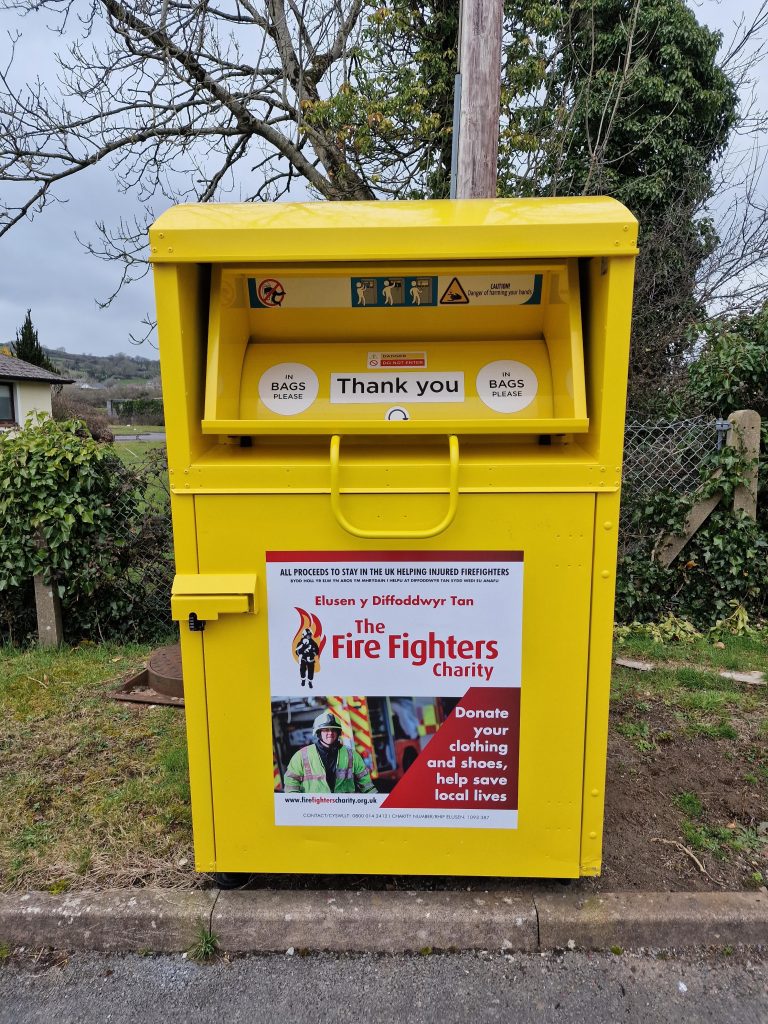 On MAWWFRS's success in this year's Bag it and Bank it Championship, Chief Fire Officer Roger Thomas said: "This is a great reflection of the excellent relationship MAWWFRS has with the communities it serves. As well as working to make mid and west Wales a safer place to live and work through our prevention protection and response activities, the Service also regularly holds community and fundraising events, such as car washes at stations, our annual charity Christmas carol service and Executive Leadership Team 'Volunteering Days'."

Every penny raised through clothing donations assist in helping the Fire Fighters Charity continue their work in supporting all serving and retired members and their families, of the UK's fire services community. Established as the Fire Services National Benevolent Fund in 1943, the FFC is celebrating their 80th anniversary this year with a programme of fundraising events across the UK.
The Fire Fighters Charity clothes banks accept donations all year long and all donations help make a real difference to people's lives. FFC clothes banks can be found at many of our fire stations, community sites and supermarkets, and they have the Charity's logo on them.
If you're planning a spring clear out soon and would like to support a worthwhile cause, find your nearest clothes bank and what type of textiles are accepted here.