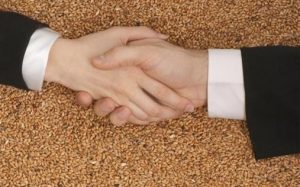 THE RESULTS of an 18-month pilot project to move the current paper grain passport system online are to go out to consultation to see if it should be rolled out across the industry.
Participants of the eGrain Passport pilot, funded by AHDB Cereals & Oilseeds, found the scheme had the possibility to enhance farm and haulier assurance, and speed up the passport process.
In addition, the pilot study estimates that by cutting out the costs associated with the current paper passport, a return of £3 for every £1 spent on implementing the system could be achieved across the whole supply chain with the eGrain Passport, when savings and costs are considered over ten years.
The pilot project operated in the milling wheat and malting barley supply chains with Heygates and Muntons respectively being the end users. Merchants Fengrain, Gleadell, Glencore and Openfield, participated, as well as a cross section of hauliers and growers. Overall, 199 live loads were covered during the 12-month pilot period in 2014 and 2015.

Roz Reynolds, AHDB Cereals & Oilseeds Head of Marketing, said: "It will be a collective industry decision, whether to adopt an electronic passport system or not, based on the findings from the pilot. However, the pilot did show potential benefits for the industry as a whole."
The eGrain Passport system features include automated real-time assurance checks and two-way data flow. The latter allows passport data to be sent to processors in advance of delivery, and load weight and grain quality data to be fed back to merchants, hauliers and farmers, following delivery.
A spokesperson for farm business FE & RF Allibone, which took part in the pilot said: "By getting grain quality results back….we could make instant decisions about which store to take the next load from."
Flick Bloomfield, a grain administrator from Muntons who has been involved in trialling the electronic system, commented: "It has been good to be involved in the pilot version of the eGrain Passport, giving us the opportunity to identify problems from the very beginning. "

As a user of the system I think it will be great to get on board with this if it is to be approved, as traceability is simpler and an improvement compared with the paper trail we currently use."
The pilot report is available to all members of the cereals industry, and on the AHDB Cereals & Oilseeds website with details of how to respond to the consultation. Members of trade organisations should respond to their relevant representative. The closing date is 16 September 2016.