THE MET OFFICE has stated that it is "likely" that viewers will see the Northern Lights once more tonight (February 27). Wales, England, Scotland, and Ireland all enjoyed breathtaking Aurora Borealis displays last night.
Only Scotland and areas of northern England typically get to view electrically charged space particles entering the Earth's upper atmosphere at great speed on the few occasions they are visible in the UK.
Nonetheless, they were visible across most of the UK on Sunday night, with reports of the phenomenon being seen as far south as Sussex, Wiltshire, and even Cornwall in England.
Beautiful images of dancing neon lights in Wales, at New Quay in Ceredigion, Welshpool in Powys, and in Snowdonia National Park, have also surfaced.
And tonight, according to the Met Office, the Aurora Borealis may appear once more in all its splendour (Monday). The Met Office said:
"The Aurora Borealis may be visible as far south as central England tonight where skies remain clear. The Northern Lights are also likely to be seen again on Monday night."
In a tweet shortly before midnight, the weather forecasting service used quite technical language to explain the occurrence, saying:
"A coronal hole high speed stream arrived this evening combined with a rather fast coronal mass ejection leading to Aurora sightings across the UK."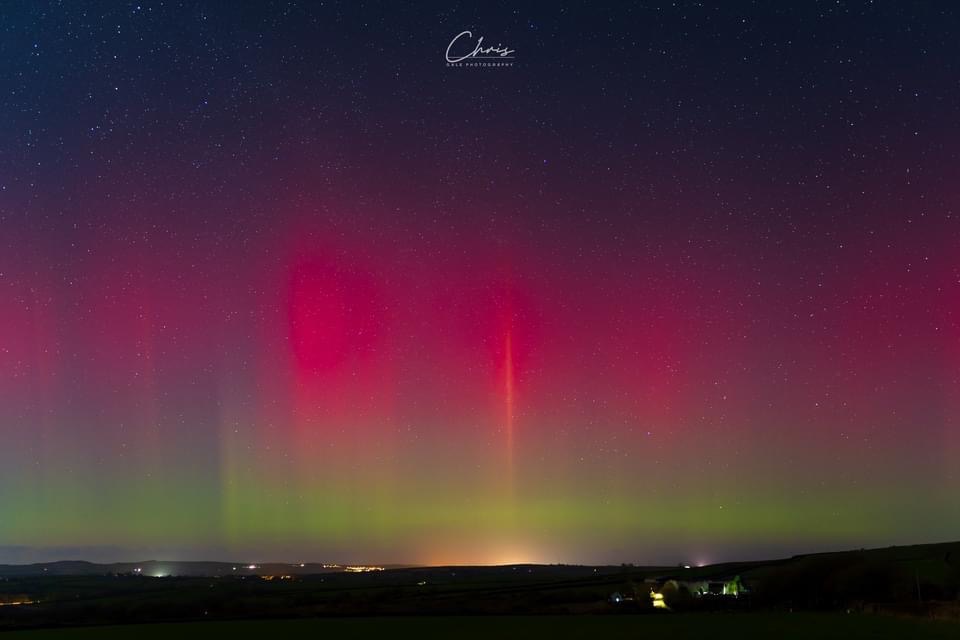 But it also mentioned that the lights might show up above England tonight (Monday). Recently, a Bristol resident snapped a picture of an unusual green glow in the sky and said that it reminded him of the Northern Lights.
But, the comment was treated with scepticism by many who did not think they could be seen that far south.
A Met Office map showing places where the natural display might be seen showed the tip of Scotland tinged with red from about 9pm, indicating a "100 percent probability" of the aurora. Meteorologists from the office said:
"The lights generally extend from 50 miles to as high as 400 miles above the Earth's surface. The best conditions to view the lights are when the sky is dark and clear of any clouds.
"Ideally, the lights will be best viewed away from any light pollution, in remote areas, facing the northern horizon — north facing coasts produce some of the best viewing locations.
The northern lights are most active during the Equinox and Solstice in March/April and September/October.
"Predominantly the northern lights are best viewed in Scotland, North England, North Wales and Northern Ireland. However, under severe space weather conditions, the lights can be seen throughout the UK."
Local Photographer Chris Gayle has captured the most pleasing images from (Sunday) last night's Aurora and has a keen eye for the skies, when it comes to his photography. A herald reporter said: "Such beautiful photography".