CORONAVIRUS news has taken a backseat this week to the shocking murder of Sarah Everard – allegedly by a serving Metropolitan Police officer – and the violent approach that the Met took during a crackdown on a vigil in her memory.
The Met, many have said, were too heavy-handed, even though the vigil had been called off as it would breach current Covid restriction laws.
At the same time the Government's Police, Crime, Sentencing and Courts Bill has been voted through to much controversy, by 359 votes to 263.
Labour, who were planning to abstain, ultimately voted against it, as they were worried it would provide police powers to deal with protesters which could then be used during peaceful events, thus limiting the right to protest.
Before we get into the reactions, let's first examine what is in the Bill itself. At 300 pages, it is extremely dense, and contains dozens of new measures to increase sentences for child killers and other violent criminals, toughen penalties for attacks on police officers and change sexual offences legislation to tackle abusive adults in positions of trust.
However, the key part is the rules on political protest, which, if legislation passes through readings in both Houses, will give police new powers to control the length of protests, impose maximum noise levels and prosecute activists for causing "serious annoyance" – a concept opponents argue has not been clearly defined.
The anti-protest measures in the Bill have been designed to tackle organised protesters like Extinction Rebellion, who ground London to a halt in the summer of 2019 by gluing themselves to Tube trains, towing large boats onto busy traffic junctions and lying in the road.
Ministers say no one should have their lives "seriously disrupted" by protesters, and call Extinction Rebellion a nuisance group that police should crack down upon. But opponents of aspects of the Bill, including many on the Conservative benches, are worried that it restricts the right to free protest, which has also been reduced by measures in the Coronavirus Act that prevent large gatherings.
Opposition MPs on Monday told Boris Johnson that his measures would "make a dictator blush" and showed his Government's liking for "authoritarianism".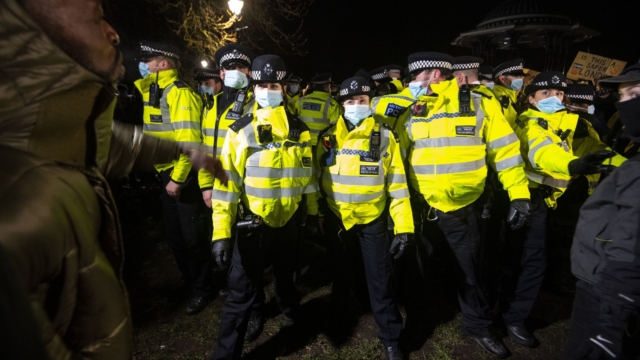 David Lammy MP, the Shadow Secretary of State for Justice, ahead of the second reading of the Police, Crime, Sentencing and Courts Bill on Monday and Tuesday, said:
"The tragic death of Sarah Everard has instigated a national demand for action to tackle violence against women.

"This is no time to be rushing through poorly thought-out measures to impose disproportionate controls on free expression and the right to protest.
"Now is the time to unite the country and put in place on long overdue protections for women against unacceptable violence, including action against domestic homicides, rape and street harassment. And we must tackle the misogynistic attitudes that underpin the abuse women face.
"Instead, the Conservatives have brought forward a Bill that is seeking to divide the country. It is a mess, which could lead to harsher penalties for damaging a statue than for attacking a woman.
"Labour will be voting against the Police, Crime, Sentencing and Courts Bill on this basis. We are calling on the Government to drop its poorly thought-out proposals and instead work with Labour to legislate to tackle violence against women which is forcing so many across the country to live in fear. As well as to deliver the important areas that are long promised, like tougher sentences for attacks on frontline workers and increased sentences for terrorists."
On the Conservative side, former Prime Minister Theresa May also voiced her concerns: "I absolutely accept that the police have certain challenges, for example when people glue themselves to vehicles or the gates of Parliament – but freedom of speech is an important right for our democracy.
"However annoying or uncomfortable sometimes that might be and I know there will be people who will have seen scenes of protest and will have said, 'why isn't the government doing something?', to which the answer in many cases may simply be because we live in a democratic, free society.
"It's tempting with the Home Secretary to think that giving powers to the Home Secretary is very reasonable because we all think we're reasonable.
"But actually future Home Secretaries may not be so reasonable, and I wonder if the government would be willing to publish a draft of those regulations during passage of the bill so we can actually see what that is going to be and make sure that it is not also encroaching on the operational decisions of the police.
"So, there are very important elements of this bill, but I would urge the government to consider carefully the need to walk a fine line between being popular and populist. Our freedoms depend on it."
At a glance, these are the key parts of the Bill:
• The maximum sentence for assaulting an emergency worker will be doubled to two years, while a Police Covenant will be enshrined in law to protect serving and retired officers and their families.
• Whole Life Orders for the premeditated murder of a child, which will also allow judges to give the maximum sentence to 18 to 20-year-olds in exceptional cases, such as for acts of terrorism leading to mass loss of life.
• The ability to stop the automatic early release of offenders who pose a danger to the public and scrapping the automatic release halfway through a sentence of serious and violent sexual offenders.
• Life sentences for killer drivers
• Widening position of trust laws to make it illegal for sports coaches and religious leaders to engage in sexual activity with 16 and 17-year-olds in their care.
• Increasing the maximum penalty for criminal damage to a memorial, from three months to 10 years.
• Reversing bail reforms which have seen suspects accused of serious and violent crimes being released without restrictions and instead imposing conditions if they could pose a risk to victims, witnesses or the public.
• Police could be allowed to obtain search warrants to help find human remains where a prosecution is not possible, such as where a suspect has died, is unfit to plead or has already been convicted in absence of a body.