History is made as 12 female internationals are awarded professional contracts by the Welsh Rugby Union (WRU)
Captain Siwan Lillicrap, full-back Jasmine Joyce and former captain Carys Phillips are amongst the dozen to be contracted on a 12 month deal.
Alisha Butchers, back row, joins lock Natalia John as well as props Gwenllian Pyrs and Donna Rose in turning professional.
Scrum halves Keira Bevan and Ffion Lewis are also within the squad, as well as Hannah Jones and Lisa Neumann.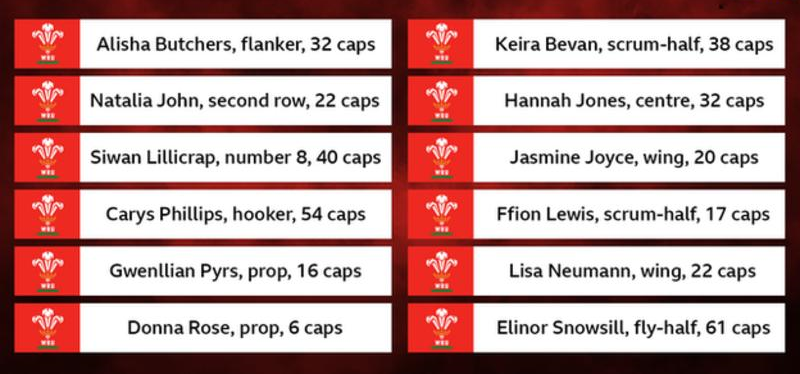 The year long contracts were signed this week, with players and management now based at Wales' National Centre of Excellence at the Vale Resort.
The contract details are undisclosed, but are said to contain match and training fees.
There are also 15 other players on semi-professional contracts, yet to be announced.
The professional contracts were hugely anticipated, especially after a such unstable period of Welsh women's rugby since the departure of former coach Rowland Phillips in 2020.
Warren Abrahams briefly took over with Rachel Taylor joining her as skills coach.
Taylor resigned before the 2021 Six Nations started though, with Abraham swiftly following suit in July.
With a lack of success in the Six Nations, over 100 former Wales players wrote to the WRU stating 'enough is enough', insisting something needed to change in regards to performance pathways.
Nigel Walker was soon appointed performance director at the WRU after over 4000 petitions were signed to support their case.
'Tough but enjoyable' selection process
Ioan Cunningham, head coach, gave credit to the players who gave him 'selection headaches'.
"We had to be fairly clinical and even ruthless. We clearly have short and medium-term goals in terms of the Six Nations and the Rugby World Cup, but we also have an eye on developing the best players for the future,"
"We have gone for the players we feel could make the biggest gains at this time, not forgetting the contribution the players who receive retainer contracts will also make to the programme."
Why the 12 were chosen:
In regards to the individual players, Cunningham said:
"Props Gwenllian Pyrs and Donna Rose are both dynamic ball-carriers, Carys Phillips is an exceptional talent as a throwing hooker, Natalia John has a huge workrate and was one of our stand-out performers of the autumn. All these front five players have huge potential and getting them into a full time, professional programme will make a huge difference from a strength and conditioning perspective, along with the technical side of their game.
"In the back row, Siwan Lillicrap and Alisha Butchers are both excellent rugby players and great leaders on the pitch. Alisha has a fantastic skill-set, Siwan is our captain and has an amazing understanding of the game. Both deserve this opportunity to improve further physically and technically."
"We wanted to include two full-time scrum-halves in the group and we feel Keira Bevan and Ffion Lewis will complement and challenge each other within the environment. Keira is very sharp, Ffion identifies running opportunities and we want to develop them both to be two of the best scrum-halves in the world.
"Elinor Snowsill is an experienced player, understands the game brilliantly, and being part of a full-time environment will help her make a bigger impact in the game physically and provide the opportunity to hone key skills at outside half.
"Hannah Jones loves the physical side of rugby and leads defensively from the centre, Lisa Neumann is a powerful, attacking runner and Jaz's talents are clearly already world class with one of the best strike rates in world rugby, but having these players in full time will give them a chance to develop all aspects of their game and become even better athletes and rugby players."