IN RECENT days, Wales has been impacted by continuous heavy rain. In some locations, we have seen over 6 week's rain in the first two weeks of the year. This fell on already saturated ground, increasing surface water runoff and resulting in very high river levels across Wales. Since Wednesday last week (Jan 11), NRW have issued 50 Flood warnings and 95 Flood Alerts.
This is yet more evidence that our weather is becoming increasingly volatile – and it is due to climate change. Rainfall events are becoming more severe and intense, and they are occurring more regularly.
Sadly, we have received reports of 84 properties being impacted by flooding, as well as impacts on both rail and road. Flooding is a distressing experience for residents, business owners and communities as a whole, but especially so for householders who have seen their homes flooded. My thoughts, and those of my colleagues, are with all those who have been affected. Under such circumstances, I implore householders to double-check their insurance cover, and look into the flood risk to their property. We know that levels of understanding and preparedness vary greatly amongst our communities. It is important that all residents know where to access flood information, such as Natural Resources Wales' "check your flood risk" web pages, and we continue to work our Risk Management Authorities to increase flood awareness.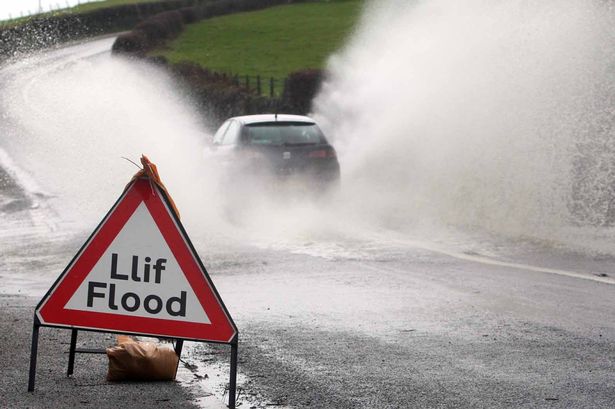 But whilst there have been impacts, we should keep in mind that the flooding could have been worse without the efforts of emergency services, Local Authorities, NRW staff, Transport Agencies, and volunteers. It is sometimes easy to forget, but all of our infrastructure requires people to maintain it and keep it functioning, especially during severe weather. Without their efforts, the impacts to our communities could have been much worse.
On behalf of this Government, I want to express my gratitude to all those who helped in the response to the recent event.
But it is important to remember: Risk Management Authorities don't just respond to floods. They are constantly working to improve our Flood Risk Management Infrastructure; investing in new schemes supported by Welsh Government funding while continuously working to improve our historic assets. They must also deal with the legacy of our mining heritage, such as disused coal tips, in the face of increasing risk from climate change.
During the previous Senedd term, the Welsh Government invested £390m in flood and coastal erosion risk management. This has helped to reduce the risk of flooding for over 47,000 properties, by creating and managing infrastructure which would have been tested in recent weeks.
We will always strive to do more. Our Programme for Government has a clear and ambitious target: we will provide additional flood protection to over 45,000 homes in Wales. This will not be an easy task, and requires significant investment.
As we look to meet this target, I am pleased to confirm that our Coastal Risk Management Programme continues to deliver at pace. We have five coastal schemes currently in construction at Porthcawl, Colwyn Bay, Penrhyn Bay, Aberdyfi and Mumbles.
Two further schemes at Rhyl and Prestatyn, totalling £92m, were awarded their construction funding in December. We will see a further 6 schemes approaching construction over the next year, including Cardiff, Aberaeron and Hirael Bay.
We don't just invest in large schemes. This year our small scale works grant received 90 different applications totalling £3.8m. The scheme provides local authorities with funding to address smaller, more discreet flooding problems. We estimate that 3,100 properties will benefit from this grant funding.

We are also increasing our investment in Natural Flood Risk Management. One of our Programme for Government commitments was to deliver nature-based solutions in all major river catchments. We are investing more than £3m through our Natural Flood Management programme, as we look to utilise natural processes to store, slow and infiltrate flood waters to reduce flood risk. We estimate this will benefit over 800 properties, whilst also providing wider benefits such as improved water quality, wildlife habitats and better land management.
For coal tip safety, we continue to deliver a programme of work in collaboration with our partners. We are committed to introducing new legislation during this Senedd to establish a consistent approach to the management, monitoring and oversight of disused tips throughout Wales. This will help protect communities and ensure people can feel safe and secure in their own homes.
We continue to commission the Coal Authority to inspect higher-rated disused coal tips. The fifth round of inspections is currently in progress.
We have a funding programme in place to support local authorities to carry out any maintenance and capital works, which have been identified from the inspection programme.
For example, our funding is supporting RCT's tip remediation works on the Tylorstown tip. And last week, Rhondda Cynon Taf County Borough Council (RCT) also announced it has commenced work to improve the management of surface water drainage at Wattstown National Tip.
And we will not be complacent. Whilst we constantly invest in new flood schemes, we know we must learn from every flood event. This is because we are constantly seeking to improve our ways of working.
Wales' independent Flood and Coastal Erosion Committee, chaired by Mr Martin Buckle, has taken forward two separate reviews prescribed by our National Strategy for Flood and Coastal Risk Management.
The first review considered the resource challenges faced by our risk management authorities. The review found that, despite sustained, ongoing investment, the flood risk management sector was experiencing a skills gap. This skills gap was evident in both the public and private sector. The report includes recommendations on how this issue can be addressed, and I look forward to working with the committee to develop options to address this challenge.
The committee's second review was into the current legislation which underpins our Flood Risk Management policy. The extreme nature of the 2020/21 storms has stepped up the debate around delivery. Particularly with regards to around Roles and Responsibilities. I recognise that the legislation around Flood Risk Management is robust, but not perfect. I will continue to work with the committee on any potential improvements which can be made as we seek to address the challenges posed by Climate Change.
This has been a challenging week for all the people and organisations who work to keep us safe from flooding, but especially for those householders and businesses who have been impacted. My thoughts are with them at this time.