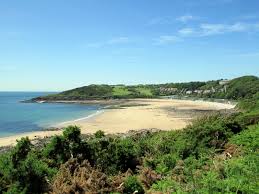 THREE women who had their hair dyed in a car park near a beauty spot on the Gower Peninsula have been fined.
South Wales Police issued 370 fixed penalty notices over the weekend after the brighter weather saw hundreds of people breaking lockdown regulations.
The three woman were found by police in the car park of Langland Bay on the Gower Peninsula near Swansea.
Under current Covid-19 regulations, those in Wales can only leave home to exercise, which must start and end at their homes.
Some councils have taken to closing beauty spot car parks, to deter rule breakers.
A spokesperson for South Wales Police said: "We know it's been a very challenging few months for our communities, and we can understand that people will have wanted a change of scenery in order to enjoy the good weather at the weekend.
"But the reality is coronavirus remains a very real threat to us all, and all the whole of Wales continues to be under level four restrictions for a reason.
"The roll out of the vaccine and the recent publication of plans to ease restrictions provides us all with much-needed hope, but i would urge our local communities to continue following the rules that are currently in place."
Related posts