A HOTEL building in Flintshire could be demolished to make way for seven new homes.
Flintshire Council has received an application to knock down the Plas Ifan Hotel in Northop Hall and build seven detached houses on the site.
It is the latest proposal for the site which has been subject to previous planning applications in recent years.
A scheme to build 24 homes on the site was rejected on appeal a few years ago, and a planning application for eight homes on the site was withdrawn.
The 24 homes scheme was rejected on grounds of visual amenity, that it would have have been larger than the current hotel and extended into open countryside.
Prior to that, Flintshire Council had raised concerns about road safety and the impact on the countryside, with 170 letters of objection received from local residents.
In their planning application, the applicants describe this proposal as more "modest" and will help meet a housing shortfall in the county.
A planning statement submitted with the application says: "The earlier scheme of 24 dwellings was dismissed because the Inspector considered that the built form would significantly exceed that of the existing hotel and would extend much further southward into open countryside, with adverse visual impacts.
"This scheme is a much more modest form of development (seven dwellings compared to the previous 24 dwellings).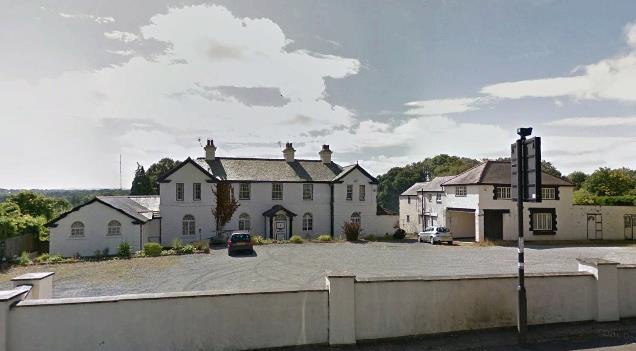 "The proposed built form is restricted to the envelope of the existing hotel buildings.
"On this basis, the proposal clearly amounts to the re-use of brownfield land and it would not have a materially greater impact on the local landscape than the existing development.
"The proposal seeks planning permission for five detached and two semi-detached dwellings. The dwellings are of an attractive design which would be appropriate to this location, where a variety of house styles exist.
"The external finishing materials would be brick, cladding, render and slate to be agreed with the Local Planning Authority."
The statement adds: "The proposed dwellings are of an attractive design. They would be arranged around a cul-de-sac in accordance with the Council's 'Space Around Dwellings' Standards.
"Each dwelling would have generous private amenity spaces and adequate private parking provision and they would be served by a safe and satisfactory access.
"Clearly, the Inspector has given a clear direction that the shortfall in the amount and number of years it has existed means that the delivery of housing in the manner proposed weighs heavily in favour of the scheme."
Flintshire Council's planning committee will make a decision on the proposals at a future date.