MUSICAL care home residents are singing 'Congratulations' after the opera singer who inspired them to form their own choir won a top award.
Mezzo-soprano Kate Wolveridge is the co-founder of the Forget-Me-Not Chorus, a charity which hosts online singing sessions at care homes across Wales – including Pendine Park's Bryn Seiont Newydd in Caernarfon.
Now Kate's work has been celebrated with a Welsh Music Guild accolade for health and wellbeing in music which was presented to her at a ceremony in Cardiff.
The award was sponsored by the Pendine Arts and Community Trust, established by Pendine Park to support arts and community activities, and recognised how the Forget-Me-Not Chorus charity uses music as a tool for boosting mental wellbeing.

Pendine Park musician in residence Nia Davies Williams said everyone at Bryn Seiont Newydd was thrilled to learn that Kate has been honoured at the 2023 Welsh Music Guild awards.
Nia said: "The work that Kate and the Forget-Me-Not Chorus do is truly remarkable. Since we linked up with the chorus it has made such a difference to our residents living with dementia. The weekly sessions are inspiring and elevate the spirits in a way that no other medium can do like music does.
"Kate is such an enthusiastic, warm-hearted personality who well deserves this award as does the entire Forget-Me-Not Chorus team. From its early beginnings the charity has emerged into a real game changer in the way we approach bringing music to people living with dementia."
Nia said the online Zoom sessions had gone so well that residents were soon inspired to set up their own choir involving monthly in person sessions in the Bryn Seiont Newydd music room, led by one of the Forget-Me-Not Chorus' leaders.

She said: "Our residents just love singing. For many of them music was a key part of their younger lives in Wales. Most were members of choirs and they have fond memories of taking part in the practices, concerts and even going on tour. These memories are rekindled when they sing together here at Bryn Seiont Newydd."
Kate said she has witnessed how some people with dementia who struggle to engage in conventional conversation have become more communicative through music.
She said the Welsh Music Guild honour was an amazing tribute to the whole team at the Forget-Me-Not Chorus.
In just 12 years the charity she set up with fellow co-founder Sarah Teagle has grown from one small scale choir into a whole host of choirs reaching dementia patients across Wales, the UK and even overseas. Among other places it has acquired followers in Canada, New Zealand and the Falkland Islands.

Kate, who has more than 30 years' experience as a professional singer, musical director and vocal animator, said setting up the charity was one of the proudest achievements of her life.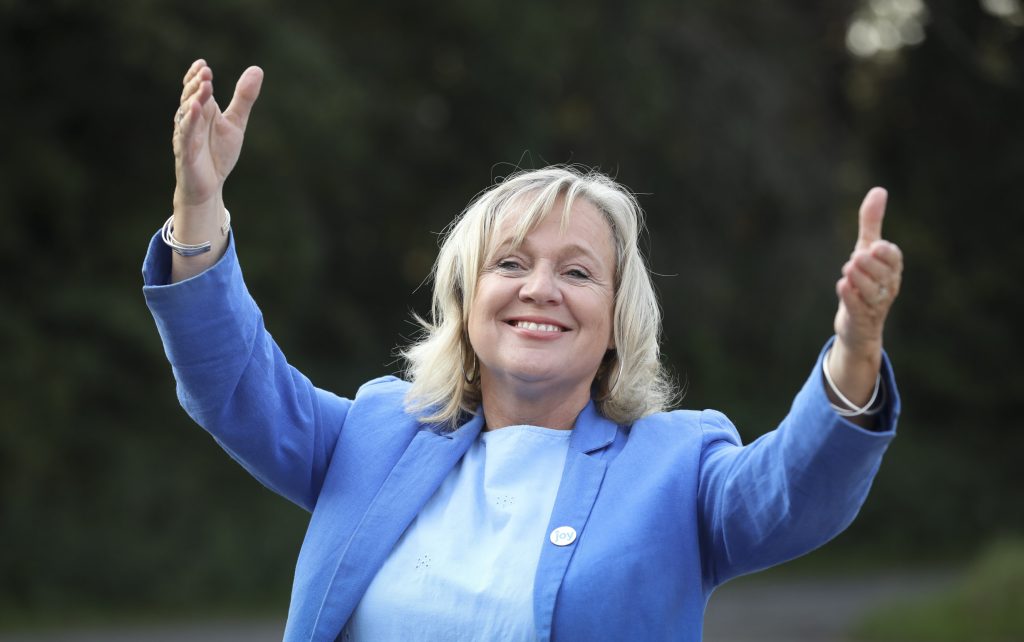 She said: "It is well known now that listening to and engaging in music sessions has enormous benefits for those living with dementia and sing-along groups are a great activity in care home settings. But what we offer is at the next level to that.
"Our chorus leaders are specially trained in the use of different techniques to engage, inspire and energise people. It really is a musical conversation, a means of reaching out to and captivating even those who have sadly lost the ability to converse through language.
"Our mission is to evoke laughter and joy and importantly to get those positive endorphins flowing. Science has shown that these endorphins have the potential to maintain a person's upbeat mood long after the session is over, even if they do not remember what they have been singing. Music is such a powerful tool in helping to do this. It is not just soothing to listen, it is a means of communication like no other."
Ironically, she said the Chorus came into its own during the pandemic crisis when much of its activity had to be moved online.
Pre-pandemic, Forget-me-not Chorus ran 10 choirs in Wales reaching 300 people a week. By September 2020, 52 Welsh care homes were engaging with Forget-me-not Chorus' online resources and today that number has risen to 58.
In addition, UK-wide more than 1,000 care homes subscribe to their online resources, five community choruses meet in-person in Wales, three in south Wales and one in north Wales, and 20 UK wide care homes are part of Forget-me-not Chorus' Singing Strong Care Home Chorus initiative.
Pendine Park proprietor Mario Kreft MBE said: "Kate is a true champion of music and realises how beneficial music it is to the community as a whole. The work that she and the Forget-Me-Not chorus have been doing over the last decade has been invaluable and truly inspirational."
As a teenager Kate sang in the Wales National Youth Choir with Sir Bryn Terfel and last year was reunited with him at the Wales Care Awards where she won another accolade, The Sir Bryn Terfel Award for promoting The Arts in Social Care which was also sponsored by the Pendine Arts and Community Trust.