GREEN-fingered youngsters at a Gwynedd primary school are growing their own thanks to a grant from a leading food company.
Ysgol Y Gorlan, in Tremadog, is expanding its outdoor learning area and will soon be stepping up production of flowers, fruit and vegetables with the help of a £400 grant from Harlech Foodservice, one of Wales's biggest food distribution companies.
The cash comes from the company's 50th Anniversary Charity Fund which offers grants totalling £10,000 to good causes, organisations, clubs and charities across Harlech Foodservice's area of operation in Wales and the border counties.
The request for help came from Pwllheli Rotary Club who applied to the fund for help to provide a new polytunnel so the green-fingered kids at the school can make even more of their outdoor area which includes a forest school and veg patch.

Teaching support assistant Gwenno Huws said: "As a school we work closely with the community and we have built a very good relationship with the Rotary Club while our commitment to Llais y Plant/Voice of the Child gives pupils a say in what they do.
"We asked the children what they wanted and they have come back to us and we have tried to provide it, whether it's gardening and planting trees or even yoga.
"The polytunnel is on its way and we have been planting trees and making good use of the excellent outdoor space we have here.
"We planted flowers and potatoes, the children took responsibility for watering the plants which we sold and the money we raised was spent on tools and equipment so they will be able to grow even more this year.

"We want them to take responsibility for what they do. It teaches them to think for themselves and to learn from their experiences – hopefully we will produce a good crop of gardeners too."
Even on a day of rain and wind the pupils were out with wheelbarrows, spades and forks and Siwan, from Year Four, said: "I enjoy the outdoor learning and that it teaches us how to use the tools.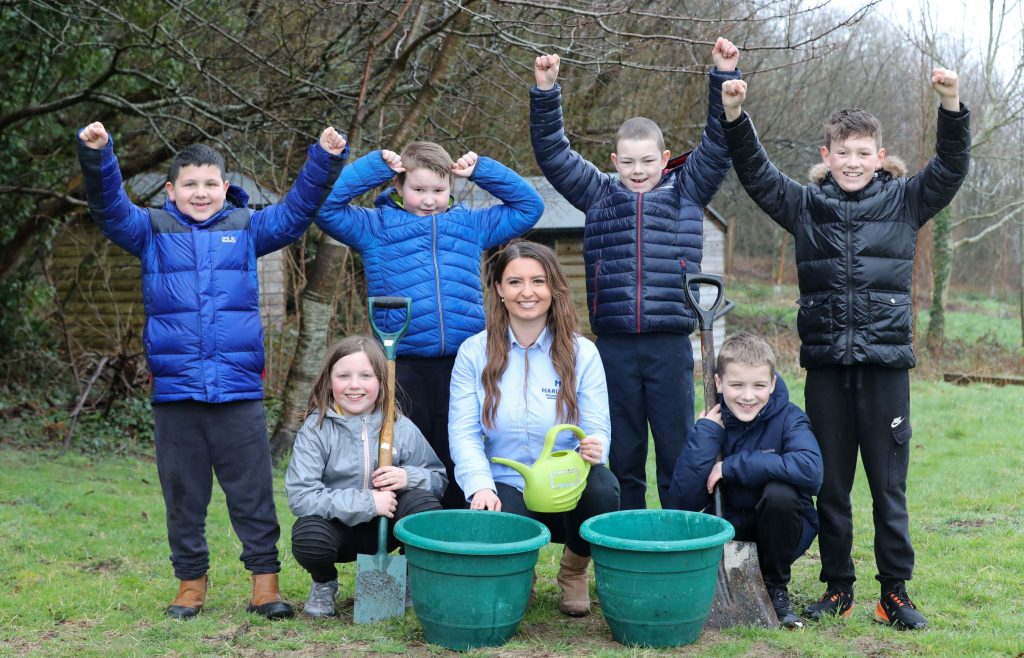 "My father's uncle is a keen gardener and I like helping him. He's 85 and he's still gardening."
Ynyr, Year Six, said: "I'm from a farm so I'm used to helping out and fixing things and it's good to be outdoors. We're all used to the weather here."

Alicia Baker, from Harlech Foodservice, also braved the weather and she said: "It's great to see the children out and getting stuck in with real enthusiasm and we're delighted at Harlech that we're able to help them."
David Medcalf, of Pwllheli Rotary Club, said: "We work extensively with the schools in the area and we have an excellent relationship with Ysgol Y Gorlan.
"We have planted trees here and helped clear some of the woodland for the forest school and we're helping fund the polytunnel and we're very grateful to Harlech for donating as well.
"It's all helping to create an alternative curriculum that's more hands-on and practical even if the weather and they felt that a polytunnel would mean they could be outside even if it was raining."
Harlech Managing Director David Cattrall said: "In the past 50 years we have grown from small beginnings into a major North Wales company with our base in Criccieth and we couldn't have done that without the support of our loyal customers across the region.
"This charity fund is our way of saying thank you to the people of that community by sharing in our success and putting something back into the area which has supported us."
Harlech Foodservices was founded by Colin and Gill Foskett above a shop in Harlech in 1972 and now delivers up to 5,000 product lines to cafés, restaurants, pubs and public sector customers across North and Mid-Wales, Shropshire, the Midlands and the North West from its modern bases in Criccieth and Chester.
Colin and Gill's sons and daughter are still on the board and the third generation of the Foskett family are now among a workforce which has grown steadily as the business has expanded to include NHS Wales, care homes and schools, colleges and universities.
For more on Harlech Foodservices go to https://www.harlech.co.uk/