Not many places can say that they were born from rock and roll, but Chapter Arts Centre can.

It's been 50 years since 'Canton's living room' first opened to the public, funded by the profits from a 12-hour gig featuring legendary acts like Pink Floyd and Black Sabbath.

On February 5th 1970, a year before the opening, a concert to raise the funds needed took place.

From 5:30 in the evening until 2 in the morning, music-filled Sophia Gardens Pavilion. Crowds
gathered paying 25 shillings towards the new centre.

After its former life as Canton High School, April 5th, 1971 saw Chapter become Cardiff's home for
the arts.
Normally, Chapter would see around 800,000 visitors each year.

It's been home to countless Welsh artists and has helped serve its community with projects,
workshops, classes, and even a garden complete with beehives.

Over 50 artists and creative companies are based there, including BAFTA Cymru, Cardiff music
school and independent label Swearing is Cool.
However, as Spring 2020 arrived, things began to change.

On March 17th last year, Chapter closed. It wouldn't open again until the Autumn.

The opening wasn't long-lived and doors shut again as we entered the third lockdown.
In its 50 years as a place for the community, Chapter is now having to fight for survival.

Andy Eagle, Chapter's chief executive officer, said, "We had a lot of stuff planned for our 50th
birthday that we just haven't been able to do."

"We'll probably still do them, only for our 51st or 52nd birthday instead."

Like a lot of businesses right now, it has seen a difficult year.

Andy said, "Chapter earns normally 82% of its own income. We only get 18% from the Arts Council
or public funds. We've had to plug the gap with recovery funds from the Welsh government, trusts, foundations, and donations from customers who have been incredibly generous"

"I don't think that 82% is going to turn on again very quickly"

Andy said, "It's more a case of survival for the next 12 months. Our focus has been on survival and
getting through this period."

The impact of the closure has impacted the centre massively.

"I use the word survival because that's basically what it is."
There is fear for the future of the venue.

Andy said, "The next 12 months are probably going to be more difficult than the 12 months that
have just gone by. Whether 'normal trade' is achievable in a year or two years is uncertain, I think
the jury is still out on that."

Chapter houses a popular cinema showcasing the best in independent cinema, as well as
mainstream picks. With the closure through the lockdown and the restrictions holding major
productions across the world, the cinema business may be a risky one.

While many are questioning the future of cinemas in an age of streaming, Andy believes that they
are here to stay.

"The demise of cinema has been talked about since the beginning of the 80s. It's never
succumbed to those new pressures. Whether that be new TV channels or VHS or Betamax."
With the expansion of Disney+ earlier this year, many question the need for cinemas in the age of
streaming.

Andy thinks, "it's pretty resilient as an art form. People like seeing something on a big screen."
Known for their wide selection of independent film showings, Chapter is offering a unique service
for film fans during the lockdown.

Films can be paid for and viewed via their website, through partners. This brings in some much-
needed financial income.

"Ironically, at the moment there's probably more product available in the independent sector than
commercial."

This year's Golden Globes awards saw a massive influx of independent films making the cut. Films
such as Mank and Promising Young Woman were nominated but lost out to Nomadland, starring
Frances McDormand.

Despite the influx of new and impressive content, Chapter is still having to face the pressures of
the pandemic.
July last year saw a £1.57 billion investment into the UK arts sector, £59 million of which went to
Wales.

Andy said, "It's been pretty welcomed and pretty generous. The UK government has stepped up to
the plate, to a certain degree."
\The funding that's been received has been of great assistance to Chapter and that money has
allowed them to stay afloat during these hard times.

"It's difficult to get angry when you're asking for more financial support, which is essential."
Speaking about the now-infamous poster campaign run by the UK government last year to
encourage retraining from the arts sector to other sectors, Andy believes it highlighted the negative image around careers in art.

He said the posters were "indicative of that prejudice and were frustratingly naive"
Many in the arts sector are feeling frustration around the government's attitudes towards the
industry.
"It's just annoying. I think the creative industries are still not recognised or valued as an economic
centre in the UK."

It's been questioned by many that restaurants were allowed to seat to almost a full capacity in
between lockdowns, while theatres were not offered the same privilege. The frustration is felt
throughout the artistic community, a frustration Andy shares. He said, "Nobody has answered the
question."

While big voices like Andrew Lloyd Webber have voiced their concerns with the government's
ruling, Andy feels that there is more to be done. He believes that "as a sector, we've been too
quiet."

Chapter has long been an important place in the Canton community.

Several regular classes are housed in the building, including ballet lessons for children, flamenco
dance lessons, and the Chapter singers. The choice of children's classes makes it a hub for the
younger members of the Canton community. Andy reflected on the impact the closure has had on
local children.

"It's been really difficult for kids. I have a little one and her friends are always asking me when
Chapter is reopening. It's a really important part of their circuit of fun and activities."
Lauren Fegan said "I would take my children to the cinema on the weekends. I'm also missing date
nights to the cinema with my husband."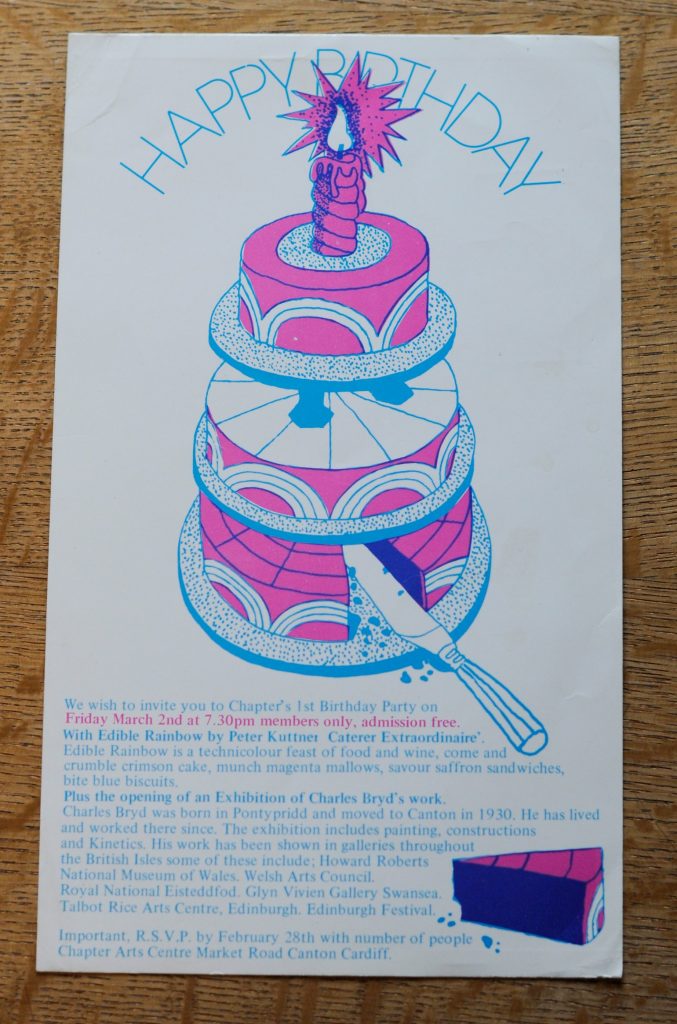 Others have fond memories of the space from their childhood. Victoria Hill recalled, "We used to
have our school concerts there every year! It was so amazing for us as kids to be on a proper
theatre stage with our mums and dads in the audience."

As an art centre, the creative community is a large part of Chapter.
"You're probably going to meet a visual artist or a dancer or a lighting practitioner that you might
want to work with on a project."

Andy Eagle spoke about the importance of community interaction and how Chapter makes a
difference.

"If you go to chapter, more often than not, you can just bump into somebody and get a
conversation going and it's a really important part of the social wellbeing of the community."
According to the charity Mind, more than half of adults and over two-thirds of young people said
that their mental health got worse during the lockdown.

Andy believes that "people do rely on it as a space, it's somewhere to meet people."

Sophie Chambers became a member straight after moving into the area.

She said, "I used the cafe/bar, mostly, I would take my laptop there and work when I could."

For some, its prime location is the best part.

Ellen Fajeyisan said, "My mother who is 76 often goes to watch films on her own there. It's not
something she would do if she had to venture into town. When my daughter started wanting some
independence with her friends, it was the perfect place for them to meet, watch a film and have a
hot chocolate."

Things may not be like this forever but, for now, this Cardiff landmark is having to push through one of the most difficult periods in its 50 long years.
Andy is still optimistic about the celebrations that will take place as soon as it is safe.
These celebratory events included an exhibition around the Chapter Archive and a concert to
mirror the one that happened in 1970. Andy said, "the festivities will reflect the past but look
towards the future."

The future might seem like a far-off place but there are hopes of an opening later in the Spring.
An event just like the concert in 1970 may not be possible right now, but who knows, perhaps
some rock legends may take to Chapter's stage once again someday.
Related posts