COSTA Coffee is set to return to Chepstow after planners gave the thumbs-up for the change of use of a former clothing shop. 
The national chain's franchise in Beaufort Square closed suddenly in November last year, but weeks later plans were unveiled to open a new branch at the former Select shop at 24-25 High Street.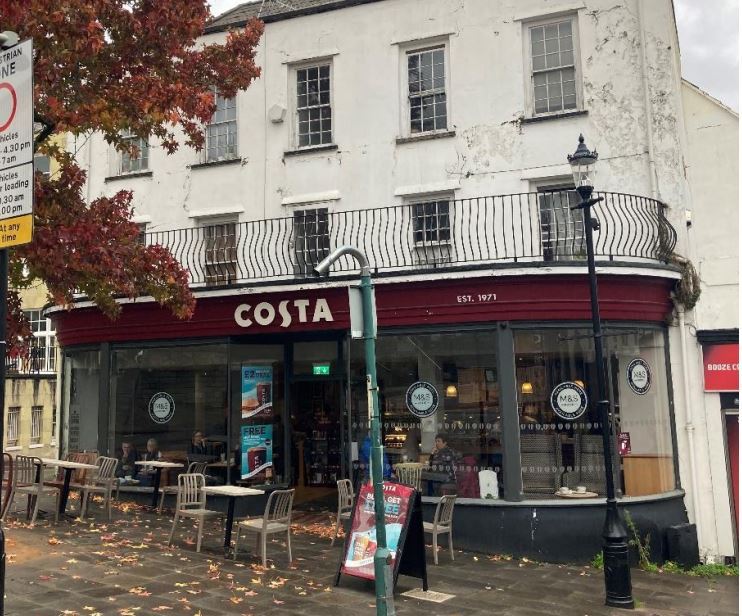 The currently disused shop is a Grade II-listed building and change of use permission, from A1 retail to mixed Al/A3 permission, which covers food and drink outlets, has now been granted by Monmouthshire County Council. 
The application was made by Laurentia Capital Ltd, which had been the tenant of the former coffee shop, and is described as a small business operating a franchise. 
Minor internal and external alterations to the building have also been given listed building consent while two 'Costa Coffee' fascia signs using individual non-illuminated letters were also approved. 

An illuminated doubled sided sign was also approved. 
Chepstow Town Council had asked signs be kept in keeping with "the town's historic nature" and that the doubled sided sign isn't illuminated outside of business hours. 
But planning officer Adam Foote said in his report the signs are considered acceptable at the location and the level of  brightness wouldn't have an unacceptable impact, meaning a condition as requested by the town council wouldn't be necessary. 
His report also said while the change of use of the building is acceptable the shop's opening hours will be restricted to between 7.30am and 5.30pm.  
"It is not considered that the change of use from A1 to mixed A1/A3 would result in any unacceptable impact upon the living conditions of neighbouring occupiers or users of the town centre. It is however considered appropriate to condition the hours of operation," wrote Mr Foote.