A LABOUR councillor has resigned her top job after sparking a row over the commemoration of the Gypsy holocaust and discussion of plans for Traveller sites in Gwent.
Cllr Sara Burch had been responsible for Monmouthshire County Council's efforts to identify land that could potentially be used for Gypsy Traveller sites but earlier in August hit out at Welsh Secretary David Davies and another councillor over a public meeting called to discuss two plots of land under consideration.
It was confirmed today that Monmouthshire's Labour leader, Mary Ann Brocklesby, has accepted Cllr Burch's resignation from the cabinet role which pays an additional £15,330 a year on top of the £16,800 paid to all councillors.
Cllr Brocklesby, who appointed Cllr Burch to the cabinet member when Labour came to power at County Hall in May 2022, said: "I have today with sadness accepted the resignation of Cllr Sara Burch from her role as cabinet member for inclusive and active communities. I acknowledge her genuine regret and apology for her social media post linking the actions of David T C Davies and Cllr Frances Taylor to aspects of the Holocaust. It was wrong and unacceptable."
In a since deleted post to social media site X, formerly known as Twitter, she accused the Conservative MP for Monmouth as well as Cllr Taylor, who chaired the meeting, of "whipping up anti-traveller feeling".
She posted as the meeting at Magor Baptist Church began and said it was "shameful" the meeting was being held before a formal council run consultation and highlighted August 2 is the international remembrance day of the Roma and Sinti holocaust.
The date marks the anniversary of the murder, by the Nazis, of thousands of Roma and Sinti people held at the Auschwitz Concentration Camp in 1944.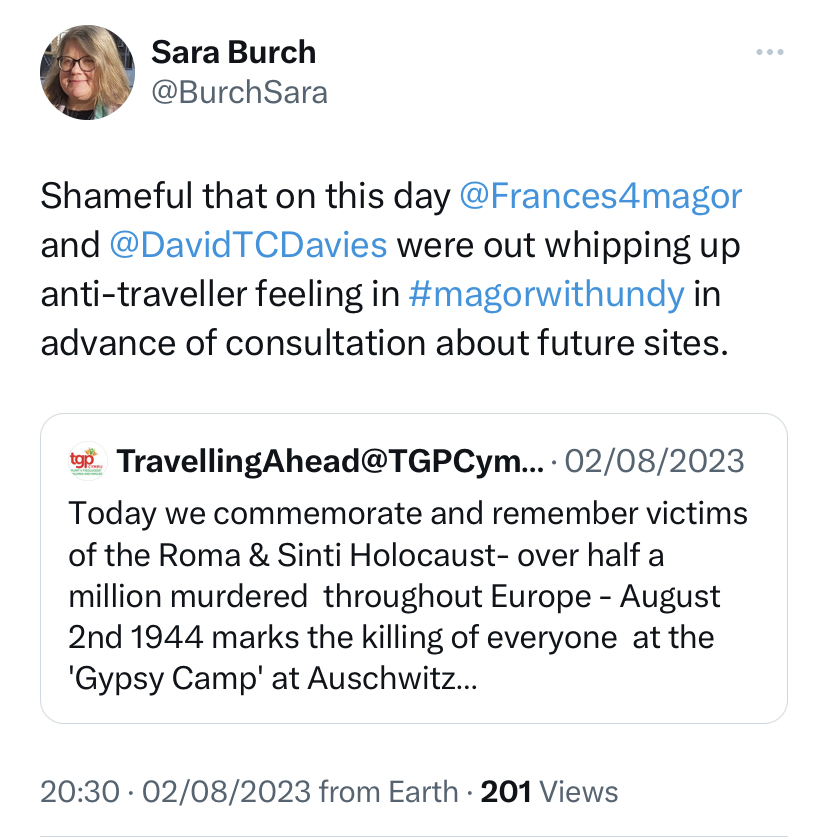 Mr Davies, Cllr Taylor and Cllr Richard John, the leader of the opposition Conservative group on Monmouthshire County Council, had all criticised Cllr Burch's comments while Monmouthshire County Council said it has received "several complaints" and referred people making them to the Public Service Ombudsman for Wales which oversees the conduct of councillors.
In July a shortlist of five sites that could be included in the council's replacement local development plan, which earmarks land across the county suitable for employment and housing, including Gypsy Traveller sites, was reduced to two following criticism, by a cross party committee, that all were unsuitable.  
However Langley Close in Magor, and nearby Dancing Hill in Undy, are still under consideration with a report due to go before the cabinet on October 4. It would then be asked to decide if a formal consultation should be held on including the sites in the development plan. 
Cllr Burch, who represents Cantref near Abergavenny, will continue to sit as a county councillor but Cllr Brockelsby has said she will run a slimmed down cabinet with just seven, rather than eight, members.
Deputy leader Paul Griffiths, who already has responsibility for planning and economic development, will take on the housing brief including "Gypsy, Roma and Travellers issues" as well as homelessness and affordable housing while Magor East with Undy member Angela Sandles, the cabinet member for equalities and engagement will have responsibility for leisure centres, play and sport, tourism development, cultural strategy and public conveniences added to her role.
Cllr Catrin Maby's climate change and the environment brief will now also cover active travel and rights of way.
Welsh secretary Mr Davies had complained that despite "expressing regret" over the post neither he, or Cllr Taylor, has received an apology and said he had written to Cllr Burch stating he believes her words were "malicious and defamatory" to the people of Magor who he said expressed "reasonable concerns" about the possible proposals.
Mr Davies, who earlier in August, learned he would face no police action over leaflets he had distributed during an earlier stage of the council's consultation on potential Gypsy Traveller sites wrote in his letter: "The now deleted post was completely outrageous. As chair of the meeting, Cllr Taylor went out of her way to make it clear there was not to be any hint of prejudice."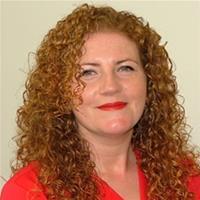 Cllr Taylor, told the Local Democracy Reporting Service: "On a personal note, I found the post by Cllr Burch extremely offensive and malicious. Her comments have no basis in truth and the intent feels deeply disturbing. Elected members are expected to always conduct themselves with integrity, so I was saddened to see something of this nature coming from another councillor who is also a cabinet member.
"I take my role very seriously and always strive to serve Magor with Undy and the people of Monmouthshire to the very best of my ability."
She added "many" Magor residents indicated to her they had found Cllr Burch's post unacceptable and it had undermined confidence in the council.
Cllr Taylor, who leads the independent group, said: "It is important to remember that the sites under consideration had already been rejected by the People Scrutiny Committee as being unsuitable. Finally, there is real concern about the continued loss of green open space to development."
In a statement announcing Cllr Burch's resignation the leader, Cllr Brockelsby, said: "Cllr. Burch will be missed from Cabinet. She has been a dedicated and hardworking member who had already made a difference in taking forward our affordable housing and active travel priorities. I continue to value her loyalty and unwavering support for the Welsh Labour administration on the county council."