THE story of John Godfrey Parry-Thomas is a thrilling and sad one.
Having at one time held the land speed record, he also has the inevitable record of being the first driver to be killed in trying to achieve it.
Anyone who has visited the Pendine Sands in Carmarthenshire will be familiar with its motorsport history, and none are more famous or important to its history than J G Parry-Thomas.
This is his story.
He was the son of a vicar and born in Wrexham in April 1884. The family moved to nearby Oswestry when he was five years old and he was educated at Oswestry School where he is said to have raffled his sixpence-a-week pocket money at a penny a chance to as many takers as he could find.
John was fascinated with engineering and studied electrical engineering at the City & Guilds Engineering College in London in 1902. There he first struck a friendship with Ken Thomson, who would become his assistant at Brooklands (Thomson later went on to head 'Thomson & Taylor' and work extensively with Sir Malcolm Campbell in the later development of Blue Bird).
By 1908 he had designed an infinite-ratio electrical transmission (now viewed to be 70 years ahead of it's time!) and a partnership with Leyland saw it used in a London bus, railcars and a tramcar. Parry-Thomas was also much in demand on government advisory boards during WWI.
After numerous jobs he became the chief Engineer at Leyland Motors.
Leyland Motors investigated the possibility of building a massive luxury car. In 1917, he and his assistant, Reid Railton, started to design the Leyland Eight luxury motor car which was intended to compete with Rolls-Royce. 
Aiming to make a perfect vehicle, the Leyland Eight was both magnificent and extremely expensive; in 1921 the car was available to the public at a cost of £2,700 for a five seater tourer.
The imposing motorcar, the Leyland Eight, was dubbed the 'Lion of Olympia' when shown at the 1920 Motor show in London.
The cars were expensive and only eight were built. John Parry-Thomas tested each Leyland Eight to 100mph before delivery at a time when the world land speed record was only 124mph.
Altogether, 14 cars were made, including 2 for the Maharajah of Patiala and one for Michael Collins, the Irish revolutionary leader. The cars were all fitted with different bodies and it was a Leyland Eight that Parry-Thomas used in his early competitions in 1922.
Despite the considerable reservations of the Leyland directors, Parry-Thomas raced one of the Leylands at Brooklands.
Racing became important to him, and he resigned from Leyland to become a professional motor racing driver.
The split was friendly and Parry-Thomas was given several chassis and a quantity of spares.
He went to live in a cottage in the grounds of Brooklands circuit. The racing world at this time had many famous characters including Count Zborowski who later died at Monza in 1924.
Parry-Thomas was able to buy a potential record breaking car, the Higham Special from Zorowski's estate. It was fitted with a 27,059 cc Liberty aero engine, Benz gearbox and featured a chain final drive.
This car was christened "Babs" and he would work on the car in hopes of breaking the land speed record at Pendine.
This was in October 1925 but the weather precluded any chance of a record breaking run.
To cap it all Henry Seagrave posted a speed of 152.33mph.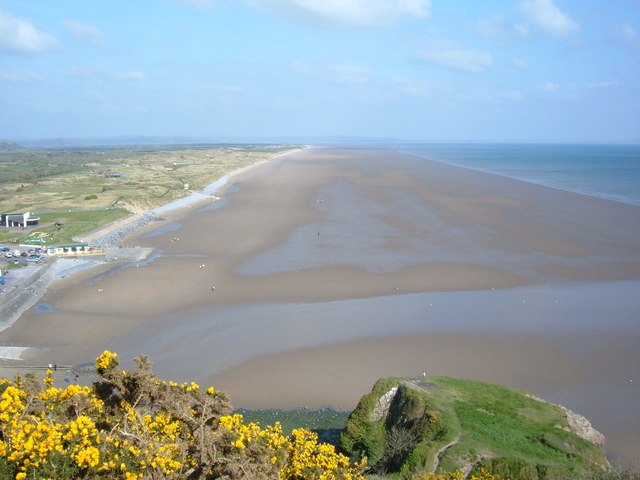 In April 1926 Babs was transported back to Pendine at Shell-Mex's expense for another attempt. After a couple of warm-up runs Parry-Thomas achieved a speed of 169.30mph.
A day later he pushed the record over the 170mph mark.
Campbell was among those who sportingly congratulated Parry-Thomas and, in the nature of the challenge, he prepared his own car for another attempt on the record.
In January 1927 he achieved a top speed of 174.883mph.
1926 was undoubtedly his greatest year – as well as numerous race wins he twice broke the mile & Km WLSR then went on to break another 8 speed records in October – 12 successful record attempts in 5 months.

He even found time to offer some friendly advice to his friend Sir Malcolm Campbell in February 1927, concerning a gearbox problem in the new 'Blue Bird'.
As the competition for the record increased Parry-Thomas wanted another crack at it; he knew Henry Seagrave was to attempt a run for 200 mph, in Florida.
He arrived back in Pendine, unwell with 'Flu', in March 1927 and with the assistance of Shell and Dunlop staff began to prepare the car for a run on the beach.
After the usual start and warm up procedures had been followed and he set off up the beach on a timed run.
The car skidded, turned over and over and then slewed round to face the sea.
The scene for those first to arrive was not pretty, Parry-Thomas was still in the car, he had a deep cuts to his neck, partially decapitated and burned.
Local myth to this day says that Parry-Thomas was fully decapitated in the incident, but this is not true.
The car was on fire and in order to retrieve the body from the blazing wreck two of Parry-Thomas's crew had the unpleasant task of breaking the legs of the corpse before the fire prevented them reaching it.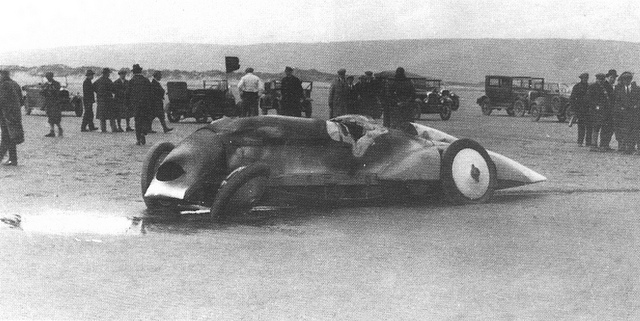 The coroner's verdict was accidental death and Parry-Thomas was buried at Saint Mary's, Byfleet, Surrey.
The inscription on the headstone reads :
JOHN GODFREY PARRY THOMAS
BORN 6th APRIL 1885
ACCIDENTALLY KILLED ON PENDINE SANDS
WHEN ATTEMPTING WORLD'S MOTOR SPEED RECORD
3rd MARCH 1927
LIFE IS ETERNAL AND LOVE IS IMMORTAL
AND DEATH, WHICH IS ONLY THE HORIZON
IS NOTHING SAVE THE LIMIT OF OUR SIGHT.
In addition to his legacy of achieving eye-watering top speeds, Parry-Thomas was also responsible for a number of patents between 1910 and 1926 which highlights his true skill and talent.
These patents include:
Electrical Power Transmission. – 1910
Power Transmission.- 1910
Electrical Controller. – 1911
Winding Apparatus. – 1913
Power Transmission Mechanism. – 1914
Suspension Of Rail Car Bodies And The Like. – 1914
Railway Motor Coach . – 1914
Variable Speed Power Transmission. – 1915
Gearing. – 1916
Driving Of Road Vehicles. – 1916
Driving Of Road And Rail Vehicles. – 1916
Electric Power Transmission. – 1917
Charging Of Accumulators from a variable Speed Dynamo Electric Machine. – 1918
Power Transmission. – 1918
Power Transmission Mechanism On Rail And Road Trains and the like.. – 1919
Electric Starting And Ignition System .- 1919
Ignition Of Internal-Combustion Engines. – 1919
Internal Combustion Engine (Lubrication). – 1920
Method Of Testing Gear Wheels. – 1920
Method Of Transmission Of Power. – 1920
Clutch and Brake Control On Road Vehicles. – 1923 [re issue]
Internal Combustion Engine. – 1924
Valve Operating Mechanism For Internal Combustion Engines. – 1924
Clutch and Brake Control On Road Vehicles. – 1926 [re issue]
Forty years after his death, Owen Wyn-Owen, an engineering lecturer form Bangor Technical College was keen on the idea of digging up Babs from the sand with a view to a complete restoration.
This was easier said than done simply because some of the locals didn't want the car resurrected while others did.
The army who had arrived during World War Two weren't too keen on the idea as the point where Babs was buried was now surrounded by buildings.
However, perseverance paid off and in 1969 the car was excavated and so began 15 years of painstaking restoration work to make Babs run again.
So the next time you're driving through Pendine at 30mph, think of John Godfrey Parry-Thomas, who achieved incredible speed across the Pendine Sands.