CARMARTHEN Together held the first events in their Our Town, Our Future project on March 28 at St Peters Civic Hall, Carmarthen.
The day started with a children's climate conference, organised by Carmarthen Town Council and facilitated by Carmarthen Together and Menter Gorllewin Sir Gar. Eight local schools came together to talk and learn about the environment.
They quizzed, planted, made collages and took part in several challenges, including trying to keep a lightbulb lit throughout the three hour session using just their own hard work pedalling the special bicycle, brought along by Cwm Arian Renewable Energy.
Clerk to Carmarthen Town Council, Emma Smith, said: "The Children's Climate Conference was a huge success after our initial efforts were thwarted by the pandemic. However, the delay meant that we were able to engage with Carmarthen Together and Menter Gorllewin Sir Gâr to deliver a truly fantastic event on Tuesday morning. It was clear to me that the children thoroughly enjoyed themselves and we as a Council took a lot of messages that will help us plan how we can operate in a more sustainable manner."
The evening event featured 15 other local groups and organisations who each gave a short presentation talking about who they are, what they offer, and what they need from the community. Organisations taking part included Cytun, Ynni Sir Gar, TrydaNi, Cegin Hedyn, Dr Mz, Carmarthen Civic Society, National Botanic Gardens of Wales, Carmarthen LGBTQ+, Menter Gorllewin Sir Gar, Peas & Love, Carmarthenshire Meadows Group, Bishops Park, Carmarthen Repair Café and Cwm Arian Renewable Energy.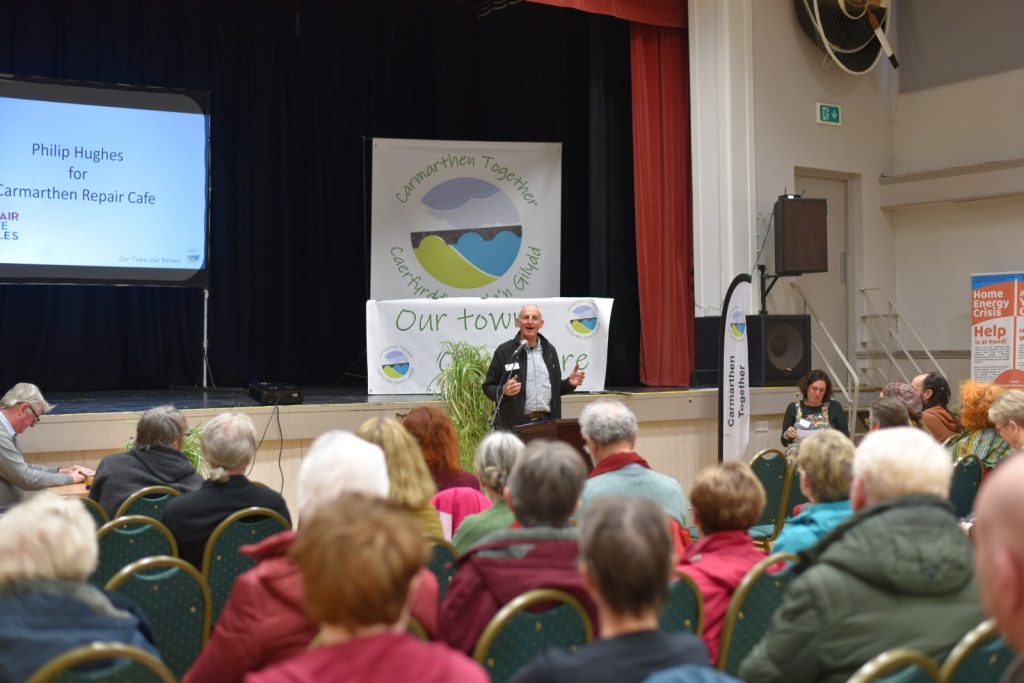 Around 80 people were in attendance and the most commonly heard comment from people in the audience was "I had no idea there was so much going on in Carmarthen!"
After the presentations, everyone was invited to share some delicious food and given the chance to chat with the speakers and representatives from the many other local organisations who were present.
Chair of Carmarthen Together, Susan Holmes, said "We formed Carmarthen Together because we are concerned about the impact of the climate crisis and we think it's vital to bring our whole community together to create a strong, resilient future for us all. Tonight was our first public meeting, and hearing from so many people who are dedicated to making Carmarthen a great place to live, gives me hope that we can succeed"
Carmarthen Together is planning a follow up event on Thursday, May 18, once again at St. Peters Civic Hall, where they will begin the process of listening to the community. They will be inviting both the Town and County Council to come along and hope that this will be an opportunity for them to really listen, in order to start the process of managing change and creating a local environment in which everyone can flourish.
If you want to find out more about the work of Carmarthen Together you can follow them on social media, email them at [email protected] or sign up to their newsletter by visiting their website at www.carmarthentogether.org.uk