Today (June 2) on Carmarthenshire County Council's stand at the Urdd Eisteddfod, it has been announced that The Arfor partnership has secured £3 million to extend the Llwyddo'n Lleol initiative.
With out-migration of families and young people being recognised as one of the main reasons for a decline in the number of Welsh speakers, Llwyddo'n Lleol aims to persuade those who are most likely to go, or who have already left, that there is a future and economic prosperity for them in rural areas of west Wales.
The Arfor programme aims to promote entrepreneurship, business growth and community resilience with a focus on the Welsh language.
Councillor Darren Price, Leader of Carmarthenshire County Council, said: "This week, at the site of the Urdd Eisteddfod 2023 and beyond, we in Carmarthenshire are celebrating our youth and the Welsh language, two things that are key to the prosperity of our county and our nation.

"It is vital that our young people feel they have a prosperous future in Carmarthenshire and choose to stay here to work, contribute to the economy and raise families of their own. Jobs and economic opportunities are essential to this vision so I welcome the financial support through the 'Llwyddo'n Lleol' programme which will help us realise our ambitious objectives set out in our Carmarthenshire Welsh Language Promotion Strategy – to increase the number of Welsh speakers in our county, make Welsh the main language in the county and make everyone proud of the Welsh language in Carmarthenshire."
As the Urdd Eisteddfod draws to a close, Carmarthenshire County Council hopes that residents and visitors to the county during the week long youth festival have enjoyed what Sir Gâr has to offer.
In Carmarthenshire, we are always looking for people to come and work for the local authority, to make the county a better place for future generations.
Are you interested in working for a better Carmarthenshire? Why not visit our website to view current vacancies.

Carmarthenshire is one of the largest unitary authorities in Wales, and the largest local employer with around 8,300 staff. We deliver a range of services including education, social care, highways maintenance, waste collection, sports and leisure facilities to name just a few. The career opportunities with us are varied and rewarding!
Graduate programme
Our two-year graduate programme is designed to offer development opportunities which will allow you to grow and develop as an individual, including taking on leadership roles. Our programme is open to all ages, as long as you are degree qualified.
Each route offers a combination of learning through practical hands-on experience and the opportunity to study for professional accreditation. In addition there will be opportunity for learning and development through in-house and external courses, seminars and workshops, for example access to mentoring from senior managers and development in management and communication skills.

You will be a part of an organisation that is always changing, and we are looking for people who demonstrate drive and commitment as well as flexibility and creativity to join our team.
Sioned Raymond has joined Carmarthenshire Council through the Graduate Program and works as a Graduate Trainee: Policy and Partnership Officer. Speaking of her experiences so far, Sioned said:
"After I graduated from Aberystwyth University after spending three years studying for a Business and Management degree, I was keen to return to my roots in Carmarthenshire.
"As a young individual I am enthusiastic to make my community a better place to live in and passionate about developing the Welsh language in my day to day work.
"Back in March 2022, when the graduate jobs were released, I felt it was an opportunity I couldn't miss, with a host of benefits to the job as well as working in a stable field like the Public Sector. One of the biggest appeals for the graduate program is the ability to work and continue my professional development by achieving a Postgraduate Degree in Professional Practice.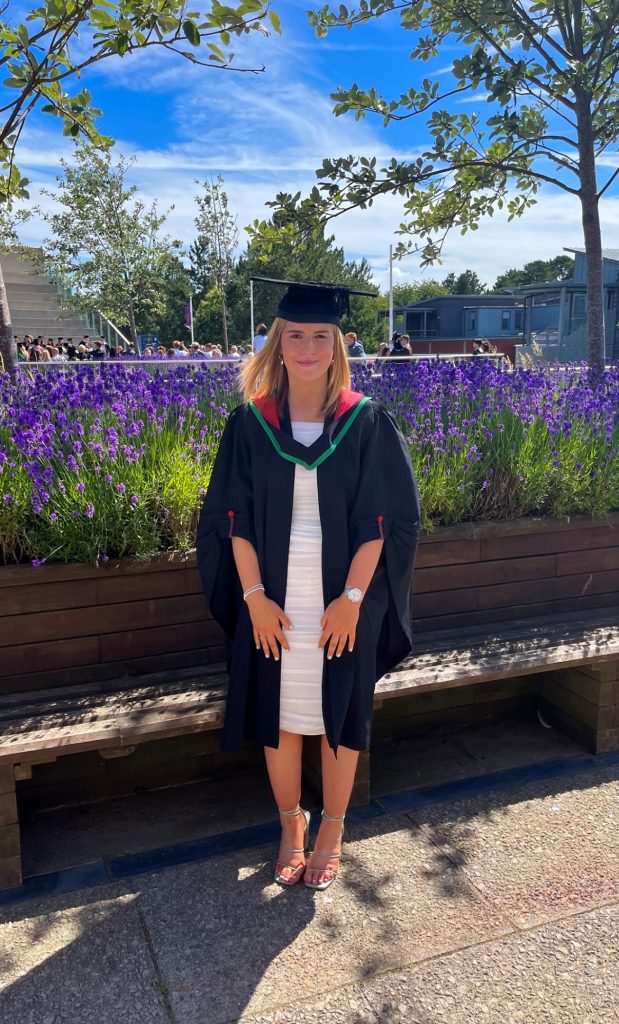 "The application process was extremely beneficial with the assessment center giving me the opportunity to demonstrate a variety of strengths that are relevant to the job. I trust that the assessment center gave me a meaningful and realistic experience that enabled me to show my true potential. The assessment center underlined how the Council would support learning and development opportunities but at the same time ensure that my personal ambitions are in line with the Council's values.
"Since I started my job, through the two-year graduate programme, as Policy and Partnership Officer I have had practical experiences, learning and development through courses, attending internal and external seminars and workshops. All the experiences I have already received through the job have enabled me to grow and develop as an individual, including taking on leadership roles.
"The professional development I have had and developed has been invaluable and I have gained skills and qualifications that will help me throughout my career path.
"I am now nearing the end of my first year in the job, and have the opportunity to carry out a variety of tasks on a day-to-day basis. In particular, work related to the Welsh language is of great interest to me as I am keen to see the Welsh language flourish in Carmarthenshire.
The job has opened so many new doors for me and is a great opportunity – Go for it."
Cllr. Phillip Hughes, Cabinet Member for Organisation and Workforce said: "It's been wonderful to watch the wide range of competitions at the Urdd Eisteddfod this week and the rich and diverse talent of our young people.
"Young people are our future and as an employer, Carmarthenshire County Council is proud of the graduate opportunities we offer. Our workforce and the services that they provide to our citizens are at the core of this organisation, and we are looking for people who demonstrate drive and commitment as well as flexibility and creativity in delivering our services.
"Our successful graduate programme offers exciting opportunities for university leavers to gain valuable experience and continue their education within an ever-changing, dynamic, and forward-thinking organisation. Open to all ages, we are looking for motivated individuals to join our programme and help us to shape and deliver better public services in Carmarthenshire.
"As an employer, we greatly value the bilingual skills of many of our staff. There is an ever increasing importance to being able to communicate in Welsh and English and the Council is committed to conducting more of its work through the medium of the Welsh language, this is reflected in our ambitious Carmarthenshire Welsh Language Promotion Strategy."