OVERCROWDING and patients sleeping on floor at a west Wales A&E were some of the issues raised by a report raising serious concerns, but also saying that there had been some improvements made to a hospital's standards of care.
The health board involved, Hywel Dda, now says it has come up with a plan to address the issues raised by a report published by Healthcare Inspectorate Wales (HIW) who carried out an inspection of the emergency department at Glangwili Hospital, Carmarthen, in December.
Despite the best efforts of staff, the independent body said patients did not always receive consistently safe care.
Hywel Dda health board said it recognised "significant challenges" within the department.
Although patients and carers were said to be "generally satisfied with the service", HIW identified several issues with the service provided at the department.
The report highlighting concerns at Glangwili came out at the same time that figures were released saying that waiting times at Welsh A&E departments had fallen slightly. Responding to those Emergency Department performance figures for February 2023 for Wales, Dr Suresh Pillai, Vice President of the Royal College of Emergency Medicine Wales, said: "We welcome the improvement in Emergency Department performance shown in February's data. The reduction in patients facing four-, eight- and 12-hour waits is a testament to the hard and skilled work of Emergency Medicine staff who continue to tackle the crisis in Emergency Care.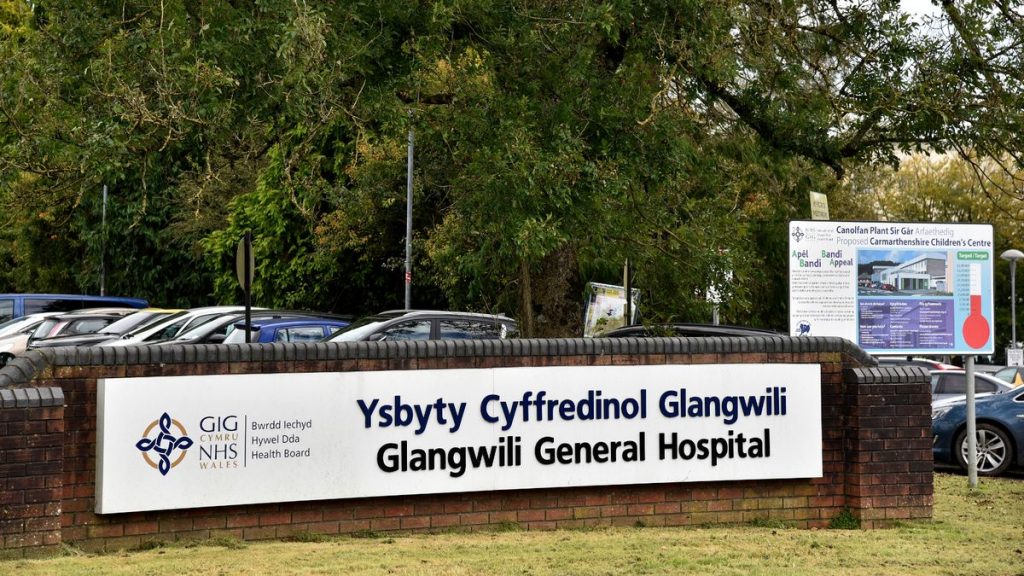 "While we welcome this improvement, the situation remains serious. Exit block – where patients cannot be admitted from the Emergency Department to a bed because out of the limited bed base, many are taken up by patients who are unable to be discharged in a timely way causing a 'traffic jam' in the system – remains a significant issue in Emergency Departments in Wales. On the ground we continue to face severe problems around flow throughout our hospitals and delays to patient care.
"We must see faster and more tangible action around discharging patients and social care.
"We are pleased to have met with the Health Minister, Eluned Morgan MS. We recognise that there is the political will to engage with the issues facing Emergency Care. The Welsh Government is focused on delivering the six-goal programme.
"As part of this they are appointing Clinical Leads for each of the Six Goals with some overlap instead of the current model of one for all Unscheduled Care. We look forward to engaging with these Leads and would be pleased to continue engaging with the Health Minister and the Welsh Government and have further such meetings.

"There is an ongoing retention and recruitment crisis in Emergency Medicine in Wales. Our workforce census, published earlier this year, made this clear. Not only are junior doctors' continuing to be stretched, but difficulties in recruiting persist. It is vital that both retention and recruitment in Emergency Medicine is recognised and made a priority by the Welsh government, otherwise Emergency Care will remain in crisis to the detriment of patients and existing staff."
The report highlighted the following areas where the service is doing well or actions are already in place, including:
pressure damage care and prevention;
assessing and monitoring patients waiting in ambulances to maintain patient safety;
availability of food and fluids;
triage and supervision of areas by staff;
easy navigation of patient records, handwritten entries were legible and logically set out.
But the report, by Healthcare Inspectorate Wales (HIW), found that patients at an accident and emergency department in Wales were not consistently receiving safe care.
The HIW carried out three unannounced inspections at Glangwili General Hospital in Carmarthen in December 2022 and identified several areas requiring immediate action by the health board.
The report found that overcrowding, a lack of toilet and washing facilities, and patients waiting in non-designated areas of the unit were having a negative impact on patients' privacy, dignity, and infection prevention and control procedures. Delays in children being seen were also identified in the Paediatric Care and Assessment Unit (PACU).
Although patients and carers were generally satisfied with the services they received, frustration was expressed around waiting times and the lack of updates on patients' care and treatment.
The health board has produced a comprehensive plan to improve the emergency department.
Andrew Carruthers, of Hywel Dda health board, said: "While the report states that generally patients and carers were satisfied with the service they had received at the emergency department at Glangwili Hospital, we do, however, recognise that there are significant challenges within the department.
"We also recognise the regrettable impact these have on our patients and their experience of using our services.
"We wish to reassure people that we are focusing on our improvement plan to address the recommendations of the report, and to provide ongoing assurances for our communities of the quality of the services we have to offer and provide."