TWO Pembs airmen who flew together and died together in the closing weeks of World War II, is being remembered in a unique model project. Milford Haven school friends Tony Adams and Leslie Nicholas both joined the Royal Air Force and volunteered for aircrew, Tony becoming a pilot and Leslie a navigator.
Meeting again during training they paired up as a crew on Mosquito fighter bombers and flew operations in the very dangerous skies over occupied Europe.
Tragically they were shot down over Germany on 27 th February 1945 and are buried
together in a Hanover war cemetery. Both were just 22. The model project began at this year's Penfro Modellers Club Show at Pembroke Dock Heritage Centre. Top prize was a 1:24 scale Airfix Mosquito, donated by Centre Trustee Andy Watkin.
A ticket bought for Centre Patron John Evans was first out of the hat, leaving John in
a dilemma. Said John: "My modelling skills are very limited and my first inclination was to re-raffle it.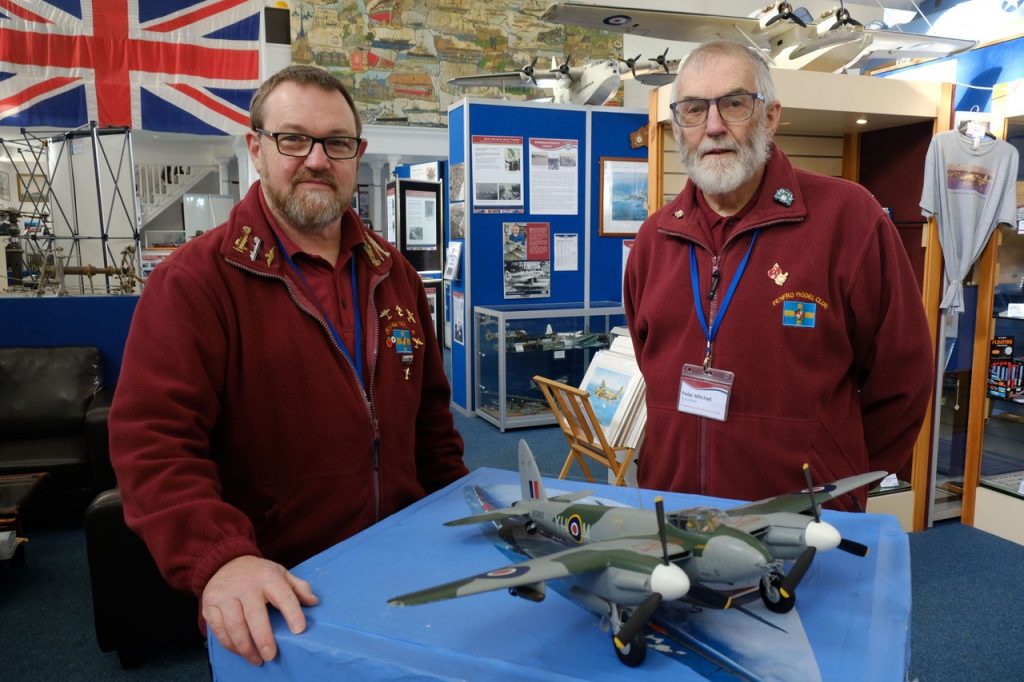 Then I thought we could tell a very moving wartime story of sacrifice through the model, and I knew just the man who could build it to a very professional standard."

Penfro Modeller and also Heritage Centre Volunteer Paul Emens gleefully accepted the challenge and he has, over recent months, created a superb model of the actual aircraft Tony Adams and Leslie Nicholas were flying when they were shot down.
Contact has already been established with relatives of Leslie Nicholas, who lived in
Belmont, Stratford Road. An appeal is now made for the family of Tony Adams to
make contact.
Tony lived at 55 Glebelands, Hakin. It is hoped to bring family members together to see the model and hear more of the story of the Milford Mosquito boys.
Anyone able to help is asked to contact John Evans on 07974 471316, e-mail [email protected]