THE BUILDING of a new hospital in west Wales, which could result in around £1.3billion of investment into health and care will now be a choice of two sites, Whitland or St Clears, following a health board meeting today.
An initial 11 sites were nominated, which was reduced to five, and then three last year.
Members of Hywel Dda University Health Board, at an extraordinary board meeting, were asked to whittle down the three proposed sites of Whitland's Spring Gardens – formerly site 12 – and Ty Newydd – formerly site C – sites and St Clears -formerly site 17 – to two.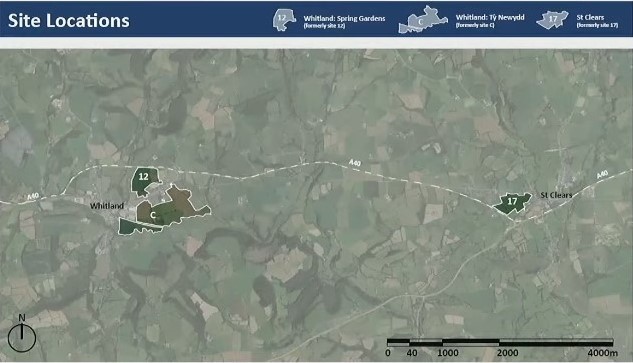 A 12-week public consultation was held from February to May of this year, with 17 public drop-in events; more respondents rate all sites as poor, but of the sites, overall views are more evenly balanced in relation to St Clears.
A report for board members said there were widespread concerns raised about plans for a new hospital, primarily around geography/access, citing poor road infrastructure and traffic congestion, and a concern about ambulance response times, supporting refurbishing the existing Glangwili and Withybush sites and retaining services there but also recognising that a modern, fit-for-purpose hospital of sufficient size not possible on the existing sites.
Alternative sites were suggested – later rejected – included the showground in Nantyci, Canaston Bridge, and Penblewin, near Narberth.
The report also highlighted positive comments, saying those in favour felt it would be beneficial for the area economically/in improving health and wellbeing outcomes, help overcome the board's staffing challenges, offer specialisms/up-to-date technology, and provide modern environments for patients and staff.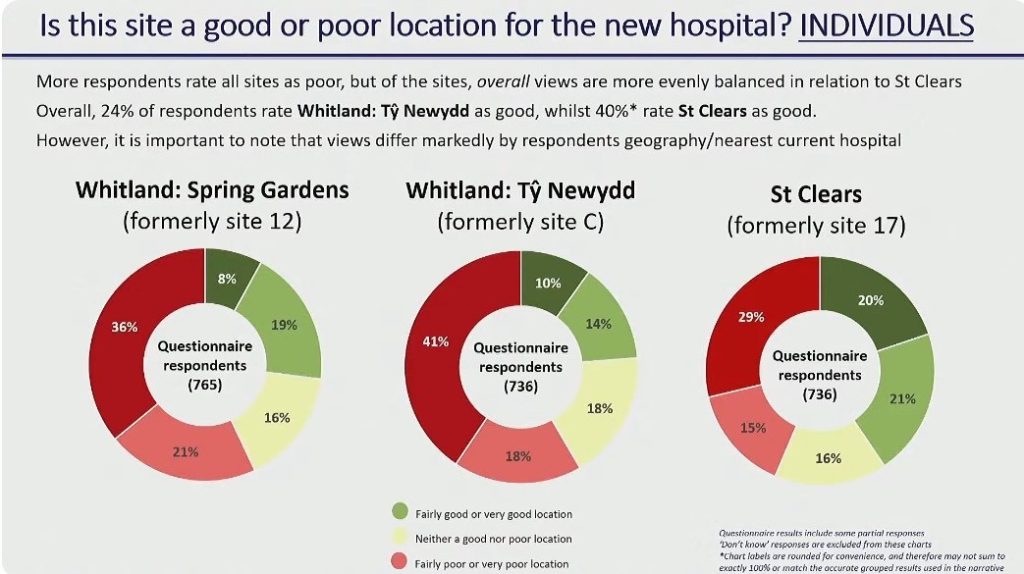 It said the St Clears site had drawn the most positive responses, but added: "However, it is important to note that views differ markedly by respondents' geography/nearest current hospital."
Of the three sites, Spring Gardens, the cheapest option, drew positives for being equidistant between Glangwili and Withybush, being closer to Pembrokeshire, and close to the A40 trunk road, but negatives were raised about poor road infrastructure, and the site being a complicated and costly sale due to multiple landowners, with limited room for expansion, and clinical/recruitment risks of siting a hospital further west.
Tŷ Newydd, the largest site, gained positives for its nearness to Pembrokeshire, the only site with potential for on-site renewable energy, the nearest to a railway station, and being owned by the county council.
Withybush Hospital Medical Committee stated: "To consider the other two sites when you have a perfect site in public ownership which can be expanded considerably is a no-brainer."
However, negatives were raised about the lack of an access road, flooding potential, recruitment risks, and fears a large hospital in Whitland would destroy the character of the town.
Positives for the St Clears site – which has a single private landowner – included being geographically central and near large centres of population, no flood risk, easier to recruit/retain staff, less disruptive to local residents, but concerns were raised about the time taken to travel there from the west.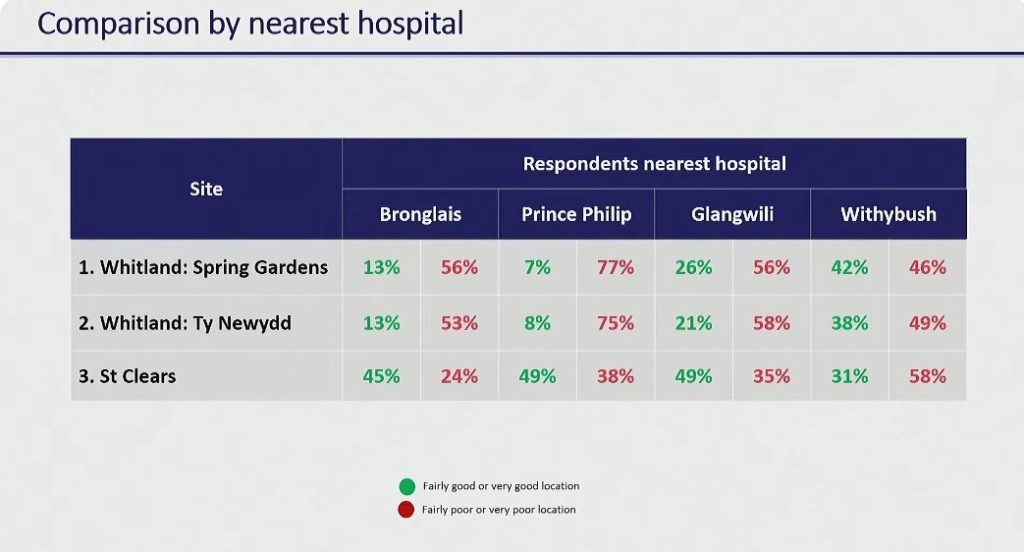 Summarising the lengthy meeting after a short break before a decision was made, Chair Maria Battle said: "Today is another important step to delivering our strategy of independent health and care centres, with investment in repurposing Glangwili and Withybush hospitals, bringing care closer to home.
"A vital part, now more than ever, is a new urgent and planned hospital fit for future generations. Based on the evidence we have been asked to consider reducing the shortlist from three to two sites."
She said St Clears had the largest public support, other than residents to the west, but had commercial risks associated with it, while Spring Gardens had the highest commercial risk; Ty Newydd – the majority of the site proposed being owned by Carmarthenshire County Council -having the lowest commercial risk, but was the least liked by the public.
"I propose, taking all the evidence into account, that we take forward, as a board, the Ty Newydd site in Whitland and the St Clears site."
Members backed this, and other recommendations, with the three suggested alternative sites of Canaston Bridge, Penblewin and Nantyci rejected.
The chair finished: "Never has it been more urgent that we in west Wales have a new hospital that is fit for purpose and fit for the future; let's keep pushing forward to realise the vision that everyone in west Wales wants."