SHOCKING scenes of cars torched, houses damaged and police chased away have emerged following riot on a Swansea street late last night (May 20).
In videos circulating on social media, cars can be seen ablaze with windows and doors of nearby properties have been smashed and police chased away by 'yobs'.
The riot came after the sudden death of a local 19-year-old man.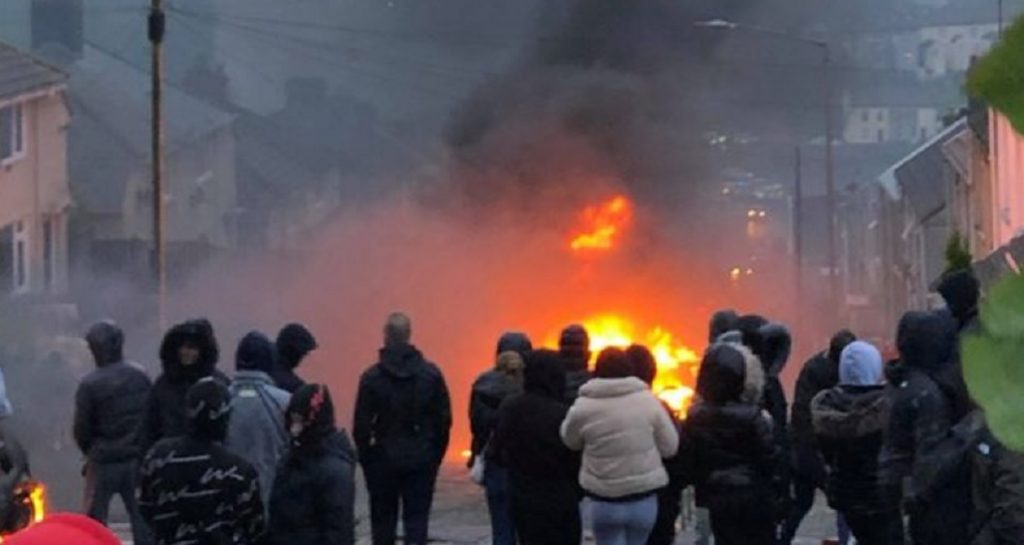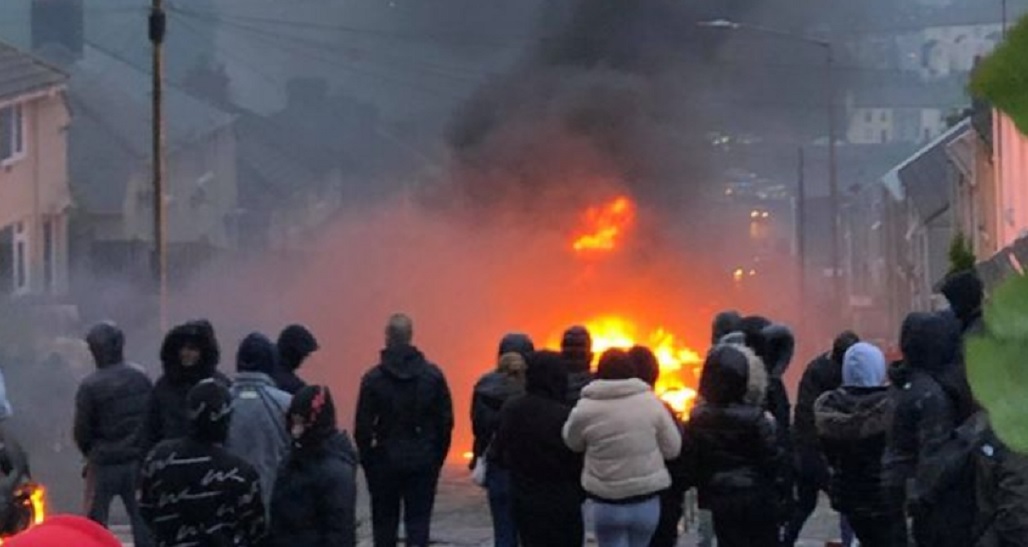 Cars were set on fire and sent freewheeling down the street in shocking video footage.
South Wales Police officers were chased off the streets by 'yobs' hurling bricks and stones at them.
It is thought that the riot initially started with fireworks set off at around 7.30pm, when police turned up to disperse the crowd they were pelted with bricks and stones and the situation escalated into a riot.
Residents of Waun Wen Road said they were 'trapped' in their homes.
One property saw a front window smashed, where a baby's bassinet lay just a few feet away, fortunately the baby was uninjured but the bassinet can be seen covered in glass.
Tom Giffard MS described the scenes as 'disturbing' while police urged locals to avoid the area while they dealt with the incident.
He said: "This is completely unacceptable and inexcusable behaviour.
"Our thoughts are with the residents who have had to put up with this utterly despicable behaviour in our community."
Nineteen-year-old Ethan Powell suddenly died on Tuesday (May 18) evening after watching Swansea City's playoff game with his grandfather on the television.
The bereaved family condemned the riots in Mayhill last night.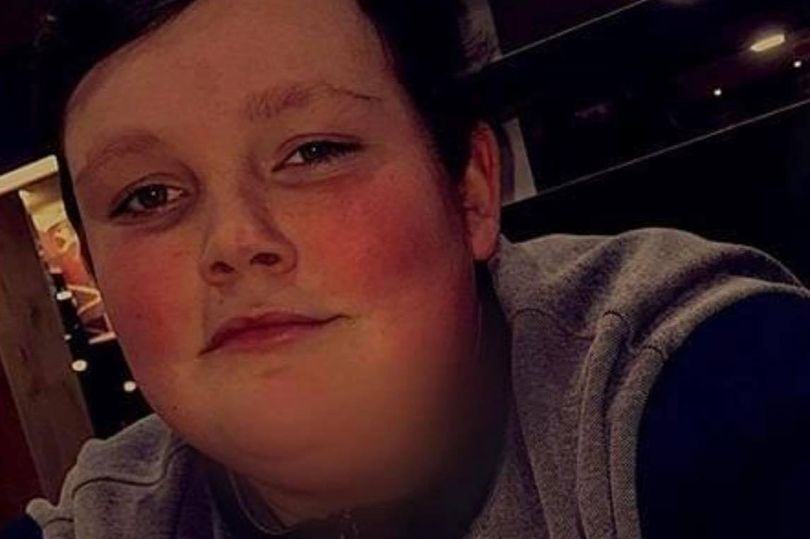 Speaking to news sources one of the relatives said: ""Ethan was a down-to-earth, well mannered boy, who would do anything for anyone.
"He had gone to watch the football with his grandfather in Llansamlet on Monday, and he gave my nan a hug before he left.
"He was dropped at home in SA1 which was where he collapsed.
"There were no untoward signs that anything was wrong with him, which is why it is such a shock.
"He would have been heartbroken to have seen what happened.
"He would have been trying to stop it – it is not something he would have wanted to see.
"We can't understand why there were people there laughing.
"To see that going on in Ethan's name is devastating.
"We are grieving as a family and we would like to be left alone to grieve in peace".
The cause of Ethan's death is yet to be determined.
The incident that started as part of a planned 'vigil' soon turned into a riot that involved hundreds of people and saw residents trapped in their homes.

In a screen grab of a Facebook post obtained by The Herald, one of those planning the vigil said on Wednesday: "If u don't turn up all sad c**** get ur toys out waunwen hell tomz let's light it up." (SIC).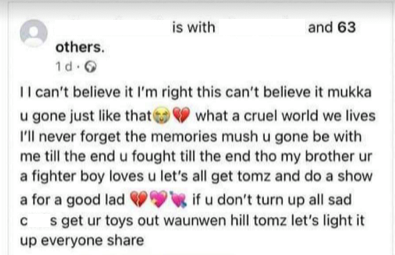 Issuing a statement on the riot at around 10.45pm last night, South Wales Police said: "A number of our officers are at the scene of large-scale disorder in the Mayhill area of Swansea. Residents are urged to stay indoors while the matter is brought to a safe conclusion."
Superintendent Tim Morgan issued a further statement saying: "What is believed to have started as a vigil to a recently-deceased local resident has escalated into violence, criminal damage, and a wanton disregard for public safety.
"We have a number of officers at the scene working to de-escalate the situation as quickly as possible and allow other emergency service colleagues to attend to calls in the area.
"The incident is still ongoing and we urge anyone involved to leave the scene immediately. Those involved can expect to face robust action. Post-incident investigations will also aim to identify all those concerned. In the meantime we urge local residents to stay indoors while the matter is brought to a safe conclusion."
Further vigils have been planned for Ethan over the coming days, with one being this weekend.
One local resident, who did not want to be named, told the BBC the disturbance "all started with some fireworks at around 7.30pm".
"Police initially turned up and got out of the van to try to stop what was happening," he said.
"But they got pelted with rocks and then they got back in the van and left.
"We were trapped in the house with two young kids. They were really scared so I put them at the back of the house."
Facebook footage seen by Herald.Wales shows the dramatic scenes when a car is started up and left to freewheel down the hill with its doors and boot open as a driver jumps out of the moving vehicle. The car then gathers momentum as people film before hitting a row of bollards.
The police issued an update on Friday (May 21) – South Wales Police is investigating the scenes of violent disorder which happened in the Mayhill area of Swansea last night.
The police response to the incident was immediate and officers trained to deal with public order incidents were deployed to the scene.
Assistant Chief Constable Jenny Gilmer said: "These are scenes we do not expect to see in our communities and our officers should not expect to have to confront situations like this when they go to work at the start of their shift.
"I want to reassure the residents of Mayhill that we shall be maintaining an enhanced police presence throughout the weekend.
"If those involved choose to return and further threaten public safety in the community of Mayhill they will be robustly dealt with.
"Our focus now is to fully investigate this appalling incident. We will be using CCTV and social media footage to help us to identify and arrest those responsible.
"The level of violence towards emergency services and the damage to buildings and vehicles was totally unacceptable.
"I would like to thank the public for their support and appeal to anyone with information or video footage to come forward and provide that to us."
In a joint statement responding to the violence and disorder seen in Mayhill last night, newly-elected Plaid Cymru Members of the Senedd for South Wales West Sioned Williams and Luke Fletcher said,
Plaid Cymru said: "The violence and disorder seen in Mayhill last night was unacceptable and shocking. Our thoughts are with all those who bore the brunt of the awful events that took place.
"As Plaid Cymru members of the Senedd for South Wales West, we will be making representations to South Wales Police to ensure they responded promptly and effectively to protect the public and prevent the criminal and intimidating behaviour.
"We will also be pressing to ensure effective co-operation between police officers and the communities they serve – it is vital that people feel safe, that there is a shared view on issues and tensions before things can escalate.
"We need to understand the circumstances of what led to such horrific scenes to prevent it from happening again.  People should feel safe in their communities.