Everyone who knows Karl Everall will understand just how much the wild mountain ponies of Pembrokeshire mean to him.
He visits the hills as often as time allows, and the images which this talented photographer captures testify not only to the beauty of the horses but also to Karl's great understanding of the animals and their wild abode.
But this week's mountain visit will be guaranteed to stay with him for the rest of his life.
As Karl was walking to check on the ponies following Wednesday's storm, he saw a mare that appeared to be panic running.

"She seemed to be extremely upset, she was crying out and was visibly in distress," he told The Pembrokeshire Herald.
"As I approached her, I could see that her tiny foal had tumbled over the side of the mountain. She'd probably started to follow one of the sheep tracks, and had fallen down between the rocks. She was stuck, both her legs were wedged, and there were steep drops on either side.
"It was quite possible that she had spent the entire night there."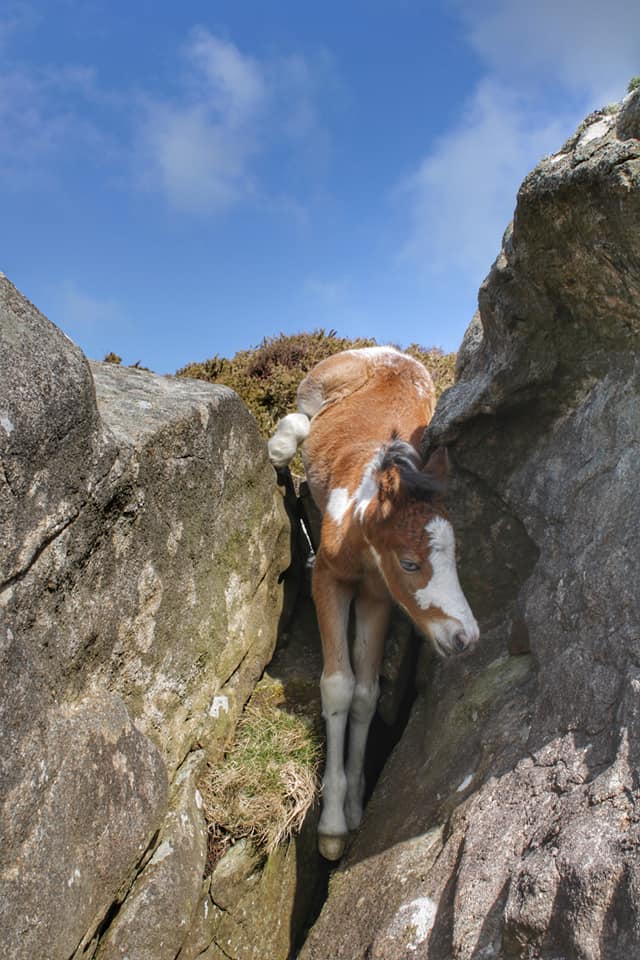 Karl knew that if he attempted to get the help of a local farmer, the foal could possibly die.

"The nearest farm was quite some distance away so I knew I just didn't have the time to get help. It was obvious that the foal was extremely weak so I dropped all my stuff and climbed up to her, to try and move her to safety."
The little one was so exhausted that she made no attempt to escape from Karl as he began gently moving towards her.
"I managed to get both of her front legs up in the air and, once I could see that she was comfortable, I put my arms around her stomach and picked her up as gently as I could."
The mother was now aware that Karl was doing his best to salvage her little one, and moved towards them as he began carrying the foal to a safe spot where he could lay her down
Once she was out of Karl's arms, the mother went up to her foal to gently nose her. After a few moments the foal had risen to her feet and had begun taking milk from her mother.

"After about half an hour, both the mother and her foal walked off happily and joined the rest of the herd," said Karl. "But the little foal kept looking back at me.
"What happened this week was truly amazing. I just love walking on the mountains, watching those ponies and capturing those moments so that I can share my photos with everyone on social media.
"I've forged a real friendship with the horses and feel as if I'm acting as a second pair of eyes for them
"And on Thursday, this wasn't just about photography. It was about caring for those animals and doing my very best to make sure that there was a happy ending for them both."