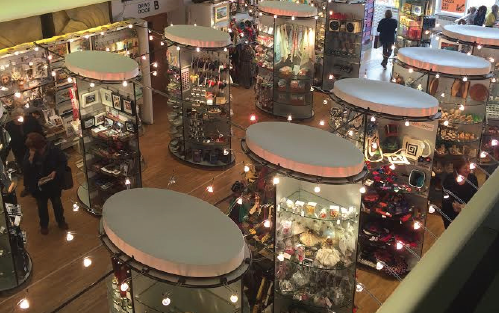 ABERYSTWYTH ARTS CENTRE have once again welcomed back the Winter Craft and Gift Fair, providing great inspiration for those who are looking for gifts and for those who are simply interested in seeing what local businesses offer.
The annual extravaganza, with over 80 stalls, opened on Friday (Oct 21) and will be available to browse around until December 23, with a Christmas Food Fair on November 26.
This means that it provides a great opportunity for a unique Christmas shopping trip and it is one that will not be forgotten.
The Winter Craft and Gift Fair has been an annual feature at the Arts Centre for over 30 years and as you walk through the lively Arts Centre, you will be able to discover a wonderful array of crafts and gifts produced by local makers from Ceredigion and Mid Wales.

The fair regularly features work from over 80 makers, predominantly working in Ceredigion, Carmarthenshire and Pembrokeshire with such items including ceramics, textiles, candles, prints, original artwork, photography, cosmetics and jewellery.
It has helped to support many craft makers and producers in the region, and it has also expanded over the years to include Mid Wales-based food and drink producers. In addition, it also includes a range of toys and games for children.
This year, you can find a wide selection of stalls that will grab your attention and to give you a flavour of some of the businesses that are present at the Winter Craft and Gift Fair, The Herald decided to interview a few of the owners.
KUTIS SKINCARE

At the fair, you will find a section dedicated to 'Kutis Skincare', a wonderful skincare range that will catch your interest in no time.
Tiffany Villiers, co-founder, discussed with us about the business and their stall at the Craft Fair.
Tiffany said: "We are Kutis Skincare, a start up based in Llandrindod Wells. We chose 'ku.tIs' because it is Latin for 'skin' and when spelled phonetically makes for our unique branding.
"We hand-make and sell 100% natural skincare products using responsibly sourced ingredients that have been minimally processed to wholesalers and direct to our customers.

"We never use preservatives, parabens or stabilisers, not even the naturally derived ones. We want our customers to have peace of mind when buying and using our products – there's no 'green-washing' at Kutis!"
Tiffany then went on to say: "Myself and my work partner, Kate Powlesland, run the business together from our little workshop at our local Community Gardens in Howey. We love working from Ashfield; it's a beautiful place and has the facilities for us to move into growing our own plants to process in the future!
"Since we set up a year and a half ago, we have succeeded in being stocked in a total of 12 shops in Powys, Herefordshire and Somerset. We are small but we are growing!
"We chose to stock our full range of Organic Whipped Body Butters, Organic Lip Balms, Cleansing Masks, Organic Serums and Natural Deodorants as well as our Christmas Gift Packs.
"Most of our items are small and make really nice stocking fillers but it's great to be able to pick up a ready packaged gift, which is why we chose to stock our Little Luxuries and Daily Face Care Gift Packs.
"Our 'Little Luxuries' gift boxes each contain a mini-sized version of our range, including our Organic Body Butter, Cleansing Mask, Organic Serum and popular slider tin Lip Balms. It's a great way to sample a little of everything!"
LACEWING FAIRY COLLECTION
The Herald also spoke to Deryn Wilcox, designer of the 'Lacewing Fairy Collection', about the business: "I've lived near Llangrannog for many years, and started making textile fairies as a hobby while working as a University Office Administrator. They gradually took over my life when they started selling successfully at craft fairs and in local shops.
"I was even fortunate enough to sell some to Liberty of London several Christmases ago, which was really exciting. I have received many commissions for custom-made fairies as gifts and especially for weddings.
"The inspiration for the original fairy creations was based on the peg dolls of childhood. They are individually handcrafted in fine detail using quality textiles and other materials, including silks, vintage fabrics and laces.
"The arms, legs and heads are wooden, with the hand-painted faces giving each fairy its own personality. They are suitable as gifts for many occasions or as the start of a collection."
Deryn then went on to explain to The Herald about her items that are currently displayed at Aberystwyth Arts Centre: "Over the years, the fairies have evolved and other smaller items introduced, such as tooth fairies, trios of fairies, bumble fairies, cotton and silk angels, felt dolls and Christmas decorations.
"The display at Aberystwyth Arts Centre shows a good selection of my current products, from large statement pieces to small stocking fillers and decorations."
We then asked Deryn about how she feels the Craft Fair will help to promote her business.
"This is the fifth consecutive year I have been involved in the Aberystwyth Arts Centre Winter Craft and Gift Fair. I find it is an extremely good outlet, as people are attracted to the Fair from quite a wide area, and the Centre has long opening hours over several weeks leading up to Christmas.
"A number of my commissions have been as a result of first being seen there."
RHIANNON ROBERTS
If you love art or are after a unique present for a loved one, then 'Rhiannon Art' stall is the ideal stop for you at the Winter Craft and Gift Fair, with bold designs and one-off items aimed to put a smile on your face.
The Herald was able to speak to designer Rhiannon Roberts about the business and why people should come along to visit her stall: "I am a full time artist from Ciliau Aeron now living in Cardiff Bay. I'm self taught and have a degree in Psychology, in fact! I have been a full time artist for six years now, ever since graduating in 2010.
"I started off just selling my originals but then slowly thought about different products. I now sell cards, coasters, placemats, prints and much more. I sell them to galleries and gift shops across Wales.
"I also sell them in markets and different stalls such as the Eisteddfods, Cardiff Christmas Market and local events. A big part of my job now is going round schools in Wales painting big murals with the children in my style, showing their local buildings."
Rhiannon went on to say: "Children love the colour and the quirkiness. I think the style works as it represents me as a person – I try to always have fun and be happy. I enjoy life and hope that I have a colourful personality, just like my paintings.
"I say that I mix fantasy with reality to create a fairytale world. The buildings look realistic and then I bring unique and fun elements in like floating flowers or magical love boats to make it more eye-catching.
"I love being self-employed and working my own hours. Seeing a product or design that I created is a fantastic feeling and I always get a buzz out of it. I'm focusing now on selling more online on my website (www.rhiannonart.co.uk) – all products are on there – and I think that more people shop online now. I do a lot of promoting through Twitter, Facebook and Instagram."
Rhiannon went on to say that the Craft and Gift Fair is an important aspect to promoting the businesses: "I'm based in Cardiff now. However, I still find time to come back to West Wales to see family and sell my products in shops and events. I would say that I spend 50% of my time in Cardiff and 50% in Ciliau Aeron.
"However, I can't be in two places at once and so by having my work at the Arts Centre for two months, it gives me a base and it gives new people as well as old customers a chance to see my designs."
Rhiannon concluded by saying: "The Arts Centre gets so many visitors and it's nice for them to have a souvenir of Aberystwyth to take home with them."