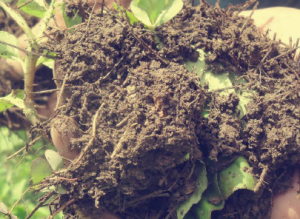 BEING PART of the organic sector could help build much-needed resilience into food and farming businesses struggling in difficult market conditions, according to a leading organic certifier.
OF&G, one of the largest organic control bodies in the UK, said the organic sector was helping build longevity into British agriculture and food manufacturing by adding value to produce and giving businesses additional routes to market.
And it said that growing market demand for organic produce meant there were even more opportunities for food and farm businesses to look to organic to help drive their businesses forward.
"There is a huge amount of uncertainty in certain sectors, but organic offers opportunities for businesses to develop," said Roger Kerr, OF&G chief executive.

"Recent industry reports have pointed to strong sales growth, with some of our own licensees reporting double-digit growth over recent years."
Mr Kerr said supermarkets had de-listed organic products during the recession in favour of discounted produce.
But renewed demand for organic food meant that retailers were looking to the sector to meet their needs.
"Latest data suggests over half of the UK population buys organic, with one in three buying organic produce every week" he said.

"Supermarkets have realised that shoppers aren't driven solely by price and that there are more and more shoppers who are making their purchasing decisions based on other values.
"We've seen discounters like Aldi introduce their own 100% British organic range, and with multiple retailer support, it's helping make organic available for more and more people."
Mr Kerr said the biggest challenge now facing the sector was for producers to be able to keep up with demand.
"Consumers who want to buy organic are being forced to shop around, and that's holding back the sector's ability to grow at an even faster rate.

"There are definitely opportunities out there for farm businesses to add value to their produce through organic, and we need more UK producers who can help the sector meet this increasing demand."
Mr Kerr's comments came as OF&G launched a major rebrand of its certification operations, including a new logo and website.
The new site offers visitors an easy step-by-step guide to certification, along with a revamped classifieds section and clear and accurate technical information, backed-up by an experienced team of staff.
The website also has an updated resources section to provide members with the industry information they need to help them make plans for their businesses.