Lionel Messi has been named the Best FIFA men's player of the year at the 2022 awards ceremony in Paris.
The Argentine forward beat out French stars Kylian Mbappe and Karim Benzema for the prize, after captaining his country to victory at the World Cup in Qatar and scoring 27 goals for club and country during the 2021-2022 season.
Messi, who won the award for the second time, expressed his gratitude and appreciation for his teammates, saying, "It's been a tremendous year and it's an honour for me to be here and win this award. Without my team-mates, I wouldn't be here.
"I achieved the dream I had been hoping for for so long. Very few people can achieve that and I have been lucky to do so."
Barcelona's Alexia Putellas was named women's player of the year, while Lionel Scaloni, who led Argentina to their third World Cup title, was named men's coach of the year.
Putellas was been crowned player of the year after netting 34 goals last season. Despite missing out on Euro 2022 due to a knee injury, the 29-year-old managed to defeat tough competitors including England's Beth Mead and United States' Alex Morgan to claim the award.
England's Sarina Wiegman was named women's coach of the year after leading the Lionesses to their first major trophy at the European Championship 2022.
Wiegman, who previously won the Euros as the Netherlands coach in 2017, has once again been awarded the prestigious Fifa women's coach award for the third time, having also earned it in 2017 and 2020.
"From when I could walk I have loved football. It's just incredible to be right here and to celebrate women's football," said Wiegman.
"Little girls have their idols and inspirations. So many people across the world have worked so hard to get the game where it is right now."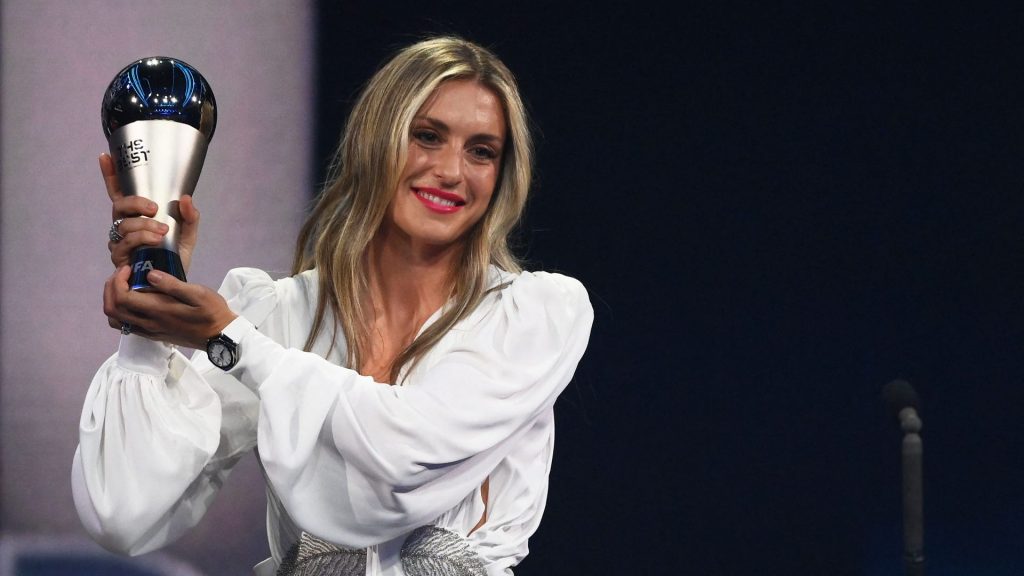 Aston Villa and Argentina goalkeeper Emiliano Martinez was recognized as the best men's goalkeeper, while England's Mary Earps won the women's award.
Upon receiving his award, Martinez said: "They always ask me who my idols are or who I watched when I was a kid… watching my mum clean buildings for eight or nine hours and watching my dad work. They are my idols."
Earps, a Manchester United player who started all six of England's Euro 2022 matches, said: "For anyone who has been in a dark place, just know there is light at the end of the tunnel, so keep going. You can achieve anything that you set your mind to."

Earps also achieved a significant milestone in becoming the first goalkeeper to keep 50 clean sheets in the WSL.
When accepting her award, Earps expressed her gratitude and said, "I feel really honoured to be holding this heavy trophy. Thank you to my loved ones who picked me up off the kitchen floor a few years ago. And to Sarina Wiegman, I have run out of words to say to you. Thank you for believing in me the way you have. This is for anyone who has been in a dark place. There is light at the end of the tunnel."
Polish amputee footballer Marcin Oleksy won the Fifa Puskas award for the best goal of the year with an impressive overhead kick against Stal Rzeszow, using his crutches to lift himself off the ground and connect sweetly with the ball as it hit the back of the net.
Luka Lochoshvili was awarded the fair play award for his heroic act during a match in which he saved the life of his opponent Georg Teigl. Teigl had fallen unconscious and Lochoshvili quickly responded by holding his tongue, potentially preventing a life-threatening situation.
List of winners:
The Best men's player: Lionel Messi
The Best women's player: Alexia Putellas
The Best men's goalkeeper: Emiliano Martinez
The Best women's goalkeeper: Mary Earps
The Best men's coach: Lionel Scaloni
The Best women's coach: Sarina Wiegman
The Best Puskas award: Marcin Oleksy
The Best fan award: Argentina fans
The Best fair play award: Luka Lochoshvili