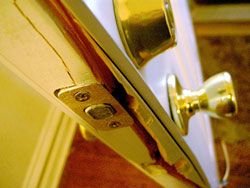 * Two Pembrokeshire homes robbed, one burgled
* Homeowners left shaken by 'traumatic ordeal'
* Police moved quickly to make arrests
* One man remanded, another on the run.

A GWENT man who is alleged to have committed serious offences in Pembrokeshire last week has been remanded in custody.
Tony Smith, 20, of Chestnut Close, Ebw Vale, appeared at Haverfordwest Magistrates Court on Tuesday charged with robbery and burglary.
Between late afternoon and the evening of Thursday, October 24, two robberies and a burglary occurred in the Whitland and Kilgetty areas. In all three incidents elderly people were targeted, and one of the victims sustained minor injury.
Officers commenced enquiries immediately and two men were arrested that evening. The men, a 22-year-old and a 20-year-old, were arrested on suspicion of dwelling burglary and robbery. A special court was held late on Friday, October 25 where police were given a further 36 hours to detain the men in custody.
A third man, who police believe to be connected with the case, is still on the run.
John Henry Hearne, 19, from the Brynmawr area, also in Gwent, is wanted by police for questioning.
CPS Prosecutor Vaughan Prichard-Jones told the court the facts of the case: "At around 4.15pm on October 24 the defendant with his accomplice kicked down the front door of a house belonging to an elderly man in Whitland, shouting 'Where's your money'."
"An elderly man who was in the house at the time was traumatised by the event," said Mr Prichard-Jones.
"After ransacking the house the pair left, and a short time later they burgled another house in Kilgetty. They broke in by smashing the back door. The owner returned a short time later to find his house had been turned upside down," he added.
"At 5pm they went to a house in Pentlepoir where two elderly women were living. After breaking in, one of the men held the women hostage while the other went around the house, taking out the telephone so they could not call the police, and taking what he could find.
''Those who were involved gave statements to the police, and the description given of one of the men was a close match to the defendant here today," said Mr Prichard-Jones.
"Police then came across the vehicle which had been reported in the first incident, and saw Smith walking towards the car. He was arrested and officers found cash and other items in his possession," he added.
"Forensic tests were carried out and small glass particles were found on his jumper as a result of smashing a window at the second house.
''Bottles of alcohol found in the car were also found to have Smith's DNA on them."
"CCTV also shows a man dropping off items in a garden including a pair of gloves and after more tests it was found that Smith had been wearing them."
Prosecutor Vaughan Pritchard-Jones told the court: "Smith could continue to offend if he is not kept in custody".
The magistrates agreed and ordered that Smith be kept on remand.
They commented: "We cannot release you on the strength of the evidence brought by the prosecution".
Members of Smith's family cried as he was led away flanked by security officers.